India Insists It Shot Down a Pakistani F-16 After U.S. Report Shows It Did Not
India insists that its armed forces shot down a U.S.-supplied Pakistani Air Force (PAF) F-16 fighter jet during a confrontation, denying a recent U.S. report showing otherwise.
In a report published Thursday by Foreign Policy, two unnamed U.S. officials argued that a recent count of Pakistan's F-16s showed none missing after a dogfight with the Indian Air Force (IAF) on February 27 left at least one Russia-built Indian MiG 21 Bison wrecked, forcing its pilot to eject and be captured on the Pakistan-controlled side of the two nations' disputed Kashmir border region. New Delhi, which accidentally shot down one of its own helicopters during the incident, has argued that its pilot claimed one of Islamabad's F-16s during the dogfight.
"The Indian Force have confirmed sighting ejections at two different places on that day," India's NDTV cited the military as saying Friday. "The two sightings were at places separated by at least 8-10 km [about 5-6.2 miles]."
"One was an IAF MiG 21 Bison and other a PAF aircraft," the statement added. "Electronic signatures gathered by us indicate that the PAF aircraft was a F-16."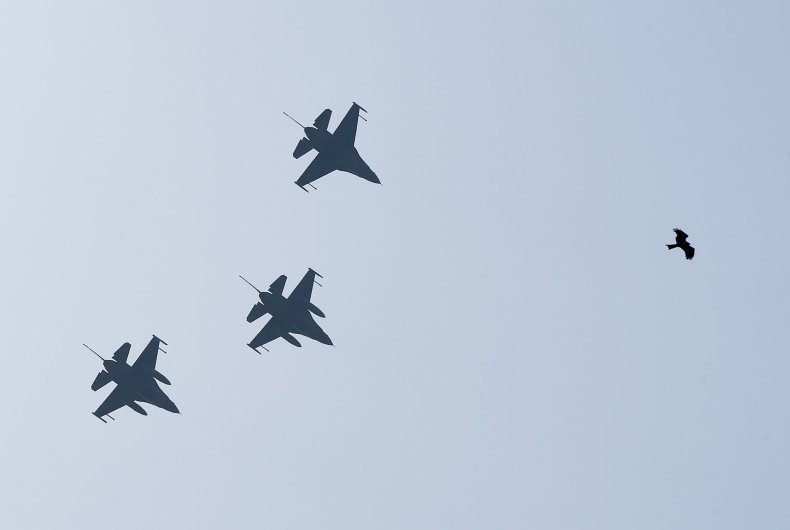 Nuclear-armed neighbors India and Pakistan have been hostile since the two states split after independence from the United Kingdom in 1947. They have fought at least four major military conflicts and have engaged in regular cross-border skirmishes over the region of Kashmir, which both claim as their own.
The two countries have also accused one another of backing militant groups operating illicitly within the other's territory. Tensions spiked in February when a suicide bomber struck a convoy of Indian paramilitary forces in Kashmir's India-controlled Pulwama district, killing 40. The attack was claimed by Pakistan-based Islamist group Jaish-e-Mohammed. India responded the following week with rare cross-border airstrikes allegedly targeting a jihadi training camp in Pakistan-controlled Kashmir.
Islamabad responded with outrage and scrambled its own air force to intercept any further breaches of the Line of Control that separates the two South Asian nations. The following day, the two came to aerial blows and conflicting reports emerged of the fallout Initial reports suggested that Pakistan had downed two Indian jets and that New Delhi had taken out one of Islamabad's.
The plot thickened with proof of Pakistan's claim with the capture of Indian wing commander Abhinandan Varthaman and the release of photos of a destroyed Indian helicopter. A report published late last month by The Economic Times cited an internal investigation as finding that the latter aircraft was hit by India's own antiair systems.
Pakistan Prime Minister Imran Khan returned Varthaman about a week after the incident in a peace gesture coldly received by his Indian counterpart Narendra Modi, whose forces showed off an AIM-120 Advanced Medium-Range Air-to-Air Missile allegedly fired by Pakistan's F-16 over Indian territory as further proof that the aircraft was used.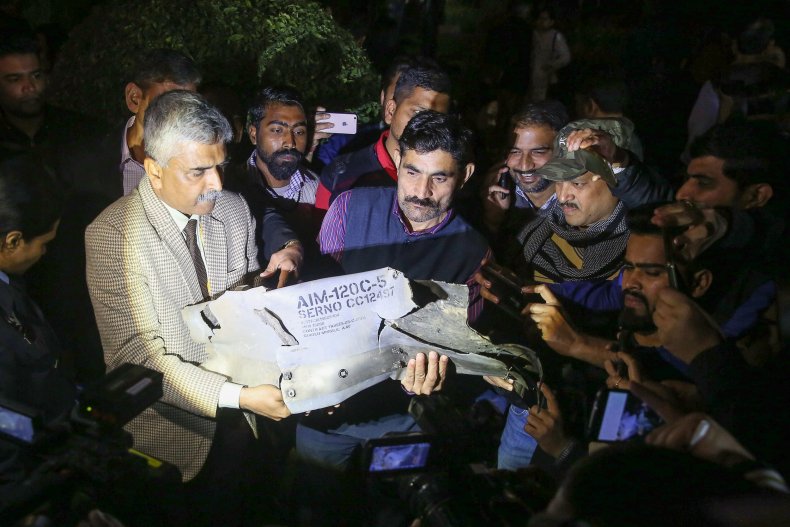 Pakistan has denied that its F-16s were used at all, a deployment that could potentially violate its supply contract with the U.S. Following Thursday's Foreign Policy report, Islamabad appeared to further cast doubt on New Delhi's claims that Varthaman hit an F-16, or anything at all, by providing ballistics evidence of its own.
"IAF claim of hitting F-16 by their Mig 21 before having been shot down by PAF gets exposed," Pakistan Armed Forces spokesperson Major General Asif Ghafoor tweeted Friday, alongside what appeared to be two R-77 and two R-73 air-to-air missiles in Pakistan's custody. "All 4 missile seeker heads recovered intact from the wreckage & held. Pakistan and its professional Armed Forces staying humble by not drum beating. We have more truth on this to share."
As frictions continue over their latest clash, Pakistan has also called India out on its recent anti-satellite missile test. The landmark move, which put India in an exclusive club of space powers including only China, Russia and the United States, was met with reserved criticism by these leading countries, all of whom have strategic ties with both Islamabad and New Delhi.