In mid-January, when New Delhi police arrested Sunil Rastogi for sex crimes against underage girls, the 38-year-old father of five made a horrifying confession: He claimed to have assaulted, or tried to assault, as many as 500 girls over the course of more than a decade.
It's not clear how reliable that number is, but since 2004, authorities have arrested Rastogi at least 15 times on similar charges, and he hasn't been convicted. A court has yet to scrutinize his recent confession, but since his arrest in January, investigators say they have linked him to 58 sex crimes across at least three states—where victims identified him by a distinctive red-and-white shirt.
Shocking as Rastogi's alleged crimes may seem, few in India seem surprised that he has never been punished. Over the past few years, many across the country have come to believe that sexual violence is increasing thanks to rampant poverty, rapid social change and a failing legal system. Since 2012, when the vicious gang rape and murder of a young Indian woman aboard a bus in Delhi made international headlines, India has passed stronger laws against crimes like sexual harassment, stalking and voyeurism; it has also increased jail sentences for many sex crimes and placed the burden on accused rapists to prove that the sex was consensual. But sexual violence and the media frenzy surrounding it have showed no signs of slowing. Along with attacks on adults and teenagers, local newspapers feature almost daily reports of gruesome sexual assaults on infants and toddlers.
Now, as the national outrage over Rastogi—and the ease with which he allegedly abused young girls—continues, the country's activists, politicians and police are looking for ways to change societal attitudes toward rape and to fix a justice system that is failing to keep repeat offenders behind bars.
Many blame urbanization and related social changes for the problem. Between 1991 and 2011, the year of the latest census, the portion of Indians living in urban areas rose from around a quarter of the population to nearly 40 percent, while the population of the National Capital Region surrounding Delhi increased to 46 million from 27 million. Many of the new migrants live in informal slums that lack water and sewage, let alone regular police patrols. Accustomed to villages where women of all religions wear modest clothing, often covering their faces with veils or scarves, they're confronted with new, more permissive attitudes toward sex. And the migrants can no longer rely on extended family networks to watch their children, because their own parents stayed in the countryside. As a result, parents of child abuse victims often say they want to move back to their villages, says Rajat Mitra, a Delhi-based psychologist who often works with the police. "Earlier, the Indian families were set up in such a way that if somebody tried to exploit a child, it would come to the notice of someone," Mitra says.
Though sex crimes often go unreported in all countries, the problem is acute in India, where rape carries a social stigma—many victims, and their families, fear it will hurt their marriage prospects. Indian police registered fewer than 40,000 cases of rape and other sex crimes against children in 2015, compared with around 63,000 reported annually in the U.S.—which has only about a third as many children.
When people do report sex crimes in India, few cases go to trial. "Even when pedophiles are arrested, they're set free after a short period due to a lack of good investigation or proper evidence," complains a Delhi police inspector, who asked to remain anonymous because he's not authorized to speak to the press. Very few officers receive adequate training in how to collect and preserve forensic evidence, and almost no Indian police stations have the equipment they need to properly store and transport semen and pubic hair samples, among other biological evidence, without compromising it, says Rajinder Singh, a Delhi High Court lawyer who has represented accused sex offenders and rape victims. "That destroys the chances of conviction by scientific evidence," he says.
But even if better reporting and forensics could bring more perpetrators to trial, India's court system may not be able to handle more cases. About a third of sex crimes that go to trial eventually end in convictions, yet India's prosecutions often take 10 years or more because the court system is overburdened. In 2015, an average of 80 to 90 percent of sex crimes cases were still pending in the courts, according to National Crime Records Bureau statistics.
All of these factors allowed Rastogi to allegedly attack girls for more than a decade, even as his trials in other cases were pending. He was arrested and held in jail pending a trial at least twice for kidnapping underage girls between 2004 and 2015, according to police records. He was again arrested in February 2016 under the stringent Protection of Children From Sexual Offenses Act, which Parliament passed in 2012, when a shopkeeper allegedly caught him taking a 10-year-old girl to an isolated spot. He spent some six months behind bars for that alleged offense but was eventually released on bail again.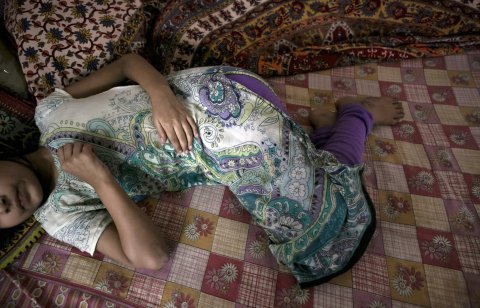 Even though Rastogi has never been convicted, his case—and others like it—are why many reform advocates are pushing for a national sex offender registry like those in the U.S. and Britain. Maneka Gandhi, India's minister for women and child development, favors the idea and has also advocated for a second database of accused sex offenders who are still awaiting verdicts in ongoing trials. Critics say that including suspects in a registry would be a violation of the principle that all people are innocent until they're proven guilty, and that the database would therefore be illegal. But Gandhi argues that such a database is needed because trials can go on for years and the conviction rate is only 10 percent. Even that small percentage is calculated without including the huge number of cases dropped due to police incompetence or witnesses refusing to testify against the accused, says activist Sunitha Krishnan of Prajwala, a nonprofit that works with victims of sex-trafficking and rape. The possibility that innocent people could end up on the database is a price worth paying if it keeps dangerous sex offenders from committing more crimes, argues Gandhi, a Bharatiya Janata Party legislator who is the sister-in-law of Congress Party President Sonia Gandhi.
Others worry that a registry might lead to vigilante justice. Take Rastogi's case. Before his most recent arrest, members of his family and his neighbors told The Indian Express that irate fathers beat Rastogi badly on at least two occasions when they allegedly caught him trying to lure girls as young as 7 to secluded locations. "Just maintaining a register, without improving the sentencing process, would be very dangerous," says psychologist Rajat Mitra, who has interviewed dozens of rapists and child molesters for the police over the past few years.
Still, Gandhi has plenty of backers, particularly as more and more people believe sex crimes are becoming an epidemic, particularly in cities, where Indians are gradually realizing that the hundreds of thousands of children of new migrants are extremely vulnerable without the extended networks of adults in the villages who kept an eye on their kids. Nearly 200 Indian children disappear every day, mostly in urban areas, and police never track most of them down, according to the nonprofit Child Rights and You. Between 2013 and 2015, the number of children who went missing and have not been found increased to 62,988 from 34,244, according to government statistics.
Rastogi seems to have seen the advantage of looking for victims in the city. After his most recent arrest, he told police he'd been commuting by train some 150 miles to the National Capital Region surrounding Delhi from his home in the smaller city of Rudrapur to find girls. "Coming to the city gives [sex offenders] a feeling of anonymity," Mitra tells Newsweek. "They feel that the rule of law is so poor that they can hide and get away with the crime." On that point, all the evidence is on their side.