India Reaches 400K COVID Deaths, Half of Them in Past 2 Months
India confirmed 400,312 deaths on Friday from the coronavirus, half of them from the past two months, as the Delta variant swept across the nation, the Associated Press reported.
The Health Ministry reported that 853 people died in the past 24 hours. The first known coronavirus death happened on March 12, 2020. In the past 24 hours, 46,617 new cases were detected as well. Authorities believe both infection count and death count are a fraction of the true total.
New cases have been on the decline after peaking at 400,000 a day in May. However, authorities are preparing for another possible wave of infections around September and are trying to encourage vaccinations, as less than 5 percent of India's population is immunized.
For more reporting from the Associated Press, see below: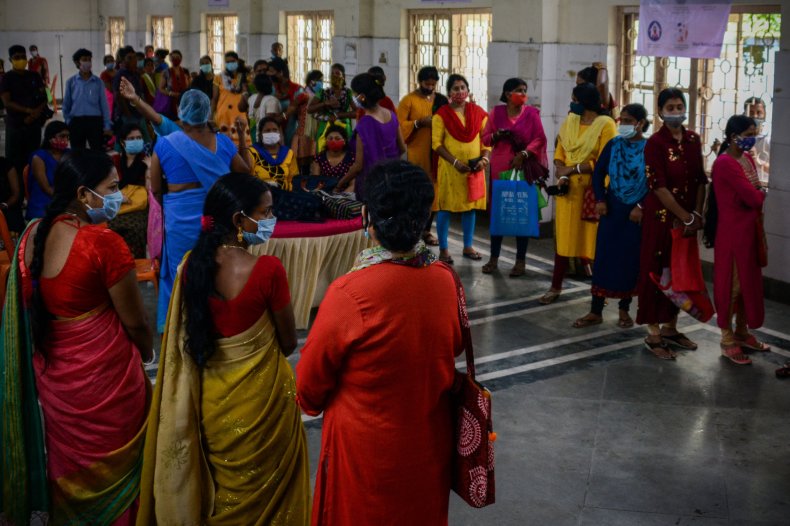 South Korea Reaches Daily Case High in 6 Months
South Korea has reported 826 new cases of the coronavirus, its biggest daily jump in about six months, as fears grow about another huge wave of the virus in the greater capital area.
The Korea Disease Control and Prevention Agency said Friday 633 of the cases came from the Seoul metropolitan area, home to half of the country's 51 million people, where officials pushed back an easing of social distancing measures as infections soared over the past week.
Dozens of infections were each reported in other major cities and regions, including Busan, Daejeon and South Chungcheong Province.
Some health experts say government officials sent the wrong message to the public by announcing plans to allow for larger gatherings and longer indoor dining hours at restaurants starting this month to ease the pandemic's impact on the economy.
The experts say a premature easing of social distancing could have disastrous consequences when the country has administered first doses of vaccines to just 30 percent of its population and most younger adults remain unvaccinated.
South Korea has reported 158,549 cases and 2,024 confirmed deaths.
Arentina Considers Combining Vaccines, Sputnik V Delayed
Argentine officials say they will study the possibility of combining two different COVID-19 vaccines due to the delayed arrival of Russia's Sputnik V for many who already received a first dose.
Buenos Aires city Health Minister Fernán Quirós told Radio Mitre officials would choose a random sample of potential volunteers to receive a second dose of vaccines made by AstraZeneca or China's Sinopharm, or wait for a second shot of Sputnik likely starting in mid-August.
Several other countries have tried mixing vaccines due to distribution delays or safety concerns.
Some 70,000 people in Buenos Aires got an initial shot of Sputnik V three months ago and are still waiting a second dose. The number is about 300,000 nationwide.
The country has seen a renewed wave of infections at the start of the Southern Hemisphere winter.
Italy Has No COVID-19 Deaths for First Time Since October
For the first day in nine months, the northern Italian region hardest hit in the pandemic has registered no COVID-19 deaths.
"Today zero deaths for COVID in Lombardy, hasn't happened since Oct. 6," tweeted Lombardy Vice Gov. Letizia Moratti on Friday.
It was in Lombardy where the first Italian case of COVID-19 was diagnosed in February 2020. As of July 1, the region had tallied 33,782 confirmed deaths, far more than any other region. Lombardy's hospitals, once overwhelmed with COVID-19 patients in ICU beds, on Thursday admitted only one new patient to an intensive care ward.
However, Italian health officials are warning the Delta variant has been steadily gaining traction in the country since May. They are expressing concern that people will relax safe-distancing and other practices to combat the pandemic while vacationing this summer.
Some 35 percent of people older than 12 in Italy are fully vaccinated, and the country is aiming to raise that to 80 percent by summer's end.