A School in India is Accepting Trash to Pay For Student Fees
A school in India is accepting bags of trash in lieu of student fees.
The Akshar Foundation School in Guwahati, a sprawling city in the northeast state of Assam, allows parents to pay their children's tuition with plastic waste: Every week, students are asked to bring in 25 recyclable plastic items, which are then taken to an on-site recycling center to be made into "eco-bricks," low-cost, durable construction material.
The school, which serves over 100 pupils, is funded through donations, so technically the students don't have fees. But founders Parmita Sarma and Mazin Mukhtar say it instills a sense of responsibility and community pride.
"We wanted to start a free school for all, but stumbled upon this idea after we realized a larger social and ecological problem brewing in this area," they tell A Better India."
A major part of the curriculum at the school is "meta-teaching," which trains older students to help teach the younger ones. That not only reinforces skills but keeps them in school and out of the child labor markets. Every young child also gets daily one-on-one mentoring from an older student under adult supervision. The older students wages are based on both skill and their own academic performance, incentivizing them to learn more themselves.
The school has a number of other forward-thinking initiatives: Students work at the on-campus animal shelter caring for stray dogs. (More than 20 pups found new homes in the first year.) They also learning how to install and operate solar panels and help run the school's landscaping business, which maintains several public spaces.
Sarma and Mukhtar have just implemented the Akshar model in a government-run school in Delhi, and have already seen improvements in attendance and literacy rates. They are making plans to open five more schools in the next year.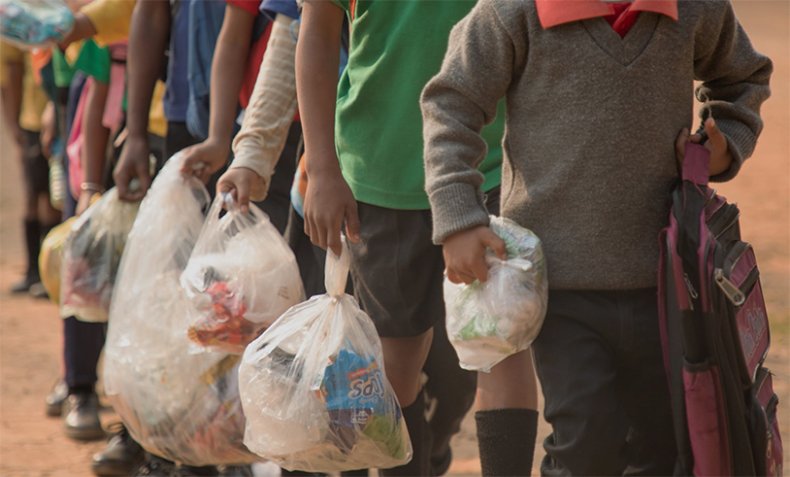 As India becomes even more of a global industrial power, it's grappling with a massive waste disposal issue: The country produces 57 million pounds of plastic garbage every day, according to the Times of India, but 40 percent of it remains uncollected. In some remote places, people burn it for warmth.
"I still remember how our classrooms would be filled with toxic fumes every time someone in the nearby areas would burn plastics," said Sarma.
Other ground-level plans to address plastic waste have appeared in India, as well. Graduates of the Goethals Memorial School in Siliguri launched a program where the needy receive meals in return for bringing in a pound of plastic trash.
In Indonesia, a bus service allows riders to pay for their trips with plastic bottles and cups. And, in Rome, special machines at metro stations allow commuters to deposit bottles and receive a credit on their ride cards.
In recent years China and Malaysia have banned the import of plastic waste from other nations for recycling. Before China adopted its "National Sword" policy in 2018, the country handled nearly half of the world's plastic waste.