India Scrambles Jets to Chinese Border in Latest Flare Up Along Disputed Border
The Indian Air Force sent fighter planes to the border between India and China after Chinese military helicopters were spotted flying near Indian territory last week.
"The Chinese military helicopters were flying very close to the Line of Actual Control," according to Indian news outlet ANI. "After their movement was picked up, the Indian Air Force fighter jets flew patrols in the area."
While the Chinese helicopters flew close to Indian airspace, they did not enter the territory.
A contested area on the India-China border, the Line of Actual Control (LAC), spans a little over 2,500 miles. After fighting a war over the area in 1962, both India and China have recently started to build up military defenses along the LAC. India believes China is illegally occupying areas of land in the western Indian state of Kashmir and Jammu.
In a statement, the Indian army claimed that aggression between Indian and Chinese forces is not uncommon, but usually is "resolved mutually as per established protocols."
China's action occurred days after a fight broke out between approximately 200 soldiers from the two nations at a mountain pass near Tibet. Those participating in the fight threw stones and used their fists in the scuffle.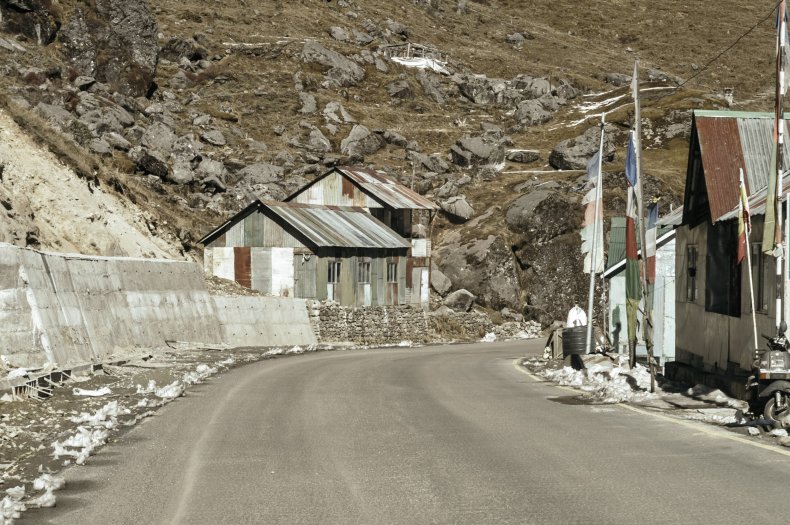 China later downplayed the incident. Chinese foreign ministry spokesperson Zhao Lijian said in a statement that China and India "stay in close communication concerning our border affairs within existing channels."
"Aggressive behavior by the two sides resulted in minor injuries to troops," said Indian Army Eastern Command spokesperson Mandeep Hooda. "It was stone-throwing and arguments that ended in a fistfight."
Newsweek reached out to the Embassy of the People's Republic of China and the Embassy of India in Washington, D.C. for comment. This story will be updated with any response.
Tensions between China and India have slowly been rising along the border in recent years. In 2017, Indian troops blocked the construction of a road being built by China through an area claimed by both Bhutan and China. In response, China blocked a group of Indian pilgrims on their way to Tibet from traversing a Chinese pass. Troops remained in a standoff for two months before India withdrew its soldiers.
Indian Prime Minister Narendra Modi and Chinese President Xi Jinping last met to discuss relations between their countries in October 2019. However, no concrete progress was made towards settling ownership of land along the border. Both leaders made plans after the meeting to "have another meeting on matters relating to the boundary question and reiterated the importance of maintaining peace and security along the border areas."