Probe Launched After Not a Single Girl Among 216 Babies Born in Indian District
Authorities are investigating why not one girl was born across dozens of villages in a northern Indian district in the last three months. In a country grappling with a skewed gender ratio, data has revealed that of the 216 newborns in 132 villages across the Uttarkashi district, in Uttarakhand state, none were girls, the news agency ANI reported.
It raises concerns that the central government's policy to try to tackle the prevalence of sex-selective abortion, is not working.
India outlawed the selective abortion of female fetuses in 1994 but it is still a common practice in a country where dowries for girls, although outlawed, are expensive and boys are considered to be the main breadwinners.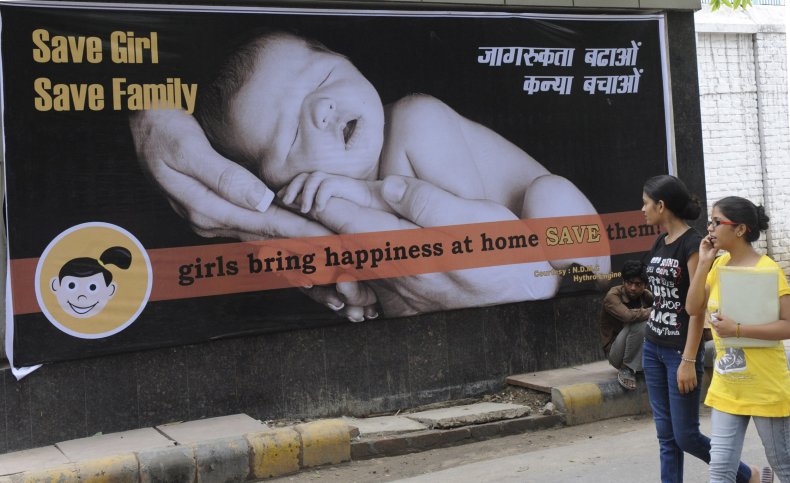 Social worker Kalpana Thakur told ANI that the latest statistics from Uttarkashi district showed the authorities were not doing enough. "No girl child was born for three months in these villages. It cannot be just a coincidence. This clearly indicates female foeticide is taking place in the district. The government and the administration are not doing anything."
The figures have promoted an emergency meeting with the district's health workers. Ashish Chauhan, the district magistrate was quoted by the agency as saying: "We are monitoring these areas to find out what is affecting the ratio. A detailed survey and study will be conducted to identify the reason behind it."
Meanwhile, legislative assembly member Gopal Rawat has directed the health department to investigate the real cause of "such alarming figures. Rawat said, according to The Independent: "It is shocking to have a zero girl child birth rate in 132 village of the district, as we have rarely heard of seen any incident of female foeticide in the hills."
Census data in 2011 showed there were 914 girls to every 1,000 boys for children up to the age of six, but in some northern states that ratio was as low as 850, according to the United Nations Population Fund UNFPA).
Last year, a government report found about 63 million women were "missing" from the country's population. "Issues relating to son preference are a matter for Indian society as a whole to reflect upon," the report said.
The Indian government under prime minister Narendra Modi launched a campaign in 2015 to try to redress the country's gender imbalance. Called "Save the daughter, educate the daughter," the campaign's focus was to enforce laws that forbid sex-selective abortion and diagnostic techniques used for female feticide.
Upon its launch, Modi said that "female foeticide is a matter of deep shame and a cause of great concern," DNA India reported.
Abhijit Das, co-chair of the MenEngage Alliance, a global network of organizations working on gender justice told The Guardian last year for such a campaign to work, men needed to be engaged. "Technology will keep coming if an idea exists. In a patriarchal society, who can challenge an idea better than anyone else? Men," he said last August.
This second paragraph of this story has been corrected. As the headline stated, none of the newborns were girls, not boys.