India Surpasses U.S. Record of New Coronavirus Infections for Second Day In a Row With More than 78,000 Cases
India has now broken the U.S. record high of new daily coronavirus infections for two days in a row.
On Sunday, the South Asian nation surpassed the record high of 77,255 daily infections set by the U.S. on July 16, with India reporting 78,761 new cases. Then on Monday, India reported 78,512 new infections, surpassing the U.S. record—which was also the previous global record for a single country—once again.
In total, India has now reported more than 3.6 million confirmed infections and 64,469 deaths. The nation has the third highest number of confirmed cases of any country in the world, after the U.S. and Brazil respectively. It also now has the third highest number of deaths, again following the U.S. and Brazil.
However, India—with a population of more than 1.3 billion—still trails the U.S. and Brazil in the number of confirmed cases per 100,000 people. The country currently has just about 268 infections per 100,000 residents, compared to 1,844 in Brazil and 1,836 in the U.S.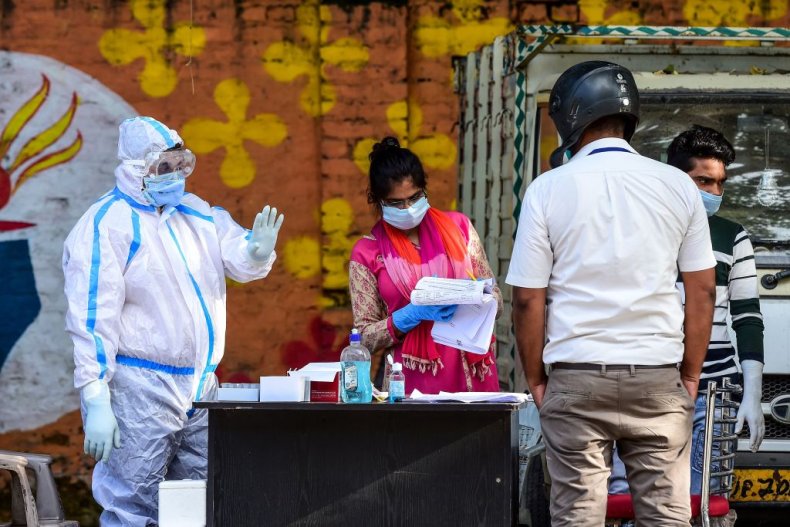 India's Ministry of Health and Family Welfare noted in a Monday tweet that recoveries from the novel virus appeared to be improving.
"Last 5 lakh [500,000] recoveries have been recorded in only 8 days in comparison to preceding 5 lakh recoveries which were recorded in 10 and 9 days, respectively," the ministry said. In follow-up tweets, the ministry stressed the importance of handwashing and wearing cloth face coverings to curb the spread of infections.
Prime Minister Narendra Modi urged Indians to continue to take social distancing precautions.
"It is important that every citizen is healthy and happy and we defeat coronavirus completely together," Modi said in a radio address.
"Corona can only be defeated when you remain safe, when you fulfill the resolve of keeping a safe distance of two meters and wearing masks," he said.
India on Monday extended a ban on international travel until September 30, as the pandemic continued to surge in the country. But the country's Directorate General of Civil Aviation said that "international scheduled flights may be allowed on selected routes by the competent authority on a case-to-case basis," The Indian Express reported.
About half of India's deaths have been in the states of Maharashtra, Andhra Pradesh and Karnataka, according to the Hindustan Times. These three states also account for approximately half of the nation's new daily infections. The South Asian country's death rate currently stands at about 1.78 percent. But just 42 million tests have been conducted in the country, suggesting the possibility that many infections continue to go unreported.
Globally, the pandemic has now infected well over 25 million people, resulting in more than 846,000 deaths.