Madagascar, the fourth-largest island in the world, is one its lowest emitters of carbon dioxide. Nevertheless, it is experiencing the cataclysmic effects of climate change firsthand.
After years of extreme drought, more than 1.5 million Malagasy citizens are currently facing the world's "first climate-induced famine," according to the United Nations World Food Program. While famine continues to worsen in the island's south, other areas of the island nation are still reeling from the effects of five tropical cyclones that have made landfall so far this year, killing at least 300 people, destroying more than 45,000 homes, and displacing nearly half a million residents.
Coinciding with these events has been a resurgence of locusts and a significant loss of wildlife in one of the most biodiverse areas of the world.
Madagascar, which sits off the east coast of Africa, has reached out to a south Asian nation across the Indian Ocean for help — India.
Last week, the island nation decided to join the India-led Coalition for Disaster Resilient Infrastructure (CDRI). Consisting of 29 other nations, the group aims to help island nations develop resilience to deal with the adverse impacts of climate change.
"CDRI supports the achievement of goals and targets enshrined in the Sustainable Development Goals, Paris Agreement on Climate Change, Sendai Framework for Disaster Risk Reduction and the UN Agenda 2030 principles of leaving no one, no place and no ecosystem behind," according to the organizations' most recent annual report.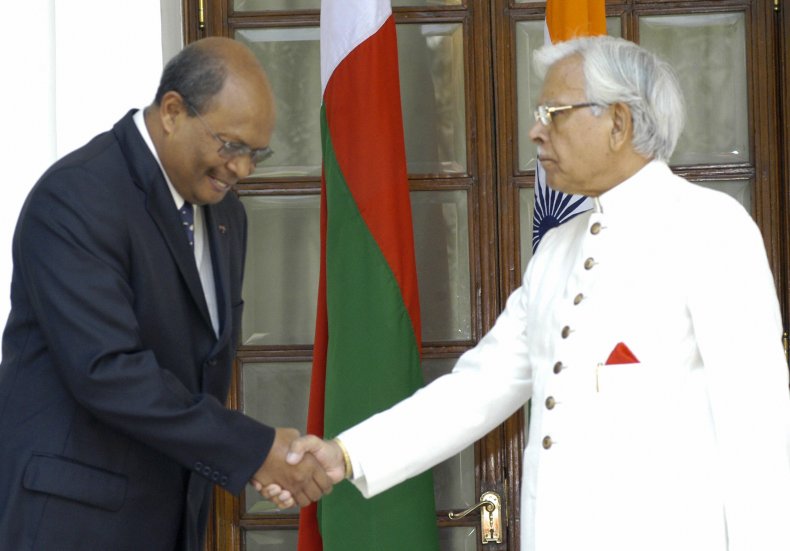 Building this resilience is urgently needed as the island faces a series of worsening environmental concerns.
Its government and local organizations are calling for additional support from the international community to address current needs and mitigate the effects of future disasters, said Marie Christina Kolo, a local activist and organizer from Madagascar.
"Climate change, for us, is not a concept," she said, "It is a reality because we already see the polluted ocean, the coral reefs dying and the sea level rising."
"We need support, but not just any kind of support," she added. "I do not want to have someone from another country telling me what to do. Ultimately, we need to start involving community activists, with the support of governments and international NGOs."
Kolo said the places of her childhood memories are fading as her grandmother's fishing neighborhood is abandoned and the environment she grew up in turns on its head.
She remembers the way things were.
"I grew up connected to nature, but things are not like they used to be," she told Newsweek. "I get very nostalgic thinking about the things I often saw when I was growing up — colorful fish, whales, dolphins, sea turtles. Now I just see plastic floating and coral reefs dying."
The people of Madagascar have shown great resilience and innovation despite these major changes, Kolo said, but ultimately, the country does not have enough resources to address these problems alone.
While organizations including the World Bank and the United Nations have offered resources to the country for decades, typically in the form of humanitarian aid or capital investments, many Malagasy activists and community organizations have criticized their approach.
Some accuse Western powers of pushing a top-down approach to international development that silences the people on the ground.
"Western experts feel that there is not enough knowledge in some countries and that they know better than the locals," Kolo said. "I would be happy to exchange perspectives with experts from Western countries, but we do not see equality or dialogue from them. There is not a sense that they are approaching this as a real partnership."
She said that Malagasy leaders and activists are looking for a different model of global cooperation, which leads them to favor collaboration with other regional powers, like China or India.
"It is easier for countries in the global south to connect, understand each other and make efforts to change the way organizations are working today," Kolo said.
While the U.S. still tops most other nations in the amount of total foreign aid, nations like India have instead focused on fostering strong trade relations and signing deals focused on mutual economic, military, and political benefits, according to the Embassy of India in Antananarivo, the capital of Madagascar.
While monetary aid donations to Madagascar were comparatively small, bilateral trade in 2021 between India and Madagascar stood at USD $363.99 million. India was the second-largest source of imports for Madagascar just one year earlier, constituting 9.4% of the nation's total international imports.
Kolo said the Indian government has sought to foster a spirit of collaboration and partnership with the Malagasy people by engaging in trade, encouraging cultural exchanges, and hosting public diplomatic visits. She said this has gone a long way in making them feel more respected and heard.
Referring to his nation and India as "two neighbors connected by the ocean," Madagascar's Prime Minister Christian Ntsay has expressed his desire to deepen the relationship between the countries on multiple occasions throughout the last four years.
Good relations between the nations have been fostered over time, allowing India to become not only a key economic and political partner but also a key resource in Madagascar's fight against climate change.
India is hoping this alliance will lead to significant change.
"I am delighted Madagascar has joined the Coalition for Disaster Resilient Infrastructure," said Abhay Kumar, India's Ambassador to Madagascar. "It will help Madagascar to be better prepared for the natural disasters such as cyclones it faces almost every year."
While Kolo is encouraged by the increasing momentum of international attention and support, she points out that the effects of this climate crisis are varied, and the needs in Madagascar are urgent.
"Women, children, and families are eating cactus or locusts to survive this drought, and more than half a million children are acutely malnourished," Issa Sanogo, the U.N. humanitarian coordinator in Madagascar wrote in an official report. "This is happening in a country and a region that has contributed the least to climate change."
Kolo also points out that this climate crisis particularly affects women and children, noting that Malagasy women are four times as likely to experience malnutrition during this crisis.
"When we talk about climate change and the effects of climate change, people do not consider the fact that the first victims are usually women," she said.
Local activists, researchers, and community organizations have already developed their own models and strategies to mitigate the damaging effects of extreme weather events. These include restricting deforestation, leveraging solar technology, and using trees and rice paddies to help absorb the shock of storm surges.
"We work in innovation. Not in high-tech innovation, but low tech innovation," Kolo said. "We are working with local researchers to find solutions that are adaptable and can have really cheap pricing."
While many of these strategies have proven successful on a local level, Western global organizations often overlook local experts and dismiss their approaches.
"Because of globalization, people tend to devalue this traditional knowledge," Kolo said. "But when you bring back this traditional knowledge, you valorize some community good practices that could be efficient, especially in developing countries like Madagascar, where most of the population lives in rural areas."
Ultimately, the climate crisis is a global one, and can only be solved with global collaboration and engagement from all levels. Kolo said in order to succeed, local communities must be empowered and engaged in the process.
"We want support from the international community," she said, "but we do not want their pity."