Amusement Park Ride Crashes to the Ground After Malfunction, Killing Two People and Injuring Dozens
A pendulum ride at an amusement park in western India crashed on Sunday, killing at least two young people and injuring 27.
Manali Rajvadi, 24, and Mohammed Zaid Momin, 22, died in the incident at the Amrapali Amusement Park at the Kankaria lake in Ahmedabad, The Times of India reported.
The injured park visitors were aged between 16 and 26. Various local reports indicate between three and fourteen were critically injured.
Local chief fire officer, M. F. Dastoor, said it seemed the ride's load-bearing cable had snapped mid-swing, sending an arm with a carriage carrying dozens of passengers crashing to the ground.
A passerby recorded the moment the pendulum arm detached and fell from the ride. Some people may find the video—embedded at the bottom of this story—upsetting.
Another social media user shared a clip of rescue workers trying to free passengers from their seats after the crash. Injuries were clearly evident among several guests still strapped into the ride.
Authorities evacuated the park and detained several employees from the company operating the ride, The Times reported.
Police inspector JM Solanki told the Ahmedabad Mirror: "We have taken in manager Tushar Choksi and [directors] Ghanshyam and Bhavesh Patel for questioning along with ride operator Kishan [Mohanty]. We will file a primary case of accidental death in this case."
A helper called Manish Vaghela was also named in a police complaint, India TV reported.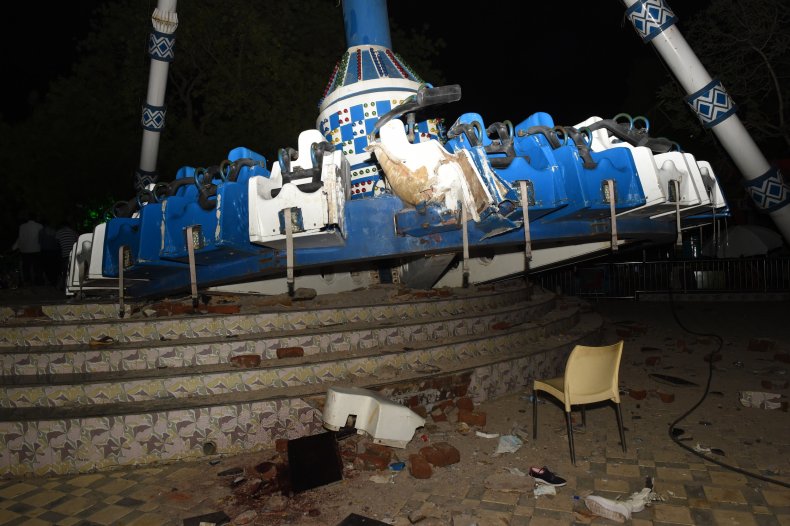 Police officers are considering making culpable homicide charges, according to The Times. Deputy Commissioner of Police, Bipin Ahire, said: "We are checking aspects such as operation and maintenance of the ride. Even agencies responsible for inspection will be probed for accountability."
Joint Commissioner of Police in Ahmedabad, Vipul Aggarwal, offered his condolences to the victims and promised police would find those responsible.
He tweeted: "Whatever has happened at [Kankaria] today is extremely unfortunate but I assure you that the entire administrative apparatus is committed to ensure those guilty are given the maximum punishment and best possible treatment is given to injured for their prompt recovery.
Ghanshyam Patel maintained the company had regularly inspected the ride and had all relevant documentation in check. But he did not explain how the ride had broken, the Mirror reported.
Just last month, Ghanshyam Patel made headlines locally over a contract battle concerning Jaldhara Water Park, also located at Kankaria.
Father-and-son Ghanshyam and Bhavesh Patel's company—Superstar Amusement Private Limited—ran the ride on behalf of the Ahmedabad Municipal Corporation.
AMC Commissioner Vijay Nehra said: "I have ordered an [investigation into] why the ride malfunctioned—the mechanical reason behind it will be probed. Police and [the Forensic Science Laboratory] will investigate the matter and strong action will be taken."
Superstar Amusement Private Limited did not immediately respond to Newsweek's request for comment.
Warning: Some readers may find the video below upsetting.
Amusement Park Ride Crashes to the Ground After Malfunction, Killing Two People and Injuring Dozens | World