The TikTok account of a prominent social media influencer in India has been suspended after he was accused of promoting acid attacks and violence against women, according to a women's charity that complained about a video he had posted.
Faizal Siddiqui, who has more than 13.4 million followers on the platform, faced wide criticism for posting a video which shows a depiction of an argument between him and a woman who had left him.
In the video, he is seen throwing liquid on her face and the camera then cuts to the woman who is shown with makeup which is supposed to mimic acid burns, The Times of India reported.
India's National Commission for Women (NCW) asked TikTok India to remove the video and called on Maharashtra police to investigate. NCW Chairperson Rekha Sharma said the video promoted the "grievous crime" of acid attacks among its young followers on social media.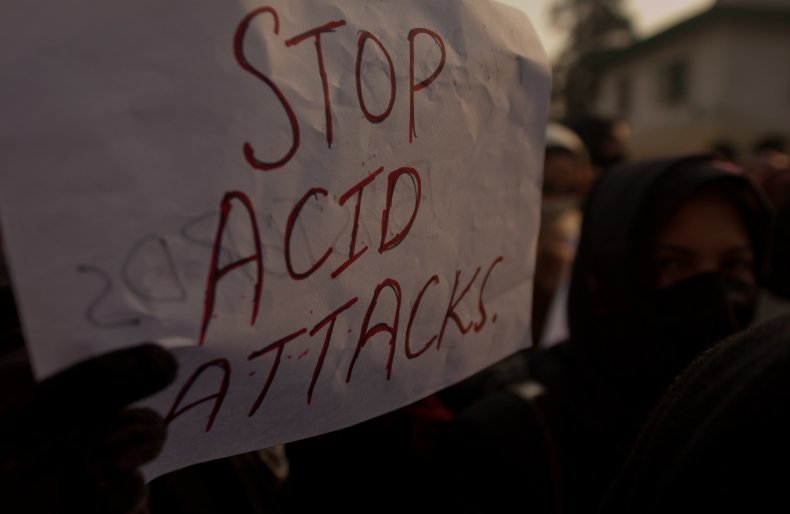 "The commission is concerned about the safety and security of women and disturbed by the use of cyberspace to instigate crime against women," her complaint letter to police said.
On Tuesday, Sharma tweeted that her office had been informed by TikTok India that Siddiqui's account had been "suspended." TikTok said Faizal's account "was banned due to multiple community guidelines violations" The Tribune reported. Newsweek has contacted Sharma for comment.
The video was condemned on social media in the country which has had 1,483 victims of acid attacks between 2014 and 2018 according to data from India's National Crime Records Bureau.
Climate and environmental activist Licypriya Kangujam tweeted to her 44,000 followers: "This is completely disgusting. Dear @TikTok_IN, Delete the account of #FaizalSiddiqui that instigate committing violence against women. He is promoting Acid Attacks to young girls and women. This is unacceptable."
Filmmaker Pooja Bhatt retweeted Kangujam's message to her 401,000 followers, with the comment: "What on earth is wrong with people? This is depraved. This man needs to be taken to task. As for the woman in the video-do you realise what immense harm you are causing by participating in this?"
Meanwhile the singer Sona Mohapatra said that violence against women has been normalised in society, tweeting: "Demeaning women is normalised in our culture."
In an Instagram post, Siddiqui said that his intention "was never to hurt anyone in any capacity" and that the video circulating online had been doctored.
"As a social media influencer, I realise my responsibility and apologise to anyone who was offended by the video."
"I'm adding the first part of the video clip, where you can clearly see that I'm drinking water. So please try and understand. It's WATER! Who drinks acid?" he added.
In a statement to Newsweek, a TikTok spokesperson said: "Keeping people on TikTok safe is a top priority and we make it clear in our term of service and Community guidelines that clearly outlines what is not acceptable on our platform.
"As per the policy, we do not allow content that risks safety of others, promotes physical harm or glorifies violence against women.
"The behaviour in question violates our guidelines and we have taken down content, suspended the account, and are working with law enforcement agencies as appropriate."
This story has been updated to include a statement to Newsweek from TikTok.