Indian City Using Dog Crematorium for Humans as COVID Death Toll Skyrockets
Officials in Delhi, India's capital city, are using a dog crematorium site to process bodies that have succumbed to COVID-19, as virus cases and death tolls soar across the nation.
With the number of COVID-19 funerals approaching 1,000 a day in the city, the South Delhi Municipal Corporation said they plan to create temporary human funeral pyre platforms – or structures meant for burning bodies – at a municipal dog crematorium site.
The 3.5-acre site was recently developed and has yet to be operational for animals, but will now be used to free up space for additional funeral processing in the city, the Times of India reported.
"Temporary pyre platforms will be developed to cater to additional bodies. We are witnessing an increase of over 15 to 20 percent of cremations daily," a municipal corporation official said in a statement, according to the Times.
More than 800 bodies are currently being cremated a day in Delhi, but officials warned that that number could soon reach 1,000. Using the animal cremation site will allow city officials to prepare accordingly.
"We have to prepare for 1,000 bodies in advance to avoid chaos," another city official said, according to the Times.
On Wednesday, India became the fourth country in the world to report over 200,000 COVID-19 deaths. The country recorded over 360,000 new cases a day earlier, bringing the total number of infections to more than 17 million, according to Johns Hopkins University.
The surge in new infections has left hospitals experiencing shortages of oxygen and space in intensive care units.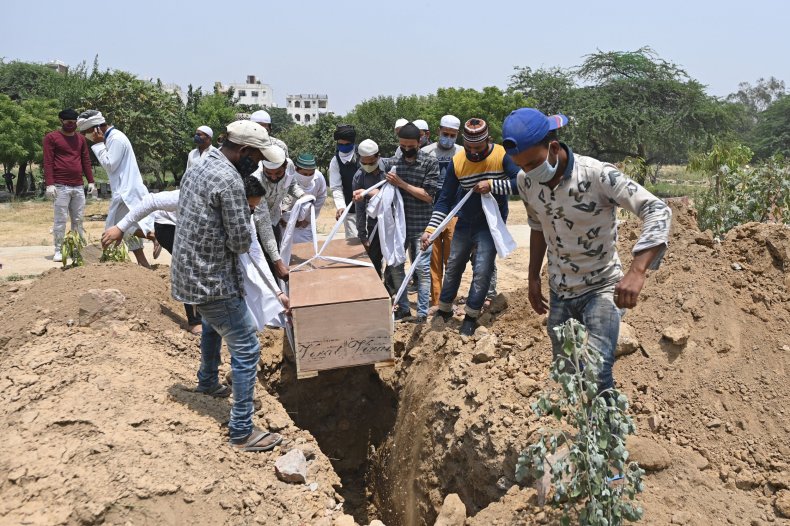 Aside from Delhi, many cities across the country are now being forced to use parks, parking lots, and other makeshift areas for mass burials and cremation sites to accompany the increasing amount of dead. In some place, authorities are converting train cars into isolation wards.
The situation has become so dire that doctors across the country have taken to social media to plead for more oxygen canisters, as more than 117 people are recording dying each hour from the virus.
"I feel helpless because my patients are surviving hour to hour," Dr. Gautam Singh told the Associated Press. "I will beg again and hope someone sends oxygen that will keep my patients alive for just another day."
Nonetheless, India's health minister on Tuesday said the country is better prepared to beat COVID-19 now than it was in 2020.
"Today we are in a much stronger position against Corona than in 2020. In 2020, we started our fight from zero, because no one knew anything about this virus at that time," Harsh Vardhan tweeted Tuesday.
According to a health ministry statement, Vardhan also said that India is "better prepared mentally and physically with more experience to beat the pandemic as compared to 2020."
The same day, Vardhan also announced "a series of blood donation camps at 13 different locations in Chandigarh, Punjab, Haryana and Himachal Pradesh." In response to the surging cases, India's government has begun transporting medical oxygen tanker trucks to hospitals.
President Joe Biden, who recently spoke with India's Prime Minister Narendra Modi, said the U.S. pledged "steadfast support for the people of India who have been impacted by the recent surge in COVID-19 cases."
"In response, the United States is providing a range of emergency assistance, including oxygen-related supplies, vaccine materials, and therapeutics. Prime Minister Modi expressed appreciation for the strong cooperation between both countries," a readout of the call between the two leaders said.
Newsweek contacted India's health ministry for additional comment, but did not hear back in time for publication.