Indian Doctor Says Hospital Beds Have Waiting Lists Up to 75 Names Long, 'We Are Devastated'
Dr. P Carel Joseph, the director of health for the humanitarian organization World Vision India, highlighted the nation's devastating COVID-19 crises on Wednesday and said waiting lists for hospital beds are as many as 75 people long.
In an article published in the New Zealand Herald, Joseph, who is a public health and infectious diseases expert, described the situation in India as "devastating" and warned that the situation will likely worsen in the coming weeks.
"There is something especially soul-crushing about being a doctor and not being able to help. You feel like you have everything, but you can't do anything," Joseph wrote.
"The second wave of Covid-19 in India has been like nothing we've ever seen before," he added. "Hospital beds now have waiting lists. Each one has as many as 75 patients waiting for it. That has been the reality for the past two or three weeks all across India. And there's a massive shortage of oxygen. Hospitals all over the country are crying out for oxygen. Beds with ventilators are a distant dream."
Joseph added that in the country's second major virus outbreak, people are now getting sick faster and unable to receive oxygen as the nation faces a dwindling supply. In some cases, hospitals are now only receiving 40 percent of their daily oxygen supply needs, while others have completely run out. Desperate doctors have even taken to social media to beg for help in receiving new oxygen supplies.
"It is not just the Covid that is killing people, it is a lack of the most basic essential, oxygen. That's what is fueling the crisis at this point," Joseph wrote. "Everywhere, morale is low. We are devastated and we don't know what will happen over the weeks ahead. That's something we don't have an answer for at this point of time."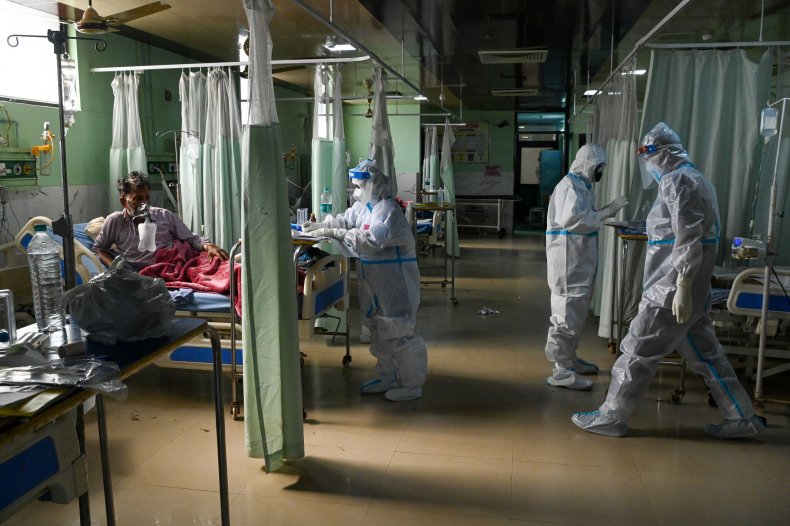 Joseph's statements come as India recorded 382,315 new coronavirus cases on Wednesday, reaching a total of more than 20.6 million. An additional 3,780 deaths in the last 24 hours brought the total to 226,188, though health experts predict both case and death figures to be undercounted.
The situation has gotten so grim that as bodies pile up, crematorium have had to turn away families of newly deceased patients. In one instance, an Indian city opened up a dog crematorium site for humans in order to meet rising needs.
India's top scientific adviser said on Wednesday that amid the current virus outbreak, the nation should brace for an "inevitable" third wave of new cases.
"A phase three is inevitable, given the higher levels of circulating virus but it is not clear on what time scale this phase three will occur. We should prepare for new waves," K VijayRaghavan, the Indian government's principal scientific adviser, said at a press conference Wednesday.
According to the United National Development Report 2020, the country is experiencing a record-breaking outbreak now because state health officials did not sufficiently plan for a resurgence of new cases, or faster-spreading variants of the coronavirus.
On Wednesday, Joseph warned that while virus cases have mostly been affecting the nation's larger cities, India's rural areas are likely to be hit hard next. If that happens, those populations will be even more at risk, as many areas lack adequate health services or facilities to treat infected individuals.
"Once the demand for healthcare really increases in those rural areas, that's where the real crisis is. They don't have the facilities to cope. They don't have hospitals, doctors, nurses. They definitely don't have oxygen supplies. In some places there are only traditional healers and sometimes there are health workers but they have no facilities. A serious crisis in the rural areas is only a matter of time," Joseph wrote.
Newsweek contacted India's health ministry for an additional comment, but did not hear back in time for publication.