Suspected Drunk-Driver Slides Car Off Road, Asks for Help at a Sheriff's Deputy's Home
An Indiana woman has been arrested after allegedly sliding her vehicle off the side of the road while drunk and then inadvertently knocking on a sheriff's deputy's door for help.
Tabitha Mitkus, 30, of Kokomo, is accused of operating a vehicle while intoxicated after her 2015 Dodge Charger drove off the County Road 500 East at around 12:51 a.m. on December 17.
After her car became stuck, Mitkus purportedly went up to a house seeking assistance. Unfortunately, she just happened to arrive at the home of an off-duty Tipton County sheriff's deputy.
According to Indiana State Police, Mitkus had a BAC of .198, well over the .08 BAC limit at which a driver is considered intoxicated by the state.
The deputy noticed that Mitkus may have bene impaired after she knocked on his door and took her into custody when she tried to return to the car and flee the scene.
The suspect was still in custody when Indiana State Trooper Matt Moon and officers from the Howard County Sheriff's Department arrived at the deputy's residence.
During the investigation, it was also revealed that Mitkus had left her 10-year-old daughter alone at her house while she was out driving. Howard County deputies later placed the child into the care of the Howard County Division of the Indiana Department of Child Services.
Mitkus was arrested on suspicion of operating a vehicle while intoxicated, operating a vehicle while intoxicated with a blood alcohol concentration (BAC) of .15 or higher, and neglect of a dependent. She was taken into custody at Howard County Jail.
The Indiana Department of Child Services has been contacted for comment.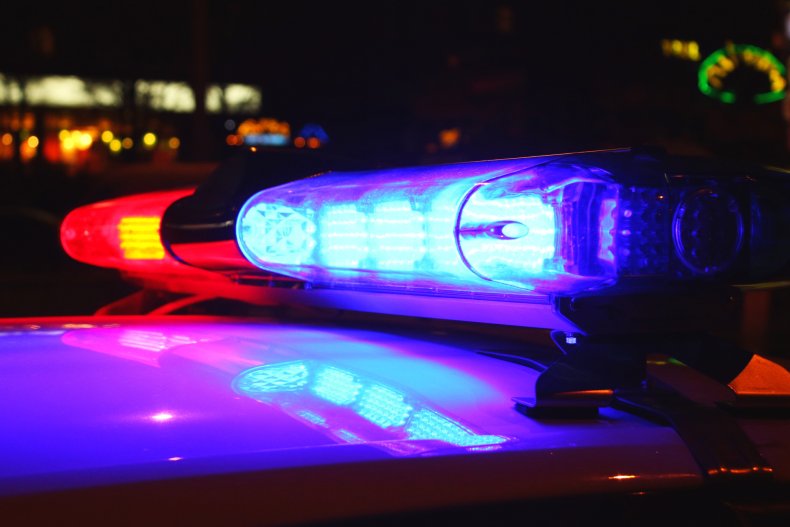 Elsewhere, Indiana State Police pulled over to help a man who needed assistance with a flat tire only to find he was driving with a fake license plate written in crayon.
State troopers were patrolling on the I-80 Toll Road near the 147mm, just north of Angola, on the afternoon on December 12 when they spotted motorist Joshua Anthony Lewis-Brown at the side of the road.
Lewis-Brown, 20, from Rochester, New York, told troopers that he couldn't change his flat tire and needed a tow-truck. When responding to this request, the troopers realized that Lewis-Brown's DJ39RK license plate was fake and had been handwritten in crayon on a grocery bag.
He also did not have a valid driver's license and was on probation for grand larceny at the time.
A Vehicle Identification Number (VIN) check against the car revealed it had been reported stolen in State College, Pennsylvania, the previous day.
Lewis-Brown was arrested on suspicion of possession of stolen property and operating without ever obtaining a license.