Indian Government Official Beats Woman With Chair Leg for Asking Him to Wear Mask
Indian authorities arrested a senior government employee after he allegedly beat a disabled woman with a stick after she had asked him to wear a face mask.
The incident occurred Saturday afternoon at a hotel in the Nellore district, located in India's Andhra Pradesh state, and was caught by the hotel's security cameras.
The woman, identified by The New Indian Express as Checuri Usharani, had asked C Bhaskar to wear a mask while in their office as part of mandatory safety measures advised by the government during the coronavirus pandemic.
Bhaskar, who was working as a deputy manager at the department-run AP Tourism Hotel in Dargamitta, apparently became upset that a lower-ranking colleague had given him direction, the Times of India reported.
A man can be seen in the CCTV footage — which has since gone viral on social media — grabbing a woman by her hair, dragging her to the ground and repeatedly using a wooden stick from a chair to hit her.
"Crime against women is unacceptable. We condemn the Nellore incident and action has been taken against the accused for manhandling the lady official," said Gautam Sawang, director general of police in the Andhra Pradesh state.
The director could not be immediately reached by Newsweek for additional comment on the case.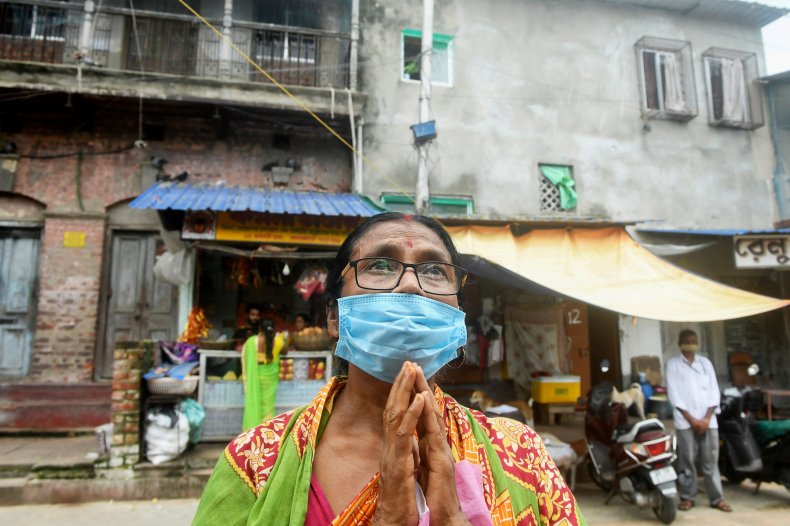 Multiple colleagues attempted to intervene in the altercation before eventually walking Bhaskar out of the room, the video shows.
The woman has placed a complaint with local police against Bhaskar, who reportedly has had a long-standing grudge against her.
The woman and her husband have confronted Bhaskar in the past for spreading rumors about her, the New India Express reported.
Bhaskar has been arrested and sent into judicial remand. A case has been filed against Bhaskar under the following Indian penal codes: assaulting a woman intending to outrage her modesty, using force to dishonor a person and causing injuries using a weapon, said K Venugopal, sub-inspector of Dargamitta police.
Sri Pravin Kumar, chief executive officer with the Andhra Press Tourism Authority, has suspended Bhaskar while a committee investigates the altercation.
Kumar could not be immediately reached by Newsweek for further comment.
India's National Commission for Women (NCW) is aware of the incident and of Bhaskar's arrest. NCW Chairwoman Rekha Sharma wrote a letter to Sawang expressing her concern, according to a post on the organization's Twitter account.
"The Commission is perturbed and shocked by the incident of atrocity committed against a specially-abled woman employee by a person who is holding a responsible position when the Government of India is also emphasizing the need for inclusion of specially-abled at the highest level," according to the letter.
The NCW requested that the police send it a "detailed action report" for the organization to review.
Sharma did not immediately return Newsweek's request for additional comment.
In an April 14 address to the nation, Indian Prime Minister Narendra Modi implored citizens to wear face masks "without fail." As of early June, the use of face coverings is mandatory while in certain public spaces, according to India's Ministry of Health and Family Welfare.
According to the most recently available data from Johns Hopkins University, there have been a total of 566,840 confirmed coronavirus cases in India and 16,893 people have died from the virus.
India is the world's fourth-worst affected country by the pandemic, trailing the United States, Brazil and Russia.
Modi said in a press conference Tuesday that the country's coronavirus death rate is under control, but acknowledged that India is at a "critical juncture," as cases have risen rapidly since the end of lockdown in early June.