'Indian Matchmaking' Season 2: Where Are the Original Cast Now and Who Is Still Together?
Indian Matchmaking Season 2 has been given the green light by Netflix and the streaming giant recently announced a casting call for anybody 18 years or older who resides in the U.S., the UK, Canada or Ireland and are looking for love. The series sees Sima Taparia, known as Aunty Sima, a marriage consultant from Mumbai use a variety of methods, traditional and new, to help romantic hopefuls find their perfect match.
In the first series, eight romantic hopefuls were put through their paces by Aunty Sima, who tried to find them the perfect match. But where are the original cast now, and who is still together? Newsweek has everything you need to know.
Where are the original cast of 'Indian Matchmaking' now?
Aparna Shewakramani
After filming for Indian Matchmaking ended in 2019, Aparna Shewakramani kept in touch with three of her matches, Dilip Aidasani, Jay Wadhwani, and Shekar Jayaraman.
She told OprahMag.com in 2020: "To walk away with three people you can relate to— who are good, and kind, and grounded—is a success in my book."
However, a relationship with any of the men never came to anything, with the coronavirus pandemic putting a pause on Aparna's dating life in 2020.
Today, Houston-based attorney Aparna is still working as a lawyer whilst running her own travel company, My Golden Balloon.
Nadia Christina Jagessar
New Jersey-based event planner Nadia Christina Jagessar had an instant connection with Vinay Chadha on Indian Matchmaking.
Sadly it was revealed during Indian Matchmaking their romance hit a roadblock when they suddenly stopped talking to each other.
Nadia alleged Vinay ghosted her ahead of a planned movie night out of the blue but after the show premiered on Netflix in summer 2020, he took to Instagram that it was actually Nadia who ignored him, reports GoodHouseKeeping.com.
On Instagram in July 2020, Vinay wrote: "I NEVER DITCHED HER THERE. The morning of the movie on July 18 I texted saying I was sick and didn't want to last-minute flake so I can't come. I thought this [was] honest [and] upfront no BS. She didn't react well when later in the day I got an IV and wanted to meet up. She replied saying I handled this wrong too and never once asked if I was ok. I have receipts to prove it."
Responding to Vinay's claims in conversation with the New York Post, Nadia claimed she told Vinay she did not want to pursue anything romantic with him any longer but he kept trying to contact her, so she ultimately ignored him.
Nadia said: "If he considers that ghosting, that's fine. Don't be mad at me. I am not the producer or the person who created the show. I am a piece of this puzzle, just as you were."
On July 17, on the year anniversary of Indian Matchmaking, Nadia took to Instagram to celebrate the series, where she also hinted she may still be single.
Under a series of photos of her time on the show, she wrote: "People continue to ask me if the show 'worked' and if I found anyone. The short answer is no but the real answer is YES. It absolutely brought me great relationships with the cast, the crew, and all of those I got to meet (and continue to meet) along the way. For that, I am overjoyed."
Vyasar Ganesan
Austin-based schoolteacher Vyasar Ganesan was matched with small and exotic animal veterinarian Rashi Gupta.
Things were going great for the couple, particularly when a face reader predicted he and Rashi would work everything out.
Sadly, the pair called it quits on their relationship and decided to be friends instead. Vyasar's romance with Manisha Dass also never came to anything.
Speaking to the Los Angeles Times, Vyasar said: "It's no one's fault. Matchmaking really is tough. Both people [Rashi and Manisha] I was matched with were truly wonderful, inspiring individuals who I'm proud to call friends."
Akshay Jakhete
Akshay Jakhete and Radhika were on track to be the most successful love story out of Indian Matchmaking.
They were set to get married, taking part in a pre-engagement ceremony on Indian Matchmaking, but things fell apart between them off-camera and they never ended up tying the knot.
Exactly what happened between the pair remains unknown.
Speaking to the L.A. Times, Akshay revealed: "There were some things which we found out that did not go down well with us, and eventually I called it off."
He added: "Trust is something [that] once broken cannot be regained in a matter of days — it takes a really long time ... I'd rather wait and be with the correct person than be stuck with the wrong person. So I am single right now and still looking for the right one."
However, in a separate interview with Meaww.com, Akshay said they were two different people and "couldn't even hold a conversation together for more than five minutes," citing that as the "only reason" they called it off.
Rupam Kaur
Rupam Kaur was introduced in the penultimate episode of the series.
As a single mother and divorcee, Aunty Sima suggested she would be hard to match. In the end, there were two matches but neither of them worked out.
After Indian Matchmaking ended, Rupam found love on the dating app Bumble.
In September 2020, she married her fiancé, Nitin Singh, after one year and four months of dating.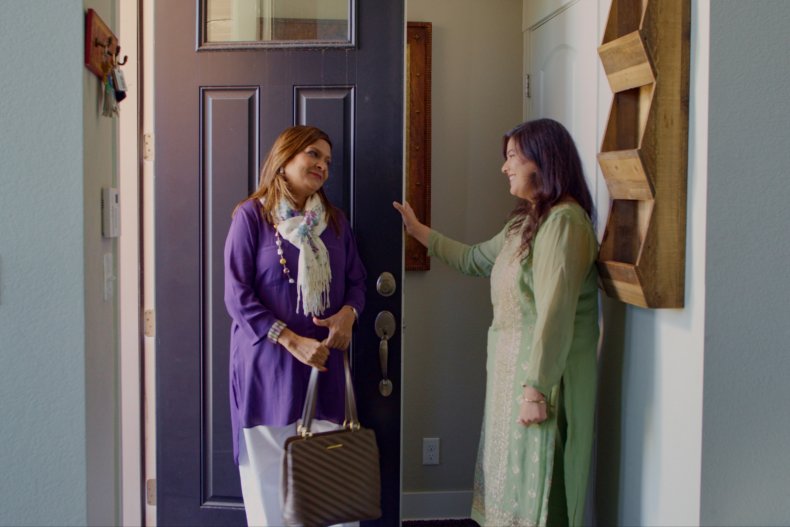 Ankita Bansal
Ankita Bansal's Indian Matchmaking took her on a journey of self-exploration and self-love, rather than a whirlwind romance.
She ended up not pursuing anything with her prospective suitors and wanted to focus on herself and her career.
After leaving Indian Matchmaking, Ankita shared an emotional Instagram post where she thanked the Netflix series for giving her the "adventure of a lifetime."
She wrote: "I am content. Satisfied. But more than that thrilled cause some friendships & family relationships I d lost out on in the last year or so, today it has been proven that love comes in so many forms and I am so lucky to have found this love in each and every one of these bonds!
"I'm low-key crying, but I'm also a strong independent woman so I won't let you know.
"Thank you #IndianMatchmaking for giving me an adventure of a lifetime and bringing me back and closer to the ones I love the most."
Today, Ankita is working hard as the co-founder and partner at her denim brand THERE!,
Pradhyuman Maloo
Mumbai-based jewelry designer Pradhyuman Maloo hit things off with Delhi-based model and actress Rushali Rai after being resistant to relationships and marriage from the outset.
Sadly, their relationship did not make it past Indian Matchmaking and they called it quits.
On Instagram after the show premiered, Pradhyuman addressed whether he and Rushali were still together.
He said: "Long-distance didn't allow us to explore our individual sides and communicate organically plus we were in different stages in our life so we decided to move on and yes we are still friends :)"
Indian Matchmaking is streaming on Netflix now.