Police Hunt for Monkey That Snatched Baby and Dropped It in a Well
Authorities in India are searching for a monkey that snatched a newborn baby from a house in the village of Talabasta, Orissa, over the weekend.
On Sunday, a relative found the 16-day-old baby dead in a well near the house it was taken from in the eastern Indian state, reported local media.
"The baby was sleeping next to its mother when the monkey allegedly carried him away. The mother immediately raised cries for help but the creature fled with the baby and disappeared from her view," PC Pradhan, a local police officer, said.
He added: "We have registered a case of unnatural death and are getting an autopsy done. There are bruises on the child's left hand. The baby might have slipped from the clutches of the monkey, and died after falling into the well."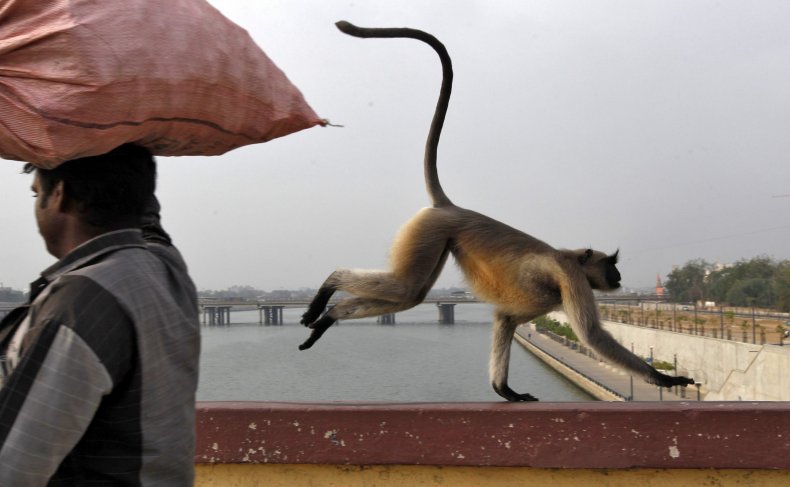 The child's body has been sent to Banki hospital for a postmortem to determine the cause of death. A doctor said that the baby appeared to have drowned.
Wild monkeys, who roam free around the town, are often caught causing damage to property and stealing food, but cases of violence are "very rare," according to police.
"We hope to catch the monkey within a week," Pradhan told the BBC. "While monkeys attacking humans or entering houses in search of food are fairly common, this is the first case in which one has run away with a baby."
Family members and other villagers protested outside the Damapada Forest Range office for their failure to properly search for the baby, while demanding more measures be put in place to contain the growing monkey population in the area, reported India's Economic Times.
They claim something must be done about primates that roam the streets stealing property and attacking people.