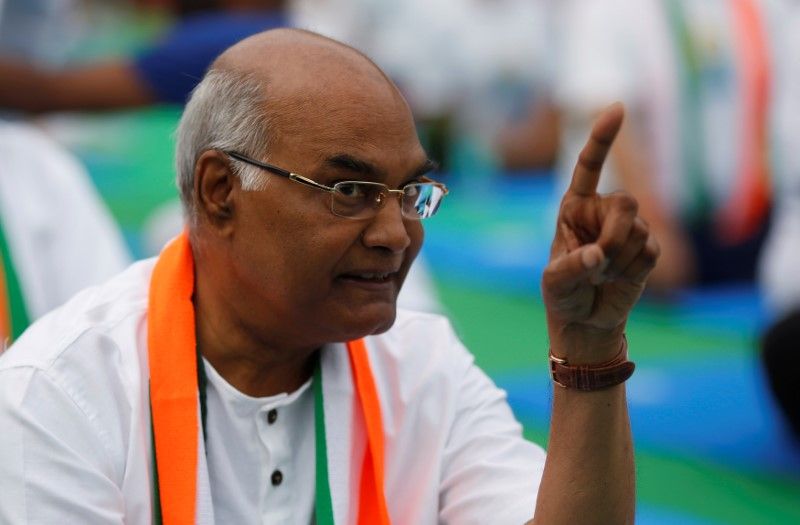 Indian Prime Minister Narendra Modi's brand of Hindu nationalism will likely be bolstered Monday when the country holds an election to decide its next president.
The position will be voted on by an electoral college comprising members of both Houses of Parliament and state legislators. Because of the domination of national and state lawmakers by Modi's ruling Bharatiya Janata Party (BJP), the election of its chosen candidate is expected to be a mere formality.
Related: Hindu mob lynches two Muslims over alleged cow theft
In a surprise move last month, the BJP announced it had nominated Ram Nath Kovind, a 71-year-old former governor of the state of Bihar. The previously unheralded figure is all but certain to beat the opposition candidate Meira Kumar, the first female speaker of India's lower house of parliament.
While executive power is wielded by the prime minister under India's constitution, the president can still act as an important figurehead, particularly in uncertain times such as a contested election. Kovind's ability and willingness to separate himself from partisan politics has been called into question, however.
The outgoing president, Pranab Mukerjee, was elected before Modi came to power in 2014. With Kovind, the right-wing BJP is set to strengthen its grip on power in the world's second most populous country. As a member of the low-caste Dalit, his selection is also seen as a way for Modi's party to shore up further support among a group that comprises around 16 percent of the country's population.
"I am sure Shri Ram Nath Kovind will make an exceptional president and continue to be a strong voice for the poor, downtrodden and marginalized," Modi tweeted after Kovind's nomination.
Kovind, however, has insisted that he will maintain the position's tradition of independence if elected.
"Ever since I took over as governor, I have no political affiliation," he said. "The president of India is above politics."
But Kovind follows the streak of Hindu nationalism Modi has fostered. He has roots in the Rashtriya Swayamsevak Sangh (RSS) or National Volunteer Organization, a Hindu nationalist organization that is considered the ideological inspiration for the BJP.
After Kovind's nomination, quotes emerged from 2010 in which he appeared to say that "Islam and Christianity are alien to the nation." His supporters claimed he was misquoted.
Since being nominated, Kovind has attempted to strike an inclusive tone.
"For us, people of all religions, caste and regions are equal, and on that basis I have only discharged my duties as the governor of Bihar," he said. "That is why we have got support from Bihar also."
Yet his opponent has strived to make the election a fight to preserve India's secular values.
"The opposition has made the presidential poll a fight for ideology to uphold the secular fabric of the country so that the poor, oppressed and those from the weaker sections feel that their voice is reaching the highest constitutional post," Kumar said.