Indian Prime Minister Narendra Modi Sounds Alarm on COVID Crisis, Says Country Is 'on War Footing'
Indian Prime Minister Narendra Modi is sounding the alarm on the country's worsening COVID-19 crisis as another 4,000 people died from the virus for a third consecutive day on Friday.
Modi said his government was "on a war footing" trying to contain the new strain of the coronavirus, which was first detected in India and is now popping up across the world.
The highly transmissible B.1.617 variant is sweeping the country, with the total number of coronavirus infections in India surpassing 24 million on Friday.
"The outbreak is reaching rural areas with great speed," Modi told farmers during a virtual conference, according to Reuters. "I want to once again warn all…those who live in villages about corona[virus]."
The pandemic has presented India's countryside with a dire reality as rural hospitals have become overwhelmed, dead bodies have washed up on the shores of the Ganges River and crematoriums have run out of wood for funeral pyres.
The prime minister's address to those living in rural areas signaled the growing severity of the virus spread in India. While roughly two-thirds of Indians live in rural towns and villages where health care facilities and resources are limited, Modi has refrained from speaking on the pandemic's impact in these areas.
Friday's remarks mark the first time he has specifically referred to the coronavirus' grip over India's countryside since the second wave emerged in February.
"All departments of the government, all resources, our armed forces, our scientists, everyone is working day and night to counter COVID, together," Modi said.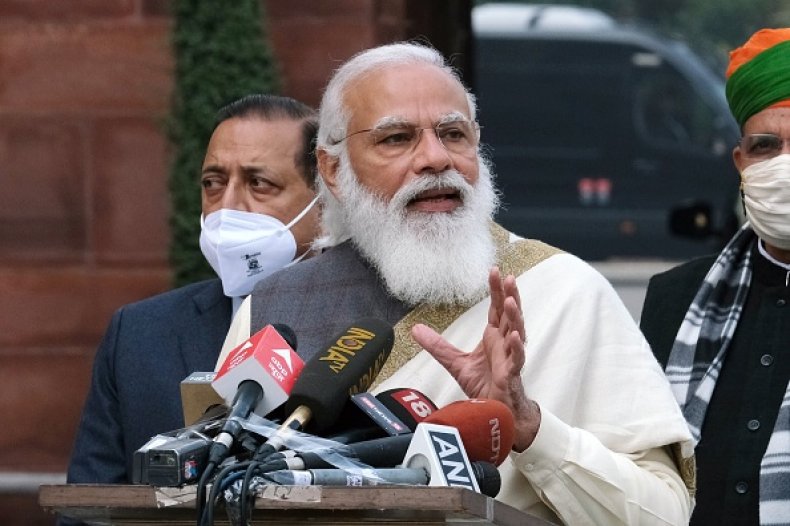 The prime minister has faced growing pressure to impose a national lockdown, though some experts have questioned if such measures would even be effective on such a large scale.
"We recognize…the anxieties that are displayed by international observers... but you can't wrap all of India into one blanket," K. Srinath Reddy, president of the Public Health Foundation in India, told a panel discussion on Thursday.
Most states have imposed full or partial lockdowns amid the surge. Many mosques have been forced to close or followed social distancing measures as India's 200 million Muslims marked the end of Ramadan on Wednesday with Eid festivities.
Celebrations have been relatively restrained compared with the massive Hindu gathering that took place in the northern region of the country back in February—an event that garnered Modi widespread criticism for his leadership during the global health crisis.
Modi has also faced scrutiny as the country scrambles to vaccinate its residents amid the alarming cases of COVID-19. But while India is the world's largest vaccine producer, the country has only vaccinated roughly 2.9 percent of the population, as of Friday. Modi has pledged to accelerate vaccine rollouts dramatically in coming months.