Indian Sprinter Milkha Singh, Known as 'The Flying Sikh,' Dies From COVID
Milkha Singh became an Olympic and running legend in India during the 20th Century, making three Olympic teams in the 400-meter race and earning "The Flying Sikh" nickname. On Friday at a hospital in the northern city of Chandigarh, he died from complications of the COVID-19 coronavirus that has recently ravaged India.
Singh was 91.
His death comes just a few days after his wife, Nirmal Kaur, also died from the virus. She was a former volleyball captain in the country. She was 85.
Singh's family released a statement saying that he "fought hard."
"He fought hard but God has his ways," the family stated, according to the Associated Press. Singh was diagnosed with the virus on May 20.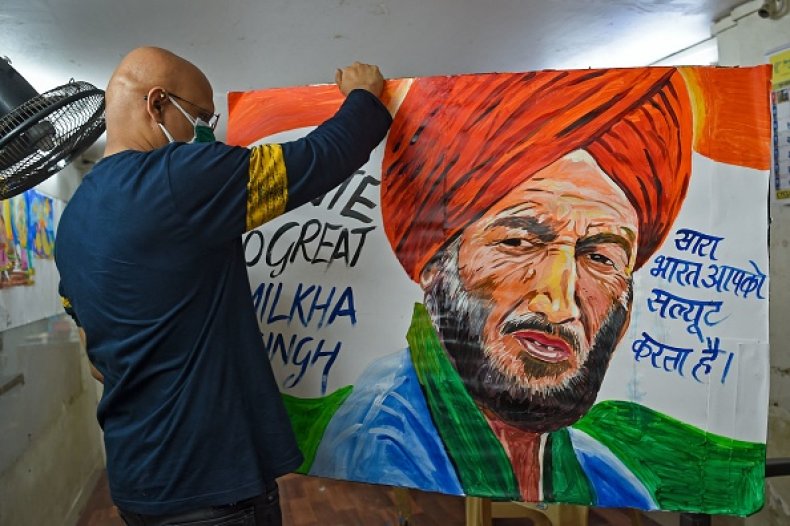 Singh was one of the most-decorated athletes in his country's history, making the Olympic team in 1956, 1960 and 1964. In 1958, he became India's first 400-meter gold medalist at the British Empire and Commonwealth Games.
At the 1960 Rome Summer Olympics, he finished fourth in the 400, just missing out on bronze—which would have been his only Olympic medal.
He won four gold medals at the Asian Games: 200 meters (1958), 400 meters (1958 and 1962) and 4x400 relay (1962). He also won gold medals at the 1958 National Games of India: 200m and 400m.
Singh served in the Indian Army, where he reached the rank of captain.
Indian prime Minister Narenda Modi called Singh a "colossal sportsperson, who captured the nation's imagination and had a special place in the hearts of countless Indians" during a tribute this weekend.
"His inspiring personality endeared himself to millions," Modi said in a tweet.
Singh was born in a portion of India that was undivided, but is now Pakistan. As a youngster, he saw his parents and siblings get killed by mobs during riots in the Punjab area of British India that left nearly 1 million Hindus and Sikhs dead. At that point, Singh escaped to a nearby jungle and hopped a train to New Delhi, where he joined the army.
His story of growing up during a tragedy, escaping to seek refuge, joining the army and becoming a famous athlete has been handed down from one generation to another in the country.
Singh has a son, Jeev Milkha Singh, who is a professional golfer. He is also survived by three daughters.
Singh is just one of the stories coming from India, where COVID-19 hit so hard this spring that gargantuan amounts of international aid from countries all around the world, including China, have found their way there.