Indian Town Shuts Off Internet to Avoid More Protests After Man Died in Police Custody
Officials in an Indian town shut off the internet in an effort to avoid further protests over a young man's death this week while in police custody.
Protests erupted in the Indian state of Kashmir after details emerged Wednesday concerning the death of Irfan Ahmad Dar, a 23-year-old shopkeeper. Dar's family accused police officers of torturing Dar to death after they arrested him at his store Tuesday afternoon, NDTV reported.
The government moved to snap mobile internet in Sopore, Dar's hometown, to prevent the spread of more protests, the Hindustan Times reported. Demonstrations had broken out as relatives and neighbors gathered to mourn Dar, with protesters shouting slogans against police officers and denouncing their actions, according to NDTV.
Sopore police officers identified Dar as a militant overground worker, meaning someone who helps insurgents with logistical support, cash shelter and other infrastructure, The Indian Express reported.
Officers also claimed that they recovered two Chinese-made grenades from Dar's possession, and that the man died escaping police custody. Dar's family disputed each of these claims, alleging that this was a "murder in custody," the Express reported.
"The man, while taking advantage of darkness and terrain, managed to escape regarding which a separate case has been registered. During a search, his body was found near a stone quarry of Tujjar Sharief," according to a police statement. The police did not disclose how Dar may have died.
Sajad Lone, president of the Jammu and Kashmir People's Conference political party, tweeted about Dar's death, casting doubts on the government's story.
"Sopore incident just doesn't add up," Lone wrote. "They have done a bad job even at inventing a story. The guilty need to be punished."
Dar's brother, Javaid Ahmad, called his death a "cold-blooded murder." Police officers had picked up Javaid Ahmad later Tuesday afternoon but released him by the evening, the Express reported.
"My brother and I were taken away by the police on Tuesday for hiding some militant. I was kept separately from my brother," Javaid Ahmad told the Times. "During custody, I was not feeling well. I told the policemen that there are CCTV cameras in our house and they can take the footage of the last month to see that nobody came to the house."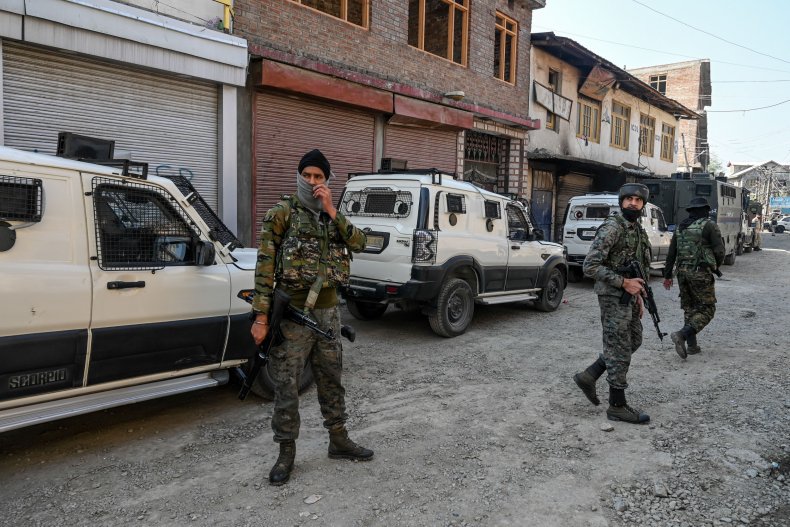 G.N. Ittoo, deputy commissioner of the Baramulla district, ordered that a magisterial probe be conducted in response to Dar's death, the Times reported. Baramulla's Additional District Magistrate Mohammad Ahsan Mir will oversee the investigation.
"There was a huge outcry and it is reported in the media that the deceased was picked up by Sopore police on September 15 and was in their custody," Ittoo said in a statement. "Whereas, allegations are leveled against Sopore police for custodial killing of the subject."
"Whereas to find the truth, it has expedient to institute a magisterial inquiry into the incident," the statement read.
Newsweek contacted Ittoo for further comment, but did not hear back in time for publication.
Dar's family did not receive his body, the Times reported. Instead, Dar was buried at Sonamarg, a valley in Kashmir, as part of the state's new policy that alleged insurgents be given remote burials in forests to prevent large crowds gathering at the funerals in mourning, according to The Guardian.
"This has been done to bury all evidence," one of Dar's relatives told the Express.