An Indiana House bill was passed through the chamber's education committee Monday that would bar transgender girls from participating in K-12 sports, a bill which is one of several currently in the state legislature targeting transgender people.
House Bill 1041 passed through the House Education Committee Monday after about three hours of testimony from supporters and LGBTQ activists that opposed the bill, The Associated Press reported.
In addition to the bill, which Newsweek previously reported would prevent those who were born male and now identify as female from participating on female school sports teams, the state legislature is considering several other bills that would limit the rights of transgender people, according to the AP.
One bill, No. 1348, would prevent transgender people from using the public restroom that aligns with their identity, while another House bill would require the state health department to compile data on gender transition procedures.
Another House bill, No. 1399, would ban the changing of the gender listed on an individual's birth certificate.
A bill in the state Senate would clarify in state law that parents refusing to call a child by the pronouns they choose to identify themselves with does not amount to the level of child abuse or neglect. That bill will be considered by the Senate Family and Children Services Committee on Thursday, according to the Indianapolis Star.
Another Senate bill, the author of which told The Star that the bill will likely be abandoned, would have prohibited any gender-affirming surgeries or hormone treatments for minors, no matter whether the child's parents had approved of the procedure.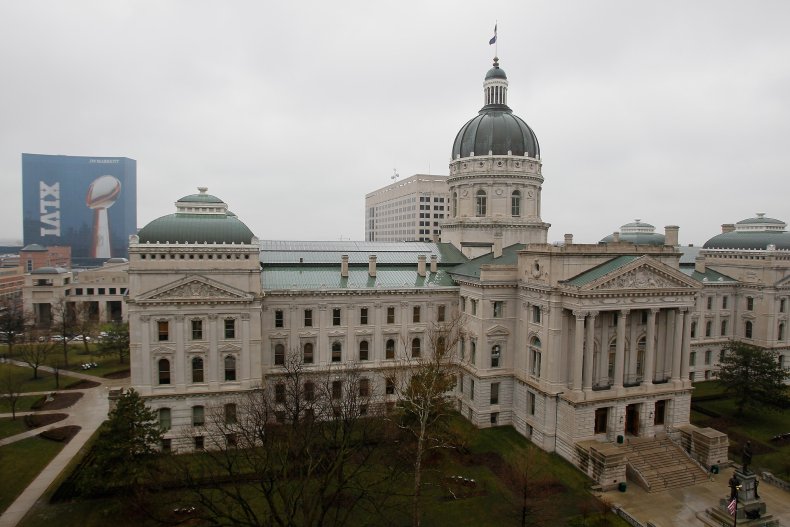 Opponents of the legislation have called the bills discriminatory and said bills like this can contribute to the already uncertain mental health state many transgender youth find themselves in.
"Even introducing these bills, even bringing these bills up, and then contributing to that sense that trans people have, that their own communities are attacking them and trying to ostracize them, that has a very negative and frightening effect on youth," ACLU of Indiana Advocacy Strategist Kit Malone said according to The Star, "and we see it every year."
Malone was one of the opponents to the bill concerning youth sports who testified before the committee January 24, along with Emma Vosicky, executive director of GenderNexus, an Indianapolis-based social service agency for trans and nonbinary people and their families, the AP reported.
"Sports are promoted for K through 12 kids not so they can become scholarship, pro athletes, but because ... sports participation builds self esteem, positive mental health outcomes, self confidence and scholastic achievement," Vosicky said according to the AP. "(This bill) wants to strip these benefits from a whole category of children as punishment for their experience and understanding of their gender."
The sports-related bill now heads to the full House, where the AP reported that House education committee chairman Bob Behning has said the bill has support from a "majority" of House Republicans.