An Indiana bill that could wipe out the state's handgun permit law reached the state Senate after House approval on Tuesday.
The proposal passed in a 63-29 vote, with a Republican majority pushing the bill through. The bill has opposition from several major law enforcement organizations, though.
"Should this bill pass, there will be no means for our officers to know if a person is legally carrying a handgun," Lafayette Police Chief Patrick Flannelly, representing the Indiana Association of Chiefs of Police, told the House committee, according to The Associated Press.
"The licensure process acts as a screening mechanism for law enforcement to keep guns out of the hands of those who should not have them," Flannelly said, The Indianapolis Star reported. "I don't understand why we want to strip away one of the most effective tools that law enforcement has to prevent avoidable, gun-related events in our communities."
The bill would permit anyone age 18 or older to carry a handgun, except those with a felony conviction or possessing a dangerous mental illness.
Supporters say the state's current permit requirements forces law-abiding citizens to undergo police background checks, undermining protections in the Second Amendment.
"The conversation today at its core is about a constitutional right," Attorney Guy Relford, an influential advocate for the Second Amendment in Indiana, said according to The Indianapolis Star. "If you already have that right, you shouldn't have to beg the government for permission to exercise that right."
A similar proposal was unsuccessful last year in the state Senate, with Republican leaders noting opposition from the Indiana Fraternal Order of Police, the Indiana State Police, and the state police chiefs association. A Senate committee is expected to address the issues in the upcoming weeks.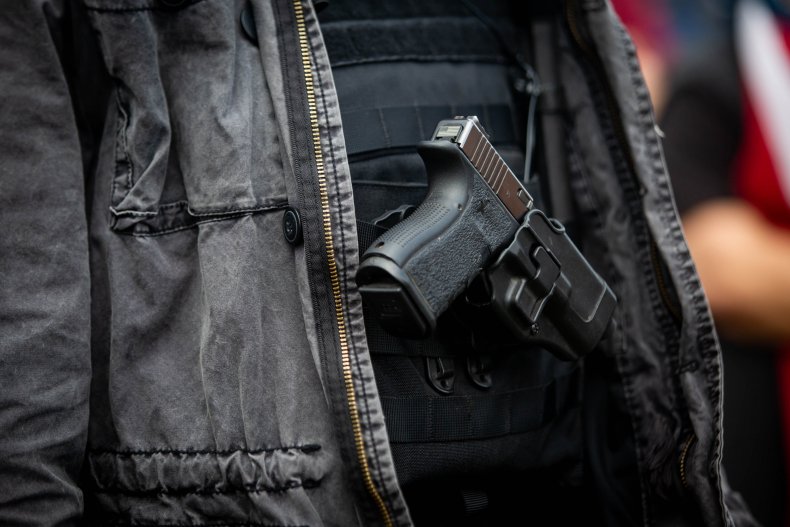 Democratic Rep. Mitch Gore of Indianapolis, a Marion County Sheriff's Department captain, said during Tuesday's debate that he shared the concerns of police organizations that eliminating the current permit system would strip police of a screening tool for identifying dangerous people who shouldn't have a gun and making that information quickly accessible to officers.
"It's a reasonable way to ensure that society is a little bit safer," Gore said.
Indiana currently requires people to obtain a license to carry a loaded handgun outside their own homes, businesses, or cars, although people can generally carry rifles and shotguns without a permit. Twenty-one other states allow residents to carry handguns without permits, which gun rights advocates call "constitutional carry."
Republican Rep. Ben Smaltz of Auburn, the bill's sponsor, argued that the permitting system doesn't stop criminals from carrying guns. Smaltz acknowledged that police wouldn't have easy access to any listing of people prohibited from possessing handguns but that people shouldn't be presumed as criminals because they have a gun.
"I think that's worthy of them investigating if it's in conjunction with another crime but as far as looking at a database for somebody to know that I'm a good guy, I don't think that's the right way to do it," Smaltz said.
The Associated Press contributed to this report.