Indiana to Clarify 'Religious Freedom' Law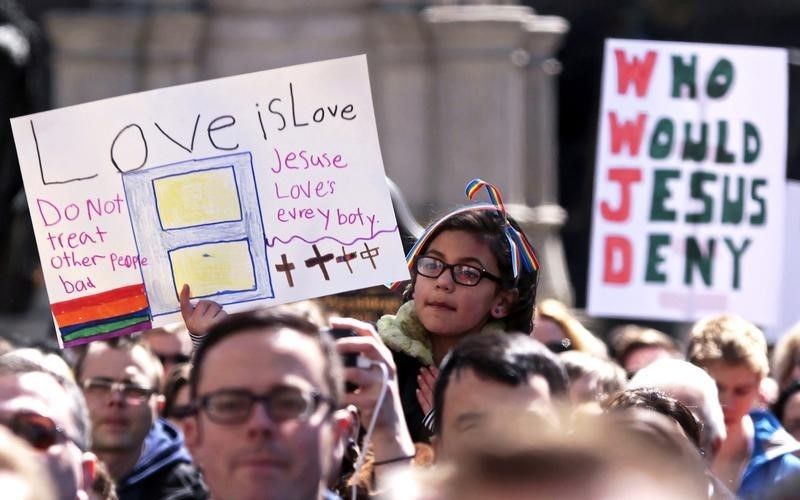 (Reuters) - Indiana Republicans pledged on Monday to clarify a new "religious freedom" law, while similar proposals stalled in Georgia and North Carolina after businesses and activists said such measures could be used to discriminate against gays.
Arkansas lawmakers, however, signaled they would move forward with a similar law, even after Indiana was rebuked by companies and executives including Wal-Mart Stores Inc, Apple Inc CEO Tim Cook, and Eli Lilly and Co.
Indiana's law, signed last week, was perceived as going further than those enacted in 19 other states, giving businesses a right to refuse services on religious grounds.
Gay marriage became legal in Indiana last year following an appeals court ruling, and gay rights activists say Republicans pushed through the religious freedom act in response. The law was enacted months before an expected U.S. Supreme Court ruling over state bans on same-sex marriage.
The law has drawn intense criticism since Indiana's Republican-controlled legislature approved it and Republican Governor Mike Pence signed it, including concerns from the president of the National Collegiate Athletic Association.
The NCAA is holding its men's basketball championship Final Four beginning this weekend within site of its Indianapolis headquarters and has come down hard in the past on member schools that have mascots or nicknames that are considered discriminatory.
On Monday, Indiana House Speaker Brian Bosma and state Senate President Pro Tem David Long told a news conference the law was not intended to discriminate, and that it sets a legal standard allowing people of all faiths to bring religious freedom claims.
"To the extent that we need to clarify that, by adding something to the law to make that clear that's not the intent, we are more than willing to do it, and we plan to do that," Long said.
Thousands rallied against the law in Indianapolis last weekend and the cities of San Francisco and Seattle and the state of Connecticut all banned official travel to Indiana.
"We've been embarrassed before the nation," Indiana House Minority Leader Scott Pelath, a Democrat, told a news conference where he called for an immediate repeal of the law.
PENCE DEFENDS LAW
Bosma said lawmakers were looking at different options for clarifying the law, such as perhaps removing the specter of it being used as a defense to a claim that services were denied on a discriminatory basis.
On Sunday, Pence defended the law and said he would not push for a nondiscrimination bill to counteract its possible impact, but he said he was open to the General Assembly adding a section that clarifies the law.
Similar bills have stalled in Georgia and North Carolina.
Earlier in March, the Republican-controlled Georgia state Senate approved a bill, but supporters put the measure on hold after a Republican House member added anti-discrimination language its backers said would gut the religious protections.
North Carolina Republican Governor Pat McCrory said on Monday he would not sign a religious freedom bill if it comes to his desk as written because it would allow government officials to refuse to perform marriages based on a "sincerely held religious objection."
In Arkansas, however, the Republican-controlled House is expected to approve a religious freedom act advanced by state senators last week.
Governor Asa Hutchinson, a Republican, has said he would sign the measure. Retail giant Wal-Mart Stores, based in Bentonville, Arkansas, last week criticized the bill, saying it sends the "wrong message about Arkansas."