Indiana Clerk in Charge of Elections Refuses to Wear Mask, Even as Her County Sees COVID Surge
An Indiana county clerk reportedly refuses to wear a face mask while overseeing polls and does not require personal protective equipment (PPE) for her staff and poll workers, as her rural county sees a surge in COVID-19 cases.
"There are exemptions to the governor's mandate," Fountain County Clerk Paula Copenhaver told the Lafayette Journal & Courier on Friday. "If someone qualifies for an exemption, it is none of my business."
Copenhaver is in charge of overseeing all Fountain County elections, including early voting. She did not say whether the exemptions applied to her but did tell the Journal Review that wearing a mask is an individual choice, despite Indiana Governor Eric Holcomb's mask mandate.
"It's the individual's choice. I might be part of the government, but I will not be part of the government overreach," Copenhaver said. She added that masks are available at the voting center, social distance is practiced, and equipment is disinfected.
Valerie Warycha, the communications director for Secretary of State Connie Lawson, confirmed to the Journal & Courier that Lawson reached out to Copenhaver and asked her to wear a mask and require masks for poll workers. However, there is no information on how the conversation went or whether Copenhaver agreed.
On Friday morning, Lawson sent out a mass email addressing concerns regarding the resistance to the governor's coronavirus restrictions by "some persons," and stating that some counties are not requiring PPE among their staff. Lawson did not address Copenhaver by name.
"Indiana has secured millions of dollars in personal protective equipment (PPE) for each of your counties. This PPE includes masks, sneeze guards, gloves, hand sanitizer, and disinfectant," Lawson wrote in the email. "We made a tremendous effort to deliver this on time and to ensure each county had more than enough supply for both the Primary and the General Election."
"This is not a complicated issue," she added. "As election officials, we have a duty to each and every voter. We cannot force voters to comply with mask protocol, but we can ensure that all poll workers set a good example."
She also mentioned that poll workers refusing to comply with the mask mandate can quickly turn into a "major issue" if an outbreak leads back to a county polling location where the clerk didn't require PPE.
"In that scenario, the responsibility falls on you and your county – not the state," Lawson wrote.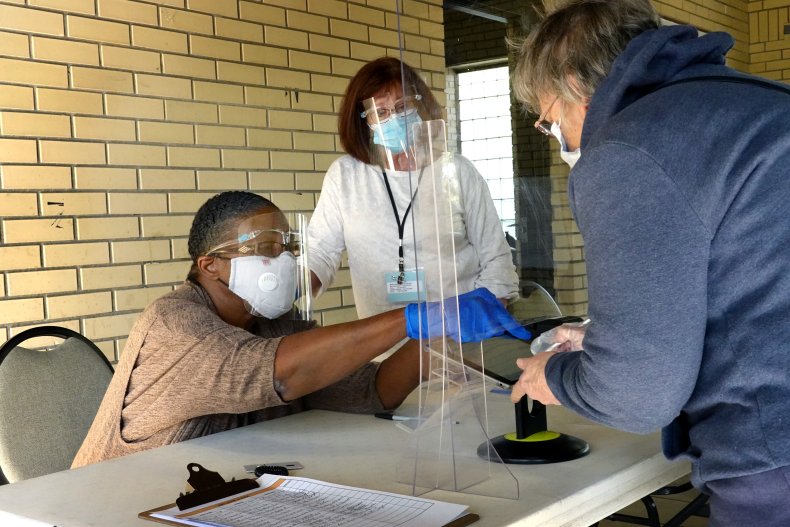 Holcomb first signed an executive order in July requiring masks inside public spaces, while using public transportation and outdoors when social distancing is not possible. At a weekly news conference on Wednesday, Holcomb announced that the mask order will be extended another two weeks.
Indiana has seen a major recent spike in coronavirus cases, setting a record for the state on Friday as it reported over 2,000 new cases in one day for the first time since the pandemic began.
In rural Fountain County (with a population of just over 16,000), cases continue to surge, with many of them being reported in the past 15 days compared to the first seven months of the pandemic. As of Friday, the county has a total of 227 cases and a positivity rate of 29.7 percent over the past seven days, according to the Indiana State Department of Health.
When asked about her conversations with the secretary of state's office, Copenhaver said that she is simply following orders.
"They just asked me to follow the guidelines," Copenhaver told the Journal & Courier. "And we are."
Newsweek reached out to the Indiana Secretary of State's office and the Fountain County clerk's office, but did not receive a response in time for publication.