Authorities in Indiana have raided the biggest cockfighting ring in the state's history.
The Indiana Gaming Commission and police joined forces ahead of the raids in Montgomery and Hendricks counties during a long-running investigation.
At one address in Waveland, they found more than 600 birds and a fighting pit. One neighbor, Steve Miller told Fox 59: "Those are not egg laying chickens."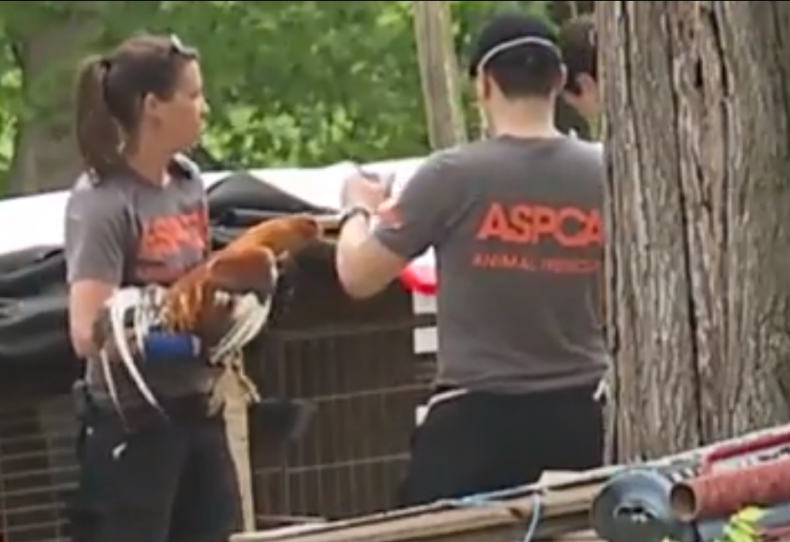 In a separate raid, 150 birds were found at the Avon location. The two cockfighting rings were not connected.
Knives or dagger-like attachments to maximize injuries that are placed on fighting birds were found during the raids.
"The birds have been modified and prepared to fight and we are also finding other types of paraphernalia that is associated with types of animal fighting," said Supt. Rob Townsend of the Indiana Gaming Commission.
The American Society for the Prevention of Cruelty to Animals (ASPCA) says cockfighting is often linked to gambling and drug possession. It is looking after the rescued birds in a temporary shelter.
"There are other crimes that usually is attached to that and involved in other criminal enterprises. So it is not just one thing, there is usually a network of criminal relation and criminal activity that goes down with it," said Supt. Townsend.
No arrests have been made and no charges yet laid. In Indiana, cockfighting and possessing fighting birds carry up to three years in prison if convicted.
Sara Tait, executive director of the Indiana Gaming Commission said, according to the IndyStar: "The more of these cockfighting warrants we execute, the more the public becomes aware and we see an increase in reports from the public."