Mother's Sick Son Forced to Wait Outside 'Overloaded' Indiana Hospital
A mother has described her anger and frustration after her 11-year-old son had to delay getting his cancer treatment over an Indiana hospital being overrun with COVID cases.
Shirley Roys Dorbin shared an image of her son Jack in the backseat of her car, writing that he had been unable to get treatment at the Memorial Hospital in South Bend.
Writing on Facebook, Dorbin said her son had fallen ill while receiving treatment for brain cancer, but could not be admitted because the hospital was unable to take new patients.
"Jack is sick. He is coughing and sneezing and congested. [He] has a fever," Dorbin wrote on August 21.
"Right now we are sitting in the parking lot of Memorial hospital while they decide what to do with him because the hospital is overloaded and they aren't doing direct admits. So this is what freedom and everyone making their own choices looks like.
"It looks like a little boy with cancer sitting in a parking lot sick on a Saturday morning while everyone else exercises their rights."
Dorbin's Facebook post has since been shared more than 5,400 times.
Speaking to Newsweek via Messenger, Dorbin said a similar incident with Jack spiking with fever had occurred in June.
"This time, we were further away a bit when we realized the fever. We headed straight for the hospital and called as we went. We were told to wait in the parking lot," she said.
"We waited in that lot. It wasn't terribly long but, as you can see based on our prior experience, this was very different and very scary when you have a kid whose immune system is at about the lowest point it can get to and he has adrenal insufficiency."
In a follow up Facebook post, Dorbin said that Jack had just finished cycle four of six of chemotherapy treatments, and that he also suffers from adrenal insufficiency due to his tumor, which also destroyed part of his brain that controls his endocrine system
She said the 11-year-old is at huge risk of going into shock if he gets a fever and does not receive the necessary treatment quickly due to his illness.
"Going to another hospital or waiting in the ER is simply not an option. Seconds count," Dorbin added.
Dorbin also thanked the medical team who were "scrambling to make sure Jack's meds were ordered early" so they would be there on time while he was at the hospital.
"Medical staff are working HARD. I don't blame them for being burned out," she wrote.
"It is exhausting to watch. I thank you all for your prayers and for sharing Jack's story. I get that people may not understand the urgency with which a kiddo like Jack needs to be admitted. I didn't understand, either, until Jack was diagnosed in May. I thank you for being open to understanding why what other people do matters to the rest of us."
Her experience with Jack occurred as the state of Indiana recorded 4,120 new cases of COVID-19 on Friday, August 20, the highest daily figure in the state since mid January, reported the Indianapolis Star.
Medical professionals across the county have also been urging people to get the vaccine as hospitals are struggling to cope with the surge of patients suffering severe symptoms as the Delta variant of the coronavirus continues to spread.
According to the latest figures, more than 3 million people have received both doses of the vaccine in Indiana.
The Becker's Hospital Review ranks Indiana in 36th place in terms of states with the highest percentage of residents who have received both doses of the vaccine, currently standing at 45 percent.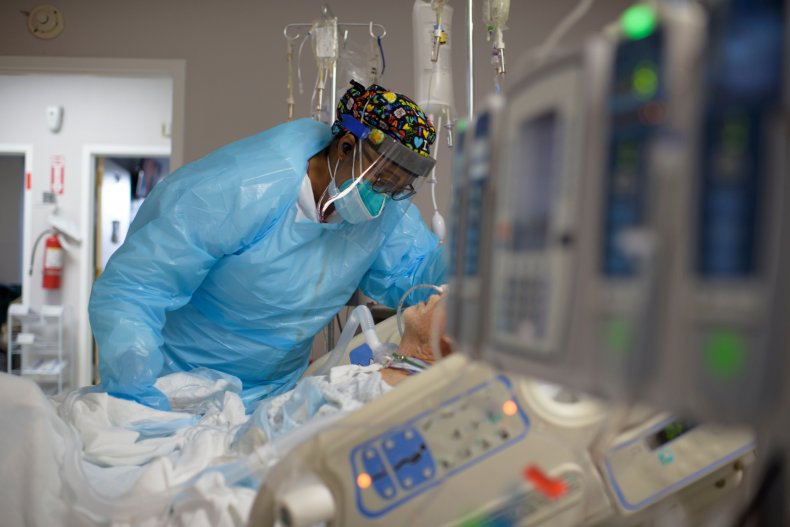 Update 08/24/21, 10:51 a.m. ET: This article has been updated to include comment from Shirley Roys Dorbin.
Correction 08/24/21, 10:51 a.m. ET: This article has been amended to include the correct hospital in Indiana and remove reference to Jack being transferred elsewhere.