Indiana Extends COVID State of Emergency After Lawmakers Stall Anti-Mandate Bill
Indiana's COVID-19 state of emergency has been extended for another month, the Associated Press reported.
Governor Eric Holcomb announced the extension on Wednesday as lawmakers made no progress as to whether or not to approve of a COVID-19 legislative proposal. He rejected the bill, proposed by Republican House Speaker Todd Huston and Senate President Pro Tempore Rodric Bray, on Monday, citing the need to further discuss it with officials before making any decisions. He released a statement regarding the state of emergency extension, which was originally set to expire on December 1.
"Last week I made clear what would be necessary to responsibly allow the state public health emergency to expire," Holcomb said. "I will continue to work closely with Huston and Bray as we move into next legislative session."
Huston and Bray were the primary advocates for the now-stalled bill. They released their own statements saying that they plan to address concerns regarding vaccination mandates and Indiana's state of emergency status. However, they remain steadfast in their belief that businesses should not enact mandates.
"While most Indiana companies are acting in good faith," Huston said in his statement, "it's unacceptable that some employers are blatantly disregarding well-established vaccine exemptions, and we'll address these issues through legislation."
If passed, it would require private businesses to approve vaccination requirement exemptions without question. Requirements set by state universities, such as Indiana University, would also be reversed.
The bill was originally expected to be approved on a fast track. However, the plans were canceled after the House and Senate debated the bill for nearly seven hours without an agreement. Testimony from employees and businesses, both in support and in opposition to the bill, was given during the debate.
It is unclear if lawmakers will meet in a special session before the General Assembly reconvenes on January 4.
For more reporting from the Associated Press, see below.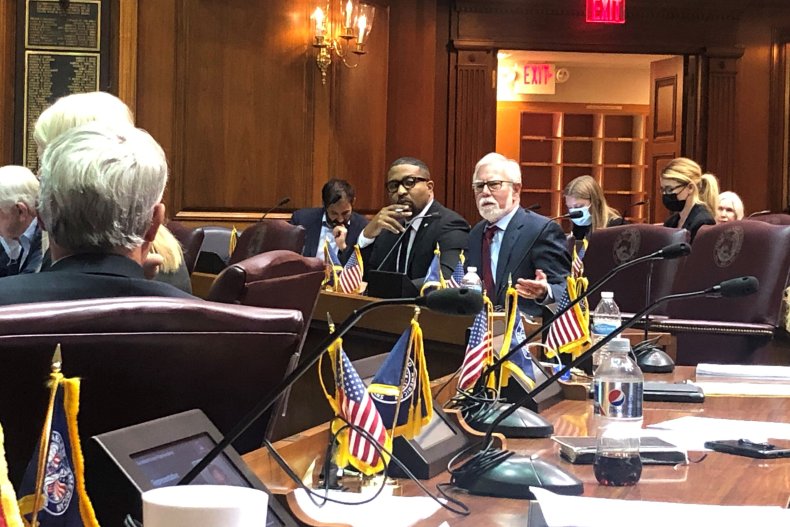 The House and Senate were then scheduled to vote on final approval on November 29.
"To be clear, House Republicans remain resolved to take quick action this session to help end the state of emergency and protect Hoosiers against the federal government's unprecedented overreach," Huston said.
Lawmakers heard contentious testimony Tuesday from employees with medical or religious objections who maintained they're wrongly being asked to choose between complying with a COVID-19 vaccine mandate and losing their jobs. Employer testimony included concerns over who would be responsible for COVID testing for workers, and whether changes to state law would conflict with federal regulations.
Numerous Indiana medical and business groups have also argued that the proposal wrongly sends a message that the coronavirus pandemic is over at a time when Indiana's infections and hospitalizations are rising again.
The hearing followed a request from Holcomb last week for lawmakers to approve three administrative actions that he said would allow him to end the statewide COVID-19 public health emergency order that's been in place since March of 2020, even amid a recent rise in COVID cases and hospitalizations in Indiana and other Midwestern states.
His proposal also included provisions that would give workers broad exemptions from employer vaccine mandates amid a national conservative pushback against President Joe Biden's mandates.
Holcomb has criticized Biden's vaccine requirements for businesses, saying he supports the rights of businesses to make their own decisions. The governor didn't directly comment Tuesday on whether he had discussed the vaccine requirement limits in the bill before legislative leaders released the draft and said he wanted time to talk with them about it.
Senate Democratic Leader Greg Taylor said in a statement Wednesday he was "glad" that the Republican caucus halted the bill, noting that the issue "should be discussed and considered before our full Legislature...instead of unnecessarily being pushed through."
"We are legislators, not doctors, and we should not be legislating medicine," Taylor said. "This delay will allow us the necessary time to hear from the full medical community about the importance of the COVID-19 vaccine and how it is saving lives."