Indiana GOP Senator Todd Young Tells Trump Supporters He Won't Challenge Election Results
Although 13 Senate Republicans have vowed to side with President Donald Trump and challenge the results of the 2020 election, Senator Todd Young told protesters he refused to do the same during Congress' joint session.
Confronted by Trump supporters on Capitol Hill Wednesday, the Republican senator from Indiana told those asking him to vote against the certification of the election: "My opinion doesn't matter. You know what? When it comes to the law, our opinions don't matter, the law matters."
Young told the president's supporters that he also wanted to see Trump to serve a second term in the White House, but challenging the votes of Americans would go against the oath he took to uphold the Constitution.
"I value your opinion. I actually share your concerns. I share your conviction that President Trump should remain president. I share that conviction," he said.
"I took an oath under God. Under God, I took an oath. Do we still take that seriously in this country?" Young asked.
In a statement made on Wednesday, the senator said: "Like so many of my patriotic constituents and colleagues, I too wish the results of this election were different. I strongly supported President Trump and his agenda the last four years. I campaigned hard for him."
"But upon assuming this office, I took a solemn, inviolable oath to support and defend our Constitution, just as I did as a United States Marine," Young added. "I will not violate that oath."
"The people voted and the Electoral College voted. Congress must fulfill its role in turn."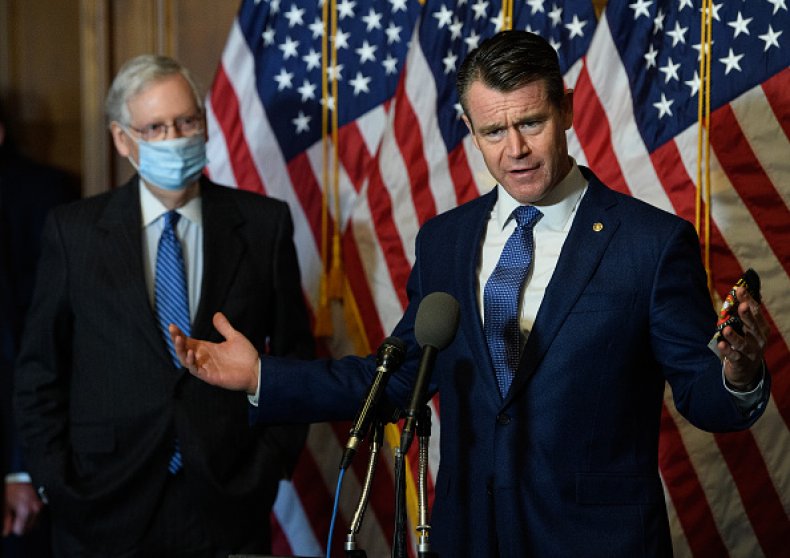 Young, who is also the outgoing chairman of the National Republican Senatorial Committee, said that challenging the votes of electors "would be unconstitutional and set a dangerous precedent" and accused Republicans who refuse to accept the results of the election of joining Democrats in "damaging the integrity of and future respect for the Electoral College."
"This is not an empty warning," Young said in the statement. "Democrats have already shown the political will to subvert our institutions through calls to pack the Supreme Court, eliminate the filibuster to weaken the Senate, and abolish the Electoral College itself. It would be a grave mistake to join them in this effort."
Indiana's other U.S. senator, Mike Braun, who is also a Republican, has said he will vote against certifying President-elect Joe Biden's win on Wednesday.
Braun joins Senators Josh Hawley, Ted Cruz, Rick Scott, Ron Johnson, Kelly Loeffler, Tommy Tuberville, Marsha Blackburn, Steve Daines, Bill Hagerty, Neely Kennedy, James Lankford, Cynthia Lummis and Roger Marshall, who have all opposed to counting some of Biden's electoral votes.