The governor of Indiana reversed his stance on the statewide mask mandate Friday after receiving criticism from fellow state leaders and politicians, ultimately deciding to leave criminal penalties out of the order.
Governor Eric Holcomb, a Republican, signed an executive order Friday requiring that face coverings be worn in all public spaces throughout the state, but he decided not to criminalize violating the mandate.
During a press conference Wednesday, Holcomb had announced his plans to sign the order, adding that anyone who failed to wear a mask in public could be subject to a Class B misdemeanor — punishable by a fine and up to six months in jail.
Holcomb had told reporters that despite this threat of jail time, "mask police will not be patrolling Hoosier streets" — instead explaining that state officials and law enforcement officers would focus their efforts on educating citizens about the importance of wearing a mask to help mitigate the spread of coronavirus.
The executive order Holcomb signed into law Friday seemed to depend more on the latter. State and local health departments will be charged with "enforcing compliance through education," the order stated, with no mention of jail time or fines.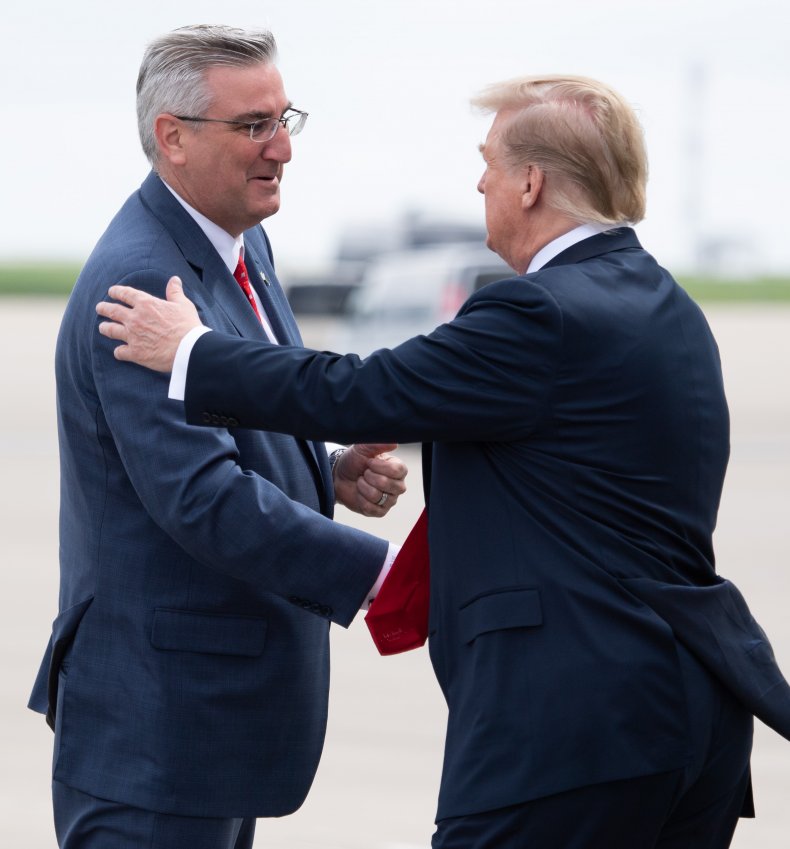 In a news release announcing the order, Holcomb did not elaborate on why he ultimately chose to drop the penalty part of the enforcement. But the governor had received backlash from state officials and lawmakers since he first expressed his intent to do so at Wednesday's news conference.
Newsweek contacted Holcomb's office for comment, but did not hear back in time for publication.
Sheriffs in at least four Indiana counties had announced their departments would not be issuing misdemeanors or citations for anyone who violated the governor's mask order, expressing concern that Holcomb did not go through the proper channels to issue it.
"The announced order has not been introduced as a bill in the General Assembly and our legislators are not in session," Hamilton County Sheriff Dennis Quakenbush said in a statement. "The General Assembly could be called into session by the Governor if the 'public welfare shall require it,' but this critical step has not taken place."
Sullivan County Sheriff Clark Cottom, who also announced his office would not be complying with the order's penalty language, told Newsweek that his decision came down to "enforcement and resources."
"It's not practical to believe that we're going to be able to incarcerate or jail or clog up the criminal justice system with those who choose not to wear a mask," Cottom said.
And Attorney General Curtis Hill had issued an advisory opinion Wednesday at the request of five Republican state senators questioning Holcomb's authority to criminalize mask order violations.
"The wisdom of wearing masks—or of laws requiring such measures—is not the issue here," Hill said in the opinion. "Rather, the issue is whether we are following the proper and constitutional processes for enacting laws and whether we are respecting the distinct roles of each branch of state government."
Indiana Senate President Pro Tempore Rodric Bray, a Republican, said he had been in "close contact" with Holcomb after the governor initially announced his intentions Wednesday to penalize violators.
Bray said he was pleased with Holcomb's final decision Friday to remove the criminalization language.
"We are very pleased to see that the executive order he signed today does not include a criminal penalty for non-compliance, and we will continue to provide input in our role as part of the legislative branch of state government," Bray said in a statement. "We all want to do our part to see our state continue to move forward."