Indiana Governor: Religious Freedom Restoration Act Won't Change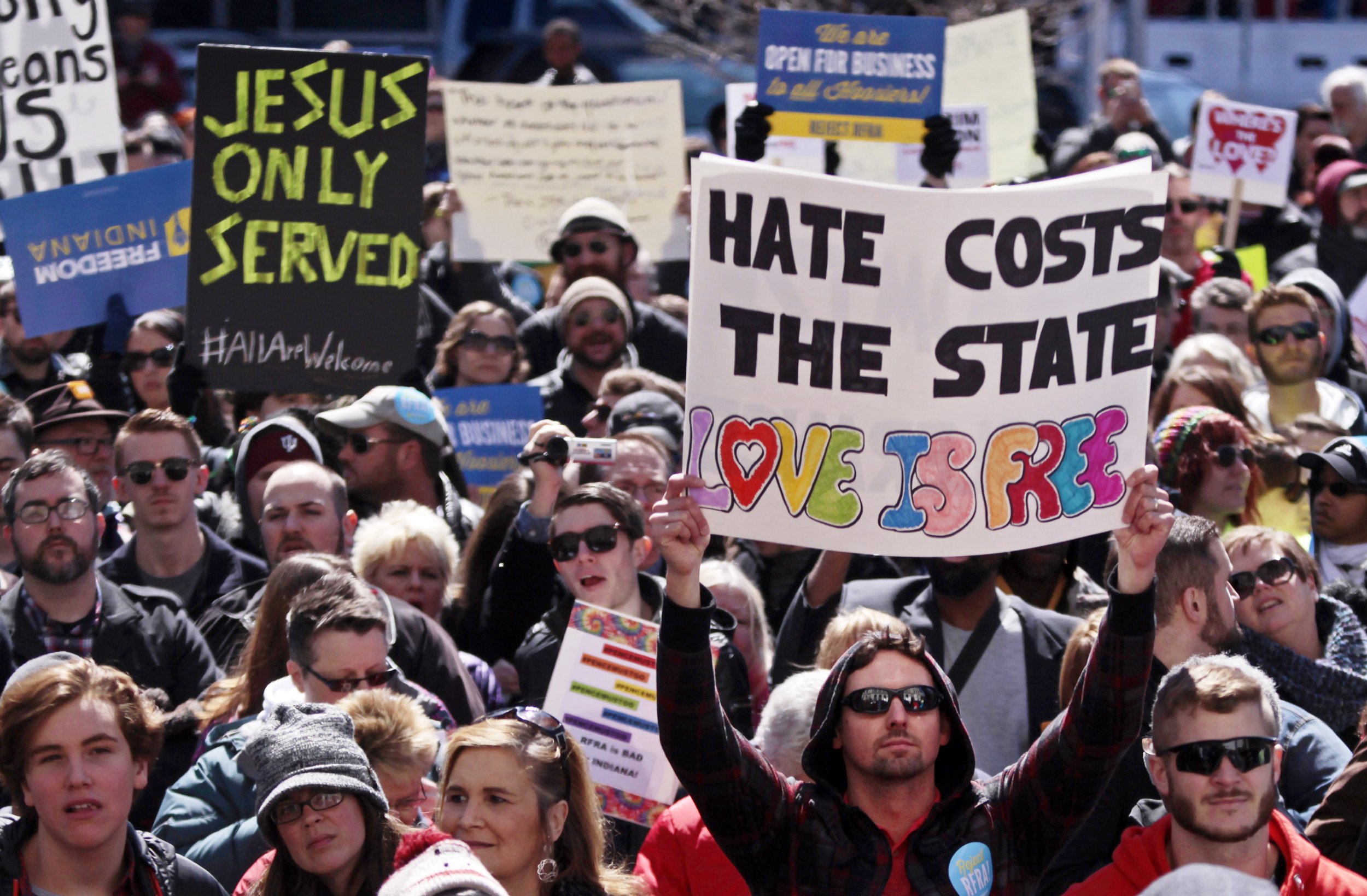 Indiana's governor on Sunday defended the Religious Freedom Restoration Act, which spawned immediate protests outside the state courthouse, business boycotts and a special Twitter hashtag, #boycottIndiana, after he signed it into law on Thursday.
The law, according to Governor Mike Pence, will prevent people's religious beliefs from being intruded upon by the government. But critics have noted that the law technically allows businesses to refuse customers based on their sexual orientation.
Pence said in an interview with ABC's "This Week" that the law wouldn't change and that the backlash had devolved into "shameless rhetoric." He said if he "thought it legalized discrimination in any way in Indiana, I would have vetoed it."
Pence told the Indy Star on Sunday that he is looking to support legislation in the near future that will "clarify" the intention of the bill, which he insisted does not discriminate against LGBT citizens.
Yet ABC reports that Pence refused to answer multiple questions about whether the law would enable Indiana business owners to potentially discriminate against gay, lesbian and/or transgender customers.
The law has prompted several corporations and businesses to halt expansions and refuse to do business in the state--even some that are based in Indiana.
Among those that have taken action quickly is Salesforce, a software company that said it will no longer expand its operations in the state. Angie's List, an Indianapolis-based company, also announced that it would be holding off on an expansion because of the law. CEO Bill Oesterle said Angie's List "discriminates against none, and we are hugely disappointed in what this bill represents."
The Christian Church (Disciples of Christ) may cancel its 2017 conference, scheduled to be held in Indianapolis, reports NPR. Seattle city employees have been barred from traveling to the state, too.
The Washington Post notes that 19 states have passed similar acts in the past, including Florida and Louisiana. On Friday, Arkansas passed a similar bill that would allow discrimination against gay citizens based on personal interpretations of religious freedom, reports Arkansas Times.