Indiana Healthcare System Suspends More Than 1,000 Unvaccinated Workers
The largest health care system in Indiana suspended hundreds of workers this week who missed a September 1 deadline to get vaccinated against COVID-19.
More than 1,000 workers across the dozens of facilities with Indiana University Health (IU Health) were suspended after missing the deadline, local media outlets reported.
"Yesterday IU Health estimated 97% of its employees were in compliance" with the vaccine mandate, IU Health public relations consultant Jeff Swiatek said in a Thursday email to Newsweek.
IU Health reported an estimated 34,000 staff members on its website in 2019, a number that has since grown to an estimated 36,000, Swiatek told Indiana Business Journal.
Swiatek said the number of suspended employees was fewer than 300 by Thursday after more workers were found to be in compliance with the health system's vaccine requirement.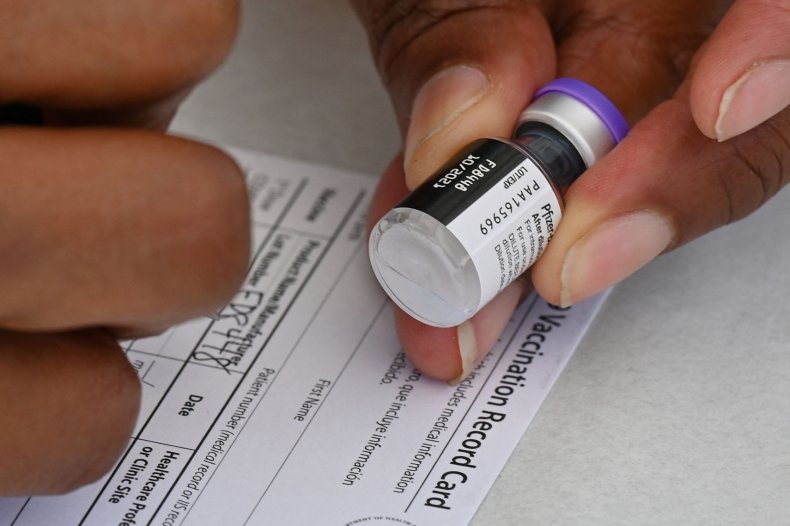 "As of today, fewer than 300 team members have been suspended due to non-compliance," IU Health said in a statement shared with Newsweek. "Team members are allowed to return to work if they attest to partial or full vaccination."
Medical and religious exemptions from the mandate are also available to IU Health employees, Swiatek told Newsweek.
The workers who have been suspended will be permitted to return to work if they get at least one dose of a COVID-19 vaccine, according to The Indiana Business Journal.
IU Health first announced that it was mandating COVID-19 vaccines for its workers in June. In a statement shared with The Indianapolis Star at the time, IU Health said vaccinating workers "is a safe and effective way to protect patients and help reduce the spread of COVID-19 in facilities and in the community" and added vaccine requirements for those who work in health care "is not new or unprecedented."
According to vaccination data provided by the Indiana State Department of Health, an estimated 53.1 percent of Indianans who are eligible to receive a COVID-19 vaccine have been fully vaccinated against the virus, and about 57.2 percent of the eligible population were partially vaccinated as of Thursday morning.
Though the state health department has encouraged unvaccinated residents to seek out a COVID-19 vaccine amid the current surge of the Delta variant spreading through Indiana and across the U.S., vaccine hesitancy remains a concern among health officials at the local, state and federal levels.
Some health care workers have also expressed concern about COVID-19 vaccines. According to a survey conducted in July by the American Nurses Association and American Nurses Foundation, about one in eight nurses said they did not plan to get vaccinated against the virus.