'Indiana Jones 5' Is Coming And Here's What We Know So Far
Best known for Logan and Girl, Interrupted, James Mangold is taking over the coveted director's chair for the long-awaited fifth sequel in the Indiana Jones blockbuster franchise. While Steven Spielberg, who previously directed the last four installments, will serve as producer, Harrison Ford will reprise his role as the globe-trotting archeologist.
Rumors had been circulating for months that Spielberg would be stepping down from the action-packed franchise. While recently speaking to Collider, producer Frank Marshall gave an update on the project and confirmed a new director has been attached to Indy's next adventure.
Though story details are tightly kept under wraps, a release date has been scheduled two years from now. Due to the coronavirus outbreak, readers shouldn't assume production is going to start anytime soon. The Indiana Jones series needs a massive crew to design the sets, create the special effects, and choreograph the action sequences.
Marshall discussed the setbacks, "The number one thing, obviously, is the safety of everybody – the cast, the crew, and all of us. So, we're looking at the guidelines that are coming slowly, from the health experts and the studios and the different parts of the business, and we're just trying to incorporate everything, so we can move forward and be safe."
Back in 2008, The Kingdom of the Crystal Skull had a lackluster reception from critics and longtime fans. The first 15 minutes were fantastic as Indy (Harrison Ford) found himself being chased after in Area 51. But the ending fizzled with a CGI sequence that involved a pyramid turning into an alien spaceship. Here's hoping the untitled fifth sequel will wipe away bad memories.
Remember that whatever Mr. Jones is looking for, it belongs in a museum! Here's what we know so far: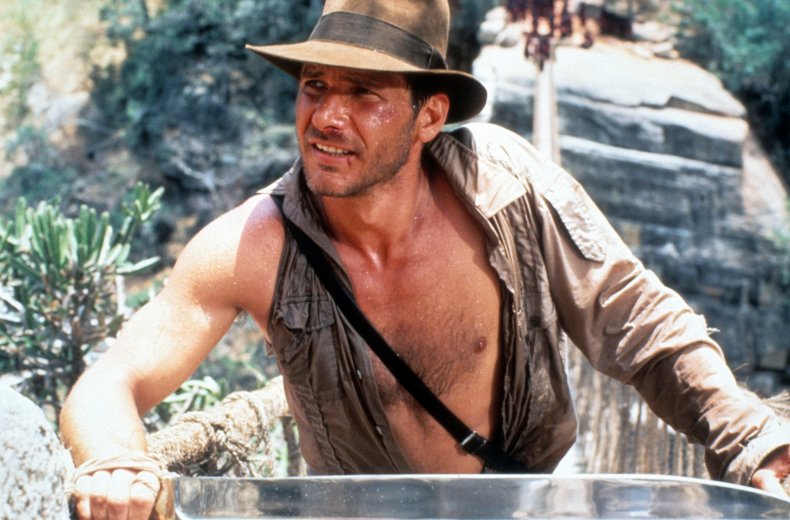 Someplace New
About two days ago, the Ford v Ferrari director discussed finding the "emotional center" and taking the franchise a step further.
In an interview with Comic Book, Mangold said, "So you have to push something to someplace new, while also remembering the core reasons why everyone was gathered. And to use Logan as an example of that, when you're dealing in a world of a very pressured franchise."
Who's Writing This?
Rewrites have been passed around from David Koepp (Jurassic Park) to Jake Kasden (Solo) to Dan Fogelman (This Is Us).
Don't Call It A Reboot
About four months ago, Lucasfilm president Kathleen Kennedy mentioned during the 2020 BAFTA Awards that the upcoming sequel would be a "continuation." Kennedy told BBC News, "Harrison Ford will be involved, yeah. It's not a reboot; it's a continuation. He can't wait. He absolutely is up for it."
Henry Walton Jones, Sr.
We last saw Indy's father, played by Sean Connery, in 1989's The Last Crusade. Back in 2006, the Goldfinger actor said to the American Film Institute,"I have retired for good. It's been a bit rough since Christmas but I'm perfectly okay and I feel well."
This is why Henry is only mentioned in passing during the fourth sequel.
Nobody But Me
Sean Patrick Flanery, River Phoenix, Corey Carrier, and George Hall have all played Indy at different ages. It was even rumored Chris Pratt was going to play a younger Jones in the fifth chapter.
About a year ago, Ford squashed those rumors and said on NBC's Today, "Nobody is going to be Indiana Jones, don't you get it? I'm Indiana Jones. When I'm gone, he's gone. It's easy."
The Kingdom of the Crystal Skull
If the installment is a continuation of 2008's The Kingdom of the Crystal Skull, then here are some things readers should know. Indy as a character could be argued to be a terrible father since he missed out on his son growing up. Jones also got married to the love of his life, Marion Ravenwood (Karen Allen). Don't get your hopes up on this marriage though because Jones and people don't really mix in the long term.
Will Mutt Williams Return?
Will audiences see the return of Indiana Jones's estranged son, Mutt Williams? This one's a little tricky. If the character does return, it probably won't be played by Shia LeBeouf. About four years ago, LeBeouf flat-out told Variety that he wasn't a big fan of the fifth installment, nor the director.
The Honey Boy actor said, "I don't like the movies that I made with Spielberg. The only movie that I liked that we made together was Transformers one."
The TV Show Is Canon
During The Kingdom of the Crystal Skull, Indy told his son that he had met Mexican revolutionary general Pancho Villa. This was a tongue-in-cheek reference to pilot of the short-lived TV series, The Young Indiana Jones Chronicles.
Where's Short Round?
Whatever happened to Jones' sidekick, Short Round (Jonathan Ke Quan), from Temple of Doom? Remember the diamond, the Peacock's Eye? In the beginning of the sequel, Indy got into a big fight over the diamond with gangster Lao Che (Roy Chiao). Short Round grew up and went on to search for the Peacock's Eye in The Lost Journal of Indiana Jones.