Indiana Mother Attacks Woman Who Killed Her Three Children in Bus Stop Crash During Court Hearing
The mother of three children who were killed while walking to their school bus in Indiana last year attacked the woman responsible for their deaths during emotional court proceedings.
Alyssa Shepherd was sentenced to four years in jail after she hit twin brothers Xzavier and Mason Ingle, aged 6, and their 9-year-old sister Alivia Stahl with her Toyota pickup truck as they made their way towards the bus in Rochester, Indiana in October 2018.
Shepherd was found guilty by a jury this October of three counts of reckless homicide, one count of passing a school bus causing injury and one count of criminal recklessness resulting in serious bodily injury for killing the children and injuring one another.
After being sentenced at Fulton County Courthouse, Shepherd was being taken away in handcuffs when the mother of the young victims, Brittany Ingle, lunged at the defendant and allegedly hit her.
"It appears that she struck her or that she hit her and she made contact and she may have hit the wall, but there appears to be maybe a bit of a mark," Fulton County Prosecutor Michael T. Marrs told RTV6. "She was moving to the door and Brittany came out of her seat and went at her and got a strike in of some kind."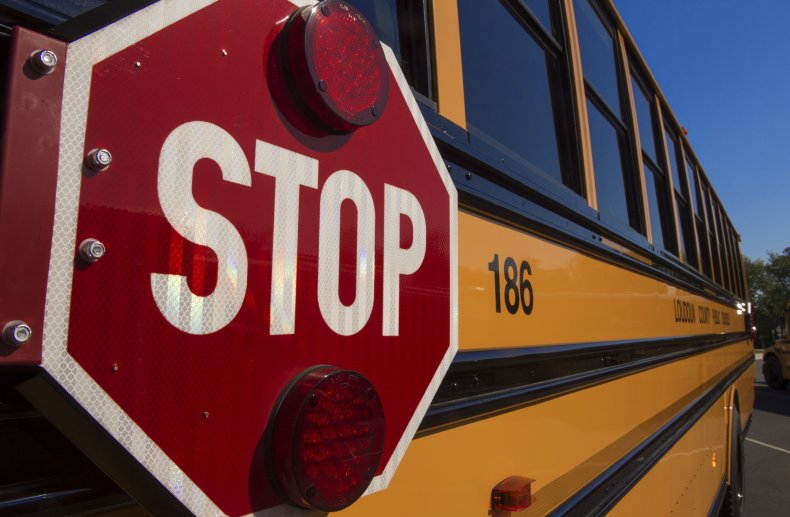 Ingle herself was then removed from the court. She was later charged with misdemeanor battery, reports WSBT. She has since been released from a Fulton County jail.
"Thank you for all the support and prayers," Ingle said in a statement, reports WNDU. "This is obviously a difficult time. I am disappointed and angry. My heart is broken that there is no compassion from her or the family and justice wasn't served.
"I can't believe that I was more criminalized than the person who killed my three children with no compassion."
As well as the four year jail term, Shepherd was also sentenced to three years of home detention followed by three years of probation. Her driver's license was also suspended for 10 years.
The family pushed for a longer sentence be handed down to Shepherd, with the defendant facing up to 21 and a half years in jail.
"There's a lot of different talk, but children still remain our greatest gift," Michael Schwab, the children's grandfather told WSBT. "If we aren't going to protect them and hold people accountable when they get hurt, then we may as well just get rid of the laws. They aren't going to be worth anything if we don't execute them and hold people accountable."
Discussing the sentence, Marrs, added: "If people are going to drive like that they are going to jail or prison, to some extent, that's been done in this case.
"But you know, people need to understand you can't just drive anyway you want. You've got to be responsible. There's laws against reckless behavior, and if you're not going to follow it, you're going to be prosecuted."
The Fulton County Prosecuting Attorney's Office has been contacted for comment.