Black Woman Says White Neighbor Stabbed Dog, Threatened Family, Yelled 'The KKK is Coming'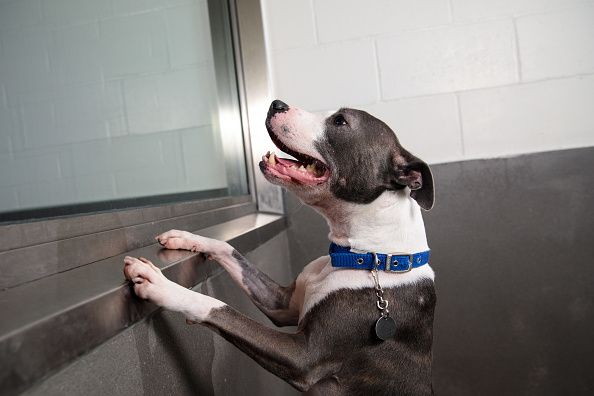 A black woman in Indiana is claiming that her neighbor harassed her and her family with racist comments for more than two years.
Dawn McDowell, who lives in Hammond, Indiana, told The Times of Northwest Indiana that her neighbor, Ronald Wojtas, allegedly shouted racial expletives to her while she was getting into her car on January 10. McDowell recorded the incident and posted it on Facebook.
In the video, which was posted to earlier this month, a voice that allegedly belongs to Wojtas can be heard yelling racial expletives to her while McDowell can be heard jingling her keys.
"The KKK is coming [racial expletive]," the voice, who allegedly belongs to Wojtas, can be heard saying.
McDowell, who is a single mother of three, also claims that Wojtas stabbed her dog, Sasha, multiple times during an incident in October 2017. She told Yahoo Lifestyle that she was five months pregnant and working at Petco when she got a call from her daughter that their five-year-old Pitbull had a knife stuck in her back.
The dog had allegedly got into Wojtas backyard and attacked one of his dogs, which prompted the attack, according to Yahoo Lifestyle. McDowell told the publication that the dog assists her son with his seizures and doubts she would attack anyone.
"Sasha's only injuries were her stab wounds, and there was no physical evidence that she attacked another dog or even entered Richard's yard," she told Yahoo Lifestyle. "But Richard once told me that his dogs were aggressive and one had attacked the other."
Wojtas allegedly sued McDowell for $707.40 for his dog's injuries and more than $2,600 for a wound on his hand he sustained while trying to break up the alleged dog fight, according to Yahoo Lifestyle. McDowell countersued for the cost of Sasha's surgery for $2,300, the publication stated.
Before their court date, McDowell claims he threatened her a second time, claiming that he would kill her dog when she let her dogs out in the yard, The Times of Northwest Indiana reported. McDowell told the publication that she saw Wojtas load a shotgun. Shane O'Donnell told The Times of Northwest Indiana that Wojtas has a gun permit and that McDowell only called the police because she does not like him.
"He had every right to be outside and have a legally obtained shotgun, for which he has a valid license for," O'Donnell told the publication. "Because (McDowell) doesn't like my client, she called the police and said he threatened her with the gun, which isn't true."
Newsweek has reached out to the Hammond Police Department for comment but did not hear back in time for publication. Hammond Police Detectives told WGN-TV that they are working on the case to see if Wojtas had violated a restraining order and if he intimidated McDowell.
"Now we're into January, it's just been police report after police report," McDowell told The Times of Northwest Indiana. "I'm a single woman, I have children here, so it's like, 'Why are you harassing me?' So enough is enough. I don't mind calling police like I'm supposed to, but a lot of times I'm tired of calling them."