Avon, Indiana police arrested former Portland police officer Joshua Clark, 36 Thursday, on two felony counts of child solicitation.
Clark was first accused of being a child predator by a civilian-run group, Predator Catchers Indianapolis, who gave video and text message evidence to the Avon police department on May 13. The video evidence included Clark admitting to driving over 100 miles between Portland and Avon, intending to meet up with who he thought was a 14-year-old girl he had been messaging with online for weeks.
Portland Chief Stephenson said in an email to Newsweek that Clark's alleged actions do "not represent part of our mission statement of "being committed to the highest professional standards," but that his arrest "is an example of how law enforcement agencies work with each other."
Stephenson suspended Clark after seeing the video of the sting. A mid-May statement on the Portland Police Department's Facebook page called the incident "appalling," and said that Clark had been "removed from any and all law enforcement duties without pay."
Clark officially resigned from his position on May 20.
After receiving the tip and the evidence from the Predator Catchers Group, Avon Police launched an investigation and announced that Clark was wanted for questioning.
"We would like to speak with him and get his side of the story," said Avon Police Chief Sean Stoops earlier in May.
The Predator Catchers group said they had posed as a 14-year-old girl when communicating online with Clark over several weeks. Then Clark and a group member posing as an underage girl reportedly arranged a meetup at a restaurant in Avon.
Avon Police reported they found out on May 13 that a law enforcement officer from the Portland Police Department had "attempted to meet up with an underage child to potentially engage in sexual conduct" in Avon.
The civilians from Predator Catchers confronted Clark at the Avon restaurant where he arrived for a meeting and lunch with who he thought would be the 14-year-old girl. The video, which can be seen in part on an NBC newscast, shows Clark in the busy parking lot of the restaurant answering the group's questions.
At one point, an off-camera woman asks him, "Why are you here meeting a 14-year-old girl?" To which Clark responds, "I shouldn't be. I shouldn't be."
"Yeah, you shouldn't be, but why are you?" An off-camera male voice asks. And Clark says, "I was just trying to talk to someone."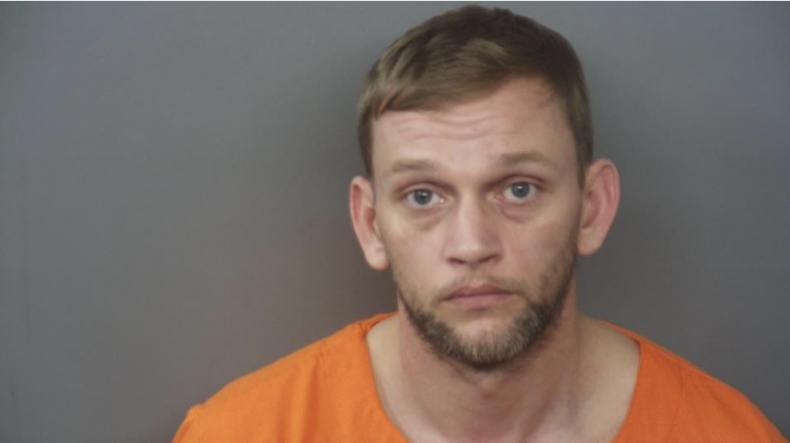 Portland Chief Stephenson said Thursday Clark had passed all of the necessary background and psychological checks before the department had hired him.
"Our heart goes out to the Portland, Indiana Police Department," said an Avon official, "because I know they probably felt like they had selected a really good officer."
When he was arrested by Avon Police, Clark was wearing a shirt with the word "Dangerous" written on it.
He is currently being held on $5,000 bail in the Hendricks County Jail.
Newsweek reached out to Avon Police Department for comment.
Update (5/27/2021, 10:00 p.m.): This article has been updated to include comment from the Portland Police Department.