Indiana Community Successfully Petitions Police to Remove 'All Lives Matter' Slogan from Vehicles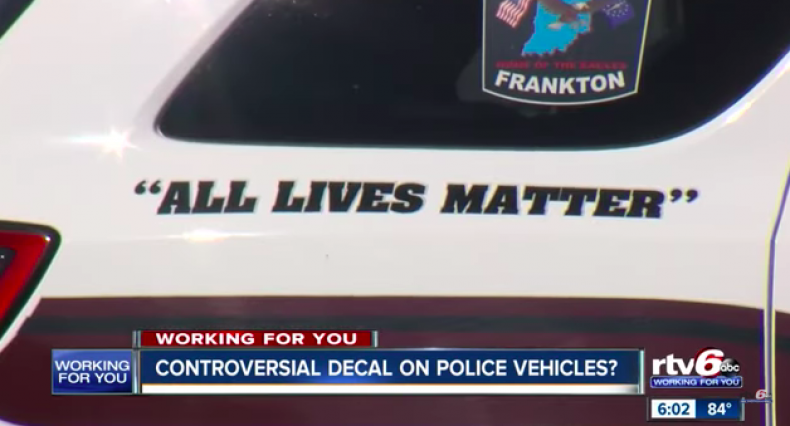 A community in Frankton, Indiana successfully forced a local police department to remove "All Lives Matter" decals from police vehicles. The town marshal said in a statement that "unity among our citizens" is more important.
Frankton, a small community in central Indiana with an estimated population of 1,800 people, only has three police vehicles. But it was a decal on two of the vehicles—put on by the city in 2015—that caused an uproar. The decals read "All Lives Matter," and some members of the community felt they sent an antagonizing message, especially to black community members.
"Frankton, Indiana is a small farming town in the Midwest, with not much diversity," read a Change.org petition posted by Frankton resident Molly Hobbs. "'All Lives Matter' was placed on the vehicles during the height of the Black Lives Matter movement. BLM brings attention to injustices against people of color, mostly committed by police officers. The 'All Lives Matter' group was created to silence and villainize people of color fighting for justice. This controversial slogan does not belong on the vehicles of those meant to protect and serve."
"Every citizen deserves to feel safe in their town and I believe removing this slogan will help with that," Hobbs' statement went on to say. "I also believe removing this slogan will increase diversity and help diminish the negative, racist stereotypes that rural Midwest towns receive."
The petition drew local interest and debate in the community.
"This stands for every color, every person that's walking this earth," Frankton resident Bill Taylor told WTHR, an NBC affiliate. "Why would somebody want this gone when it stands for unity?"
Town Marshal Dave Huffman echoed the same sentiment initially, telling Indianapolis's RTV6 that when the decals were initially added to the vehicles in 2015 he consulted with other police departments in the design, saying he sought a "slogan that would illustrate the seriousness with which Frankton police officers take their duty to protect all of the town's citizens regardless of income, economic status, race, nationality, age or any other factor."
But after continued debate over the issue, Huffman ultimately decided to remove the decals from the police vehicles.
"This petition is the first indication that I or any other town of Frankton officials have received that some people may have perceived the decals as critical of the nationwide "Black Lives Matter" movement," Huffman said in a statement released Thursday. "This was certainly not the intent of the town of Frankton or me as the town marshal. Rather, the decals were designed to promote the Frankton Police Department's commitment to serving all of its citizens."
He went on to say he regrets "that the decals have antagonized some citizens and have appeared critical of the 'Black Lives Matter' movement" and that "unity among our citizens is important for a healthy community, the Frankton Police Department plans to remove the "All Lives Matter" decals from its police cars."
Former President Barack Obama addressed the use of "All Lives Matter" at a White House forum on criminal justice in 2015.
"I think everybody understands all lives matter," Obama said at the time. "I think the reason that the organizers used the phrase 'Black Lives Matter' was not because they were suggesting nobody else's lives matter. Rather, what they were suggesting was there is a specific problem that's happening in the African American community that's not happening in other communities. And that is a legitimate issue that we've got to address."