Indiana School Board Orders LGBT Pride Flags Removed from High School Classrooms
An Indiana school board has caused controversy this week with their decision to order three Pendleton Heights High School teachers to remove rainbow flags from their classrooms.
District officials have said that rainbow LGBT Pride flags which they ordered be removed from the Spanish, French, and art classrooms on Tuesday, violated the school's no "political paraphernalia" policy.
"The issue with displaying the flag in a school is a double-edged sword. If an LGBTQ+ flag is allowed to be displayed, then any other group would have the same ability. That could include such flags as supporting white supremacy, which is in direct conflict with LGBTQ+. I hope we can model equality and support through our actions," South Madison Board of Trustees President Bill Hutton said in an email sent to students, parents, and staff accompanying the removal of the flags.
This emailed statement did not do much to assuage upset students' concerns, however, as it did not demonstrate a clear understanding of the differing concepts of sexuality vs. racial supremacy.
"One is about inclusiveness and the other is about hate and exclusion, and I don't think that's the same thing at all," said Tai Willis, a Pendleton Heights sophomore who does not agree that the rainbow flags should be classified as political.
"Why would you compare a racist flag?" Wills told the Associated Press. "Those two have nothing to do with each other."
"South Madison School Corporation welcomes and celebrates all its students and does not tolerate harassment or discrimination based on any protected class. We pride ourselves on creating an environment that is welcoming to all. Teachers are legally obligated to maintain viewpoint neutrality during their official duties to ensure all students can focus on learning and we can maintain educational activities and school operations," Pendleton Heights Principal Connie Rickert said in an email to Newsweek. "Our counselors are trained to respond to any student who desires support."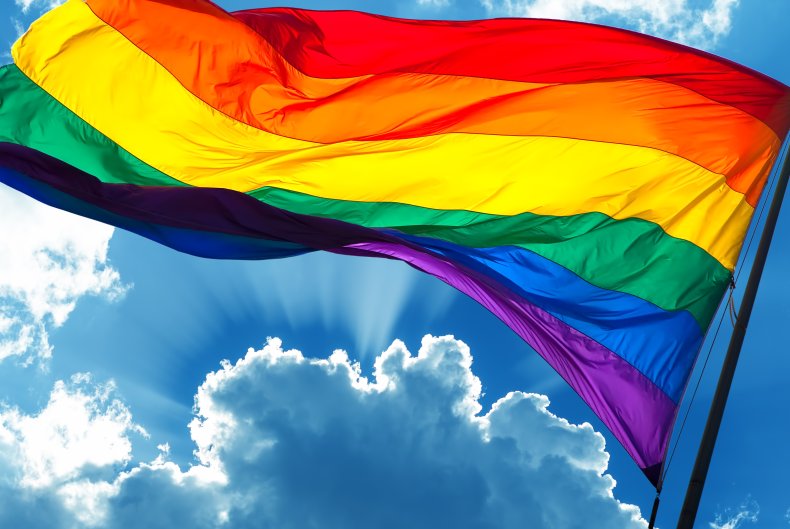 Willis said that the reality of Pendleton Heights' attitude toward LGBT students is not so supportive. When, last year, she started a Gay-Straight Alliance, Willis was told her club would not be allowed to post fliers or raise money like the other clubs were.
"Their only excuse was, 'It's a sensitive topic,'" Willis said. "It didn't really feel like we were a club because we weren't allowed to do much."
Bryce Axel-Adams, a junior at Pendleton Heights started an online petition, "Allow Pride Flag to be flown in classrooms in Pendleton," to take to school board members. Axel-Adams posted an update to his petition:
"I have received updated information from Admin, they have changed their argument from the flag being political speech to taking it down to avoid a discrimination lawsuit. Their biggest fear is that someone will file a discrimination lawsuit because they want the opposite of the pride flag to be flown. I understand where the Admin and their lawyers are coming from, but sometimes people have to take risks to protect their students."
As of Friday afternoon, his petition had over 3,800 signatures.
Newsweek reached out to the South Madison Board of Trustees and will update this story with any response.
Update (5/21/2021, 10:45 p.m.): This article has been updated to include a statement from Pendleton Heights Principal Connie Rickert.