Indiana Student and School Employee Diagnosed With COVID-19 on First Day Back to School
As Indiana's schools reopened for the first time since the coronavirus pandemic, a student and a school employee in one distrction have tested positive for COVID-19.
On Thursday, the superintendent of the Greenfield-Central School District said a student at Greenfield Central Junior High School tested positive on their first day back to school.
The student was isolated at the school clinic when the county health department notified the school of the diagnosis, according to WISH-TV.
To determine if anyone at the school had been in close contact with the student, school officials obtained a copy of their schedule. Those who were deemed to have been in close contact with the infected student received a call from the school or the Hancock County Health Department.
Superintendent Harold Olin told Newsweek that students who were identified as "close contact," within six feet of the infected student for longer than 15 minutes, have been told to quarantine for 14 days. He added the students will be provided virtual learning opportunities in the interim.
Olin said that once the infected student has been isolated at home for 10 days from the date of their test or onset of symptoms, whichever is longer, they may return to school.
The district said it has taken multiple steps to protect students and staff, including face mask requirements, social distancing, hand sanitizer stations, removal of lockers and implementation of one-way traffic flow in hallways. The schools in the district are sanitized by a professional cleaning company every night.
Olin noted that parents must also take responsibility in screening their children daily.
The same evening that Olin announced the case of coronavirus in Greenfield-Central, Avon High School in Hendricks County also learned a staff member at one of their high schools had tested positive.
The staff member learned that they had contracted the virus on Thursday and had not been at the school since classes resumed on Wednesday, according to Stacey Moore, a spokesperson for Avon Schools.
Moore said the staff member did not come into close contact with any students or other school employees and that the school employees have gone through training to recognize COVID-19 symptoms.
She said that students or staff members who test positive are allowed to return to school once they are fever-free for 72 hours, symptoms have improved and at least 10 calendar days have passed since the first sign of symptoms.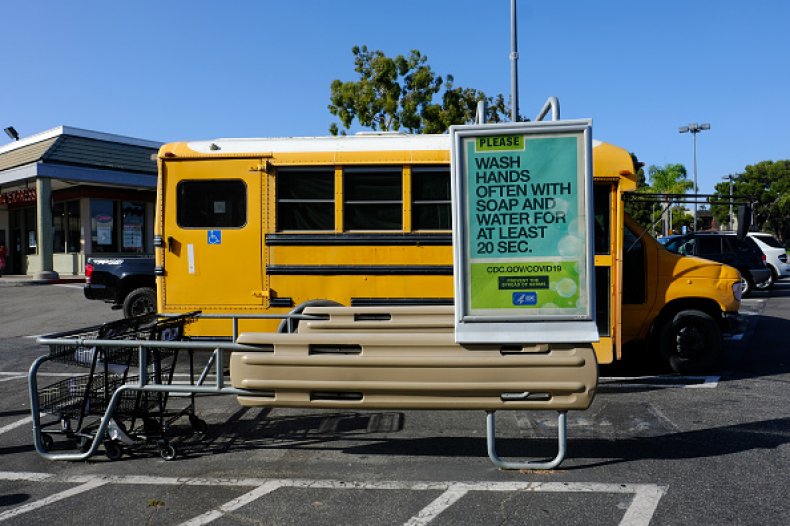 The coronavirus is not new to the school district. Back in March, Avon Community Schools closed after a student tested positive and another began showing symptoms.
Avon Community Schools was the first school district in the state to close in response to the coronavirus outbreak. Earlier this week, it was one of the first to resume in-person classes in Indiana.
Moore told the Indianapolis Star that 85 percent of families wanted in-person learning for the 2020–2021 school year. There were 9,871 students enrolled in the district last year.
As schools begin to reopen amidst the global health crisis, little is known as to how returning to educational establishments will impact the spread of the virus.
Earlier this week, Dr. Anthony Fauci, director of the National Institute of Allergy and Infectious Diseases, told educators they will "be part of the experiment" as in-person learning resumes.
"Remember, early on when we shut down the country as it were, the schools were shut down, so we don't know the full impact, we don't have the total database of knowing what there is to expect," Fauci said.
However, a new study published in the medical journal JAMA on Wednesday found that school closures in the spring were linked to a million fewer coronavirus cases and saved over 40,000 lives.
Researchers found that schools that closed earlier saw the greatest decline in COVID-19 cases per week at the time.
As of Thursday, Indiana has reported 66,154 confirmed cases and 2,765 deaths, according to the state's department of health.
Update, 07/31/20 (2:19 p.m. ET): This story has been updated to include comments from Olin and Moore.
Correction, 07/31/20 (2:35 p.m. ET): A previous version of this story said "teacher" instead of "school employee." The headline and copy have been changed to correct this error.