Arrests Made After 14-month-old Boy's Tongue Possibly Split With Scissors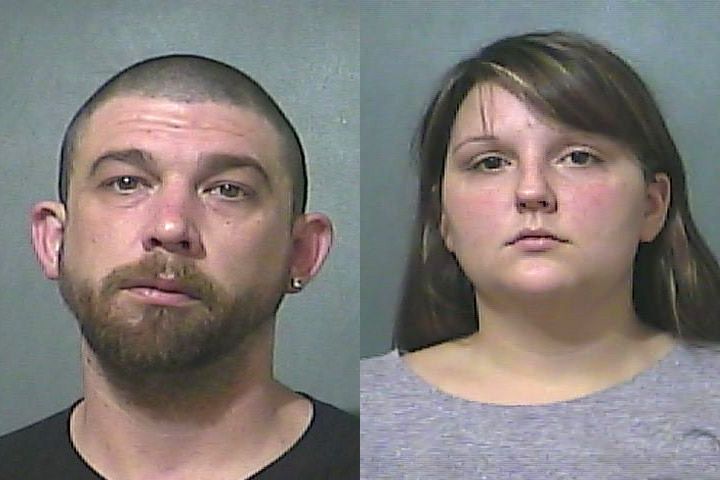 Indiana police have arrested two people after a 14-month-old child was hospitalized last week with a series of shocking injuries.
Scott Edwards, 33, and Holly Cota, 28, were detained by the Terre Haute Police Department last Friday after a child in their care was found with bruises and a split tongue. Medical officials said the cut may have been made by scissors or a similar tool, WTHI-TV reported.
The Terre Haute-based news website obtained court documents filed in relation to the case, which confirmed the child had been taken to Union Hospital on January 14.
According to WXIN (Fox59), Cota had misled the police by claiming the injuries were sustained by the child tumbling from his crib. She told deputies that the child had likely bitten his own tongue and that additional injuries—including a swollen scrotum—were linked to his falls.
Citing an arrest affidavit, WXIN reported investigators were told it was unlikely that damage to the child's tongue was caused by his teeth. "[The doctor] said that the cut appeared clean and was not torn which indicated that some type of tool, possibly scissors, were used," the arrest affidavit stated. "[The doctor] also said that a piece at the tip of the tongue was missing."
Medical officials noted that teeth marks did not align with the nature of the injury, local media reported. They said the injuries were more akin to "inflicted trauma," WXIN reported.
The child was later transported to the Riley Hospital for Children in Indianapolis. Cota told cops Edwards was looking after the child when the injuries occurred, WXIN said.
A family friend of the suspects, Chelsie Loose, told WTHI-TV: "I am appalled. I am disgusted. My heart hurts. When that's all you can think about is that poor baby going through that with nobody for him to be his voice and say stop...you're hurting me. It just breaks my heart.
"I mean really, [the child] is lucky to be alive I think," Loose added, the publication reported yesterday. "From the description I heard of his injuries at his age...lucky."
Vigo County Jail records showed Edwards was charged with aggravated battery, neglect of a dependent resulting in serious bodily injury and battery resulting in serious bodily injury to a person less than 14-years-old. Cota, meanwhile, was charged with obstruction of justice for allegedly lying to law enforcement.
According to the logs, Edwards remains in pre-trial custody on $75,000 bond. Cota has since been released. Both suspects are next scheduled to appear in court tomorrow.