Indiana University Condemns Professor's 'Vile' Views About Gay Men, Black Students and Women, But Says Firing Isn't an Option
Indiana University agreed with critics that a professor's expressed beliefs raised concerns about his ability to teach a diverse student body. When it came to terminating his employment, though, the university claimed its hands were tied.
"My strong disagreement with his views—indeed, the fact that I find them loathsome—is not a reason for Indiana University to violate the Constitution of the United States," Lauren Robel, Indiana University Bloomington executive vice president and provost, said in a statement.
On November 7, Professor Eric Rasmusen posted on Twitter a link to an article titled, "Are Women Destroying Academia? Probably." The tweet created a firestorm after an account with more than 400,000 followers shared it and it wasn't the first time the university found themselves at the receiving end of criticism because of Rasmusen.
He's previously used his personal Twitter account to share his opinion on people of color, women and gay men. Over the years, he expressed the belief that women don't belong in the workplace, black students are "generally inferior academically" to white students and gay men cannot avoid abusing students, according to the school. He also claimed laws against adultery or divorce would "kill" the idea of gay marriage because people who are gay only wanted to get married so they could receive spousal benefits from the government and employers.
Normally, Robel wouldn't "dignify these bigoted statements" by repeating them, but she said in her statement it was necessary to confront the situation. She characterized his "racist," "sexist" and "homophobic" views as being more aligned with the 18th century than the modern era.
Regardless of how "vile and stupid" the school considered his posts to be, Robel explained they're protected by his First Amendment rights so the university could not and would not fire him.
"The First Amendment is strong medicine and works both ways," Robel said. "All of us are free to condemn views that we find reprehensible and to do so as vehemently and publicly as Professor Rasmusen expresses his views."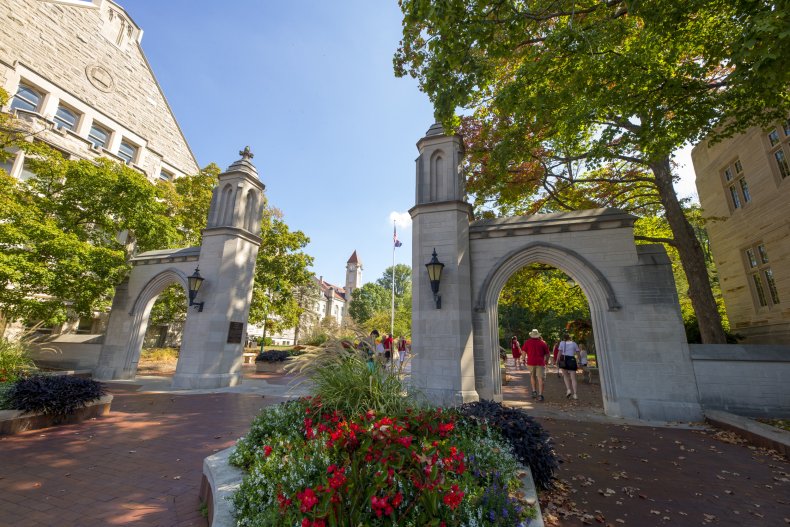 If the professor were to act upon his views by issuing grades or promotions to students and colleagues based on their gender, sexual orientation or race, the situation would be different. The actions would then be illegal and an investigation could result in consequences.
While the school couldn't fire the professor, Robel said it was reasonable for students who were gay, of color or women to be concerned that they wouldn't receive fair treatment in his classes. So, moving forward, the Kelley School of Business would provide alternatives to his classes so no student would be forced to take them and the professor would have to use double-blind grading on assignments.
Blind grading is when the owner of an assignment is identified using an identification number instead of a name. The goal of keeping the instructor unaware of who the work belongs to is to eliminate bias in grading each assignment.
It's unclear what measures the school intends to take in implementing a "double-blind" grading system. Newsweek reached out to the university but did not receive a response in time for publication.
Students currently enrolled in Rasmusen's course could transfer to another professor's section, according to a letter Idie Kesner, dean of Kelley School, posted online. Along with making arrangements for students, she added that the Kelley School would be conducting a review of his courses to determine if there was an influence of bias.
"I ask that you not judge our School by a single faculty member," Kesner said.