Woman Allegedly Left Racist Note on Black Neighbor's New Home: 'This is a White Neighborhood'
A woman from Indiana was arrested for allegedly leaving racist letter on the doorstep of a new neighbor that targeted her biracial son.
Deborah Cantwell, 63, of Greentown, Indiana, was arrested on the suspicion of intimidation and was booked into the Howard County Jail on Thursday, the Kokomo Tribune reported. The Howard County Sheriff's Department told Newsweek that Cantwell surrendered herself at 2:24 p.m. on Thursday at the Howard County Jail. The father of the child contacted the Howard County Sheriff's department on Saturday, October 13, after the family had just come back to their home to find it toilet-papered with a racist note posted to the door, according to the Kokomo Tribune.
"No [racial expletive] wanted in this neighborhood-THIS IS A WHITE NEIGHBORHOOD-some people find [racial expletive] stressful," Cantwell wrote, according to the affidavit viewed by the Kokomo Tribune. In another paragraph of the letter, Cantwell wrote that "YOUR [racial expletive] KID IS NOT WELCOME."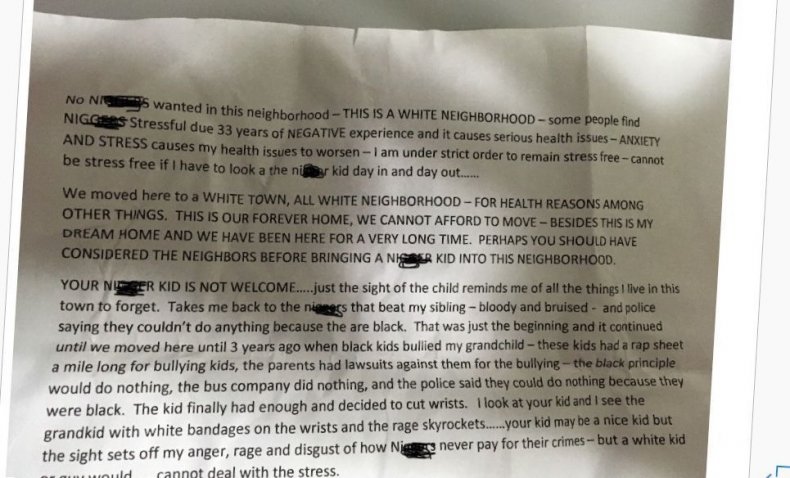 Cantwell was given a protection order that states "stalking has occurred" and is prohibited from contacting the family, according to the Kokomo Tribune. The 63-year-old posted an $8,000 bond and was released from jail, according to the publication.
The family had just moved into a new home on Cantwell's block in Greentown, Indiana, on October 12, according to a GoFundMe account posted by Amy Howell Pundt, who said she was the boy's mother. Pundt wrote that her husband was the one who found the note around midnight on October 13.
"An ENTIRE typed out (not signed) letter. A letter about my son who had been watched and plotted against. My bi-racial son. My CHILD was facing bigotry and hatred at a level I can't even fathom. JUST FOR THE COLOR OF HIS SKIN!!!" Pundt wrote on the fundraising site.
Pundt, who said she and her husband grew up in the town of Greentown said her husband has never experienced this kind of hatred before.
"I'm not so naive to think that racism doesn't happen here, I'm sure it does, we've even discussed it and how to handle it and what to do. It's just never happened to him or us before," Pundt wrote. "I know it exists, but a HATE CRIME?!? A. HATE. CRIME?!? This destroyed [my son's] innocence. This destroyed a childhood. This even [affected] my other 4 kids!"
The mother said she started the fundraising page so she can raise money to help for the cost of legal fees and for a security system. The fundraiser has already raised over $1,700 of its $5,000 goal.
"We want to get [the] word out there that this is still going on, and hopefully use this story to make a change," Pundt wrote.
A similar incident occurred in September after a mother from Kentucky claimed her daughter received a racist note while she was waiting tables at an Applebee's. Regina Boone previously told Fox 8 that her daughter, Jasmine Brewer, waited on four people on September 19 at the Applebee's in Radcliff, Kentucky. The customers allegedly left a racist note that read "We don't tip black people" instead of leaving a tip, according to Boone.