Indiana Woman 'Tricked Into Joining ISIS' Wants to Come Home
An American ISIS widow stranded in Syria is looking for a way home. Having survived three years living in ISIS's self-declared caliphate, Samantha Sally and four children are now being held in Syrian-Kurdish custody.
Captured after ISIS's de facto capital Raqqa fell in October 2017, Sally told CNN she wishes to return to America. With no way of travelling home independently, the fate of the family will hinge on whether the U.S. government believes Sally's harrowing story.
Sally said her husband, Moussa Elhassani—who was killed in a drone strike in 2017—tricked her into traveling to Syria to join ISIS's self-declared caliphate in 2015. The couple had agreed to leave their home in Elkhart, Indiana, to start a new life in Morocco, transiting through Hong Kong so Elhassani could transfer money.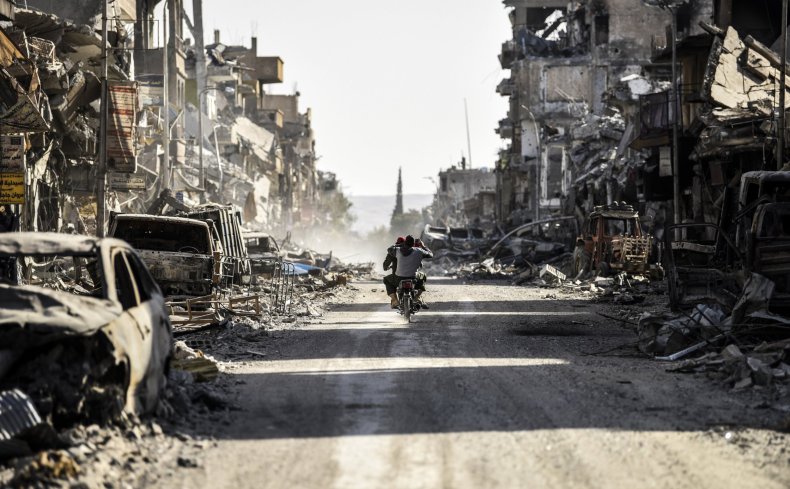 The family continued to Turkey for a holiday, but Sally soon found herself at a border crossing on the edge of ISIS territory. Elhassani grabbed her daughter Sarah and marched across the frontier, leaving her behind with son Matthew. "To stay there with my son or watch my daughter leave with my husband—I had to make a decision. Maybe I would never have seen my daughter again ever, and how can I live the rest of my life like that?"
Once they were in ISIS territory, Elhassani's behaviour deteriorated, Sally said. She became a prisoner in her home and was beaten regularly. In this time, the couple had another two children. While pregnant, Sally claimed she was imprisoned for three months by ISIS authorities for trying to escape and for alleged spying on behalf of the U.S. She said she was tortured and sexually abused while behind bars.
"All I saw was a bunch of drug-using thugs who had no place," Sally said, describing the years she spent in the caliphate. "They created their own state here and called it in the name of God."
According to a George Washington University's Program on Extremism report, around 300 Americans have attempted to join ISIS and other radical Islamist groups in Syria since 2011. Of those, 64 were successful. The report says 34 percent died overseas and 44 percent remain at large. Twelve have returned home and nine are currently in custody.
Around 30,000 foreign fighters are believed to have traveled to fight for the group, most from the Middle East, Europe and North Africa. Though many have been killed, survivors are thought to have slipped out of the country. Some have gathered in remote regions of the Iraq-Syria border that ISIS still controls.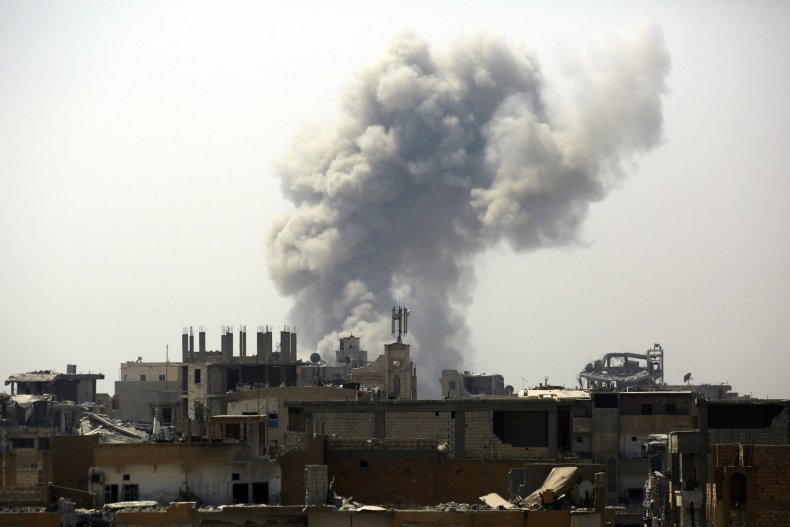 Elhassani was often called away to fight on the front lines. To keep Sally company, he bought a 17-year-old Yazidi girl for $10,000, one of thousands captured in the ISIS advance and forced into slavery. He soon began raping the girl. He later purchased another, even younger, Yazidi slave girl for $7,500 and regularly raped her too. Later they also bought a young boy, Aham, for $1,500.
Despite the ongoing sexual abuse, Sally said her home was a better place to be than most others. "I would never apologize for bringing those girls to my house. They had me and I had them," she told CNN. "In any other situation they would be locked in a bedroom and fed tea every day. And the situation I was in with them, we cooked together, we cleaned together. Drank coffee together. Slept in the same room together. I was like their mother."
The couple's children grew up amidst the carnage inflicted by the caliphate and the forces trying to destroy it. Matthew—her son from a previous marriage to an American soldier—became a valuable ISIS propaganda tool, appearing in a video threatening U.S. President Donald Trump. Sally said she tried to stop the project, but was badly beaten.
"It was extremely stressful and it was hard," Matthew recounted. "I would have to say one word and then they would make me say another in Arabic. I never even knew Arabic before. I did not want to do it."
A deal to allow the last ISIS fighters to leave Raqqa was the family's way out. Sally claimed she was too afraid of IEDs and snipers to leave with other civilians as Kurdish forces surrounded the city.
They were detained a short time later. The family have been interrogated by the FBI but no charges have been brought nor travel arrangements arranged. "I will do anything to get my kids back where they belong," Sally said. "If I have to spend 15 years in prison, it's better than anything here."