Indianapolis Man Who 'Openly Identified With Nazism' Traveled 50 Miles to Set Fire to Synagogue With Homemade Napalm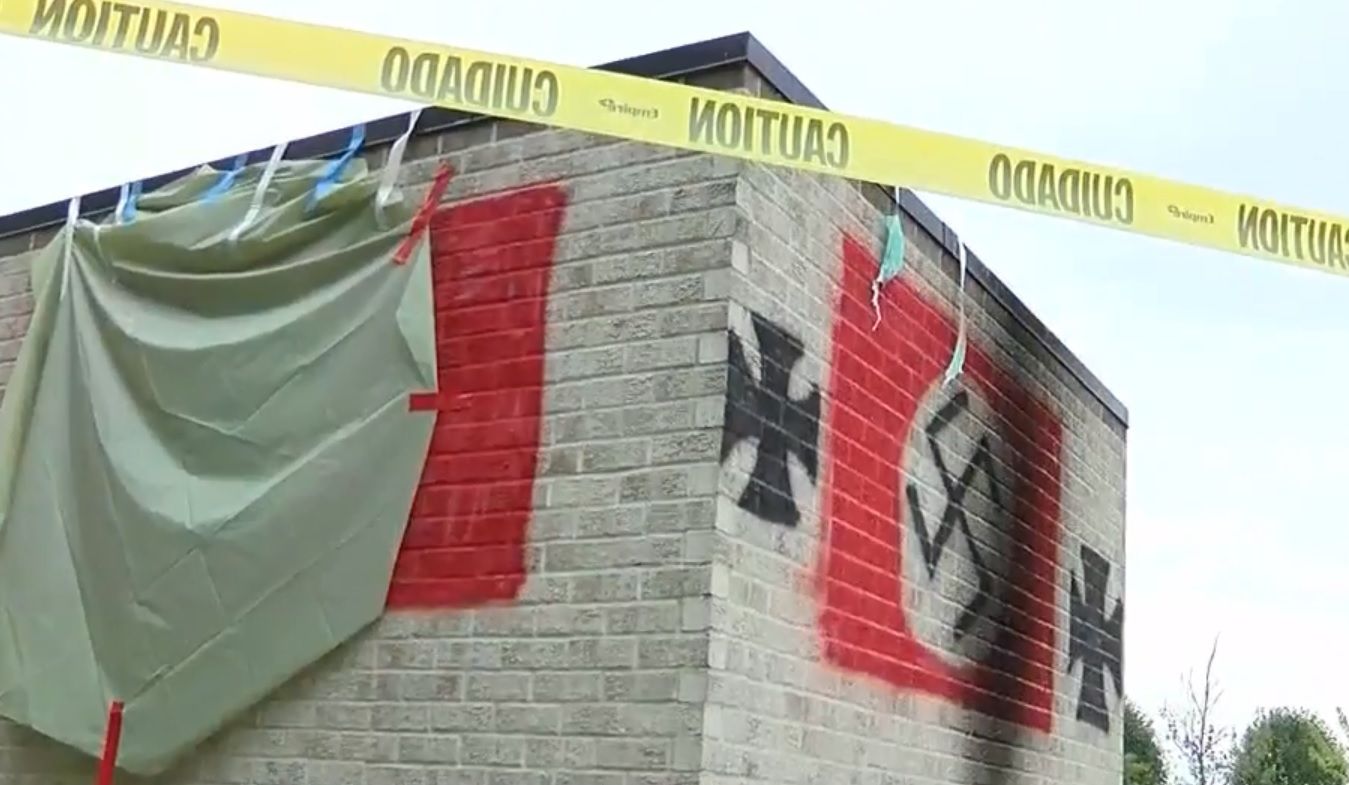 An Indianapolis man who holds Nazi beliefs and openly spoke of his admiration for Adolf Hitler has been jailed after admitting vandalizing synagogue grounds.
Nolan Brewer, 21, of Eminence, Indiana, was sentenced to three years in jail after pleading guilty to a federal hate crime for conspiring to violate the civil rights of Congregation Shaarey Tefilla synagogue in Carmel on 28 July last year.
According to a Justice Department statement, Brewer and his wife decided to attack the synagogue because it was "full of ethnic Jews." The pair traveled more than 50 miles from Brewer's home to spray paint huge red and black Nazi flags and iron crosses on the property's walls, as well as burning the grounds with what Brewer referred to as "homemade napalm."
Prosecutors said the decision to attack the synagogue was not a "not a spur-of-the-moment childhood prank" and stemmed from Brewer identifying with Nazi and white supremacist ideologies.
"Crimes such as this—fueled by hatred towards individuals based simply on their faith—will not be tolerated by the FBI and our law enforcement partners," said Grant Mendenhall, Special Agent in Charge of the FBI's Indianapolis Division. "This sentence demonstrates our continued commitment to the FBI's core mission—to protect our communities and to protect the rights of all Americans."
Authorities said the couple had planned to break in and set fire to the synagogue using their homemade Drano bombs and "napalm," which consisted of mixing gasoline with Styrofoam plates to create a highly flammable substance.
An eyewitness reportedly described how the pair decided against entering the synagogue after getting spooked by the security cameras and lights. The couple instead spray-painted the external walls and scorched the ground.
Brewer later bragged to his co-workers and friends about the attack, including showing them pictures on his cellphone. The 21-year-old, who wears a swastika necklace and agrees with what the Nazis did to the Jewish people during the Holocaust, told the FBI he wanted to generate media coverage by carrying out the attack.
Authorities said Brewer claimed his motive was to "spark more radicalism" by showing other extremists that "people are actually doing things."
Announcing the sentence, U.S. Attorney Josh J. Minkler said: "Our nation was founded on the right of all people to practice their faith free of threats and violence.
"Sadly, over the past couple of years, our country has seen an increase in hate crimes targeting houses of worship, particularly against those of the Jewish faith. This case was one of them. The sentence handed down yesterday sends a clear message that society cannot, and will not, tolerate those who terrorize others for their religious beliefs."
The Jewish Community Relations Council added in a statement to the Indianapolis Star: "At a time when anti-Jewish bigotry is at an all-time high, the JCRC is pleased to inform the community that one of the perpetrators of the antisemitic vandalism at Congregation Shaarey Tefilla was sentenced in federal court."