Indianapolis Tragedy Comes As America Sees Four Mass Shootings in One Day
The fatal mass shooting at a FedEx facility in Indianapolis, Indiana, that killed eight and injured several more was one of four that took place on Thursday, according to a gun violence tracker.
The Gun Violence Archive's mass shooting tracker found that a total of 29 people were injured or killed in mass shootings that took place across several states by the end of Thursday.
Indianapolis police said eight people were killed in the shooting at a FedEx facility near Indianapolis International Airport. A preliminary police report revealed that seven people had also been injured.
Two victims were treated at the scene and five were sent to local hospitals after the shooting. A police spokesperson said one victim was in critical condition.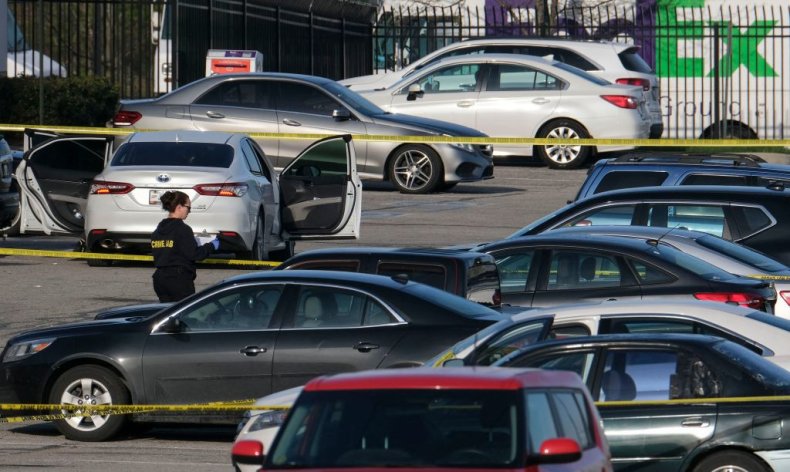 The gunman was confirmed dead at the scene by officers after taking his own life. No information on the shooter has been released yet. A police spokesperson said no officers were injured in the shooting.
Releasing a statement this morning, FedEx said: "We are deeply shocked and saddened by the loss of our team members following the tragic shooting at our FedEx Ground facility in Indianapolis.
"Our most heartfelt sympathies are with all those affected by this senseless act of violence. The safety of our team members is our top priority, and we are fully co-operating with investigating authorities."
In a separate incident, four people were reportedly shot in Northeast Washington, D.C. on Thursday night, according to NBC News Washington. Three men and a girl were among the injured, police told NBC.
The local outlet reported that police found the victims of the shooting conscious when they arrived.
The Chicago Sun-Times also reported that four people had been wounded in a shooting in the Humboldt Park district of the city. All four victims were in good condition and were transported to local hospitals, police told the newspaper.
A fourth shooting on Thursday injured six people in Pensacola, Florida, the ABC affiliate WEAR-TV reported. Police told reporters that multiple shooters were believed to have targeted one apartment in the Oakwood Terrace complex.
"A group of people exited that vehicle and just started opening fire," Escambia County Sheriff Chip Simmons said, according to WEAR-TV. "We estimated at least a dozen rounds have been fired."
No arrests were reported in connection with any of the shootings as of Thursday night.
Newsweek has contacted the police departments mentioned in this story for further details and comment.