Indians Burn China Flag, Demand Trade Boycott As Protests Erupt Over Clash
Anti-Chinese protests in India have heated up after the Indian army reported 20 Indian soldiers were allegedly slain by Chinese forces during a June 15 and 16 fight along the long-contested Galwan Valley territory.
In response to the killings, Indian protesters in several cities have burned China's flag, Chinese-made products and effigies of President Xi Jinping. The protesters want India to retaliate in some way for the alleged killings and to cut off trade ties with China.
According to NDTV, Ranjit Singh—a retired Indian military major and president of the Residents Welfare Association (RWA) of Defence Colony, an organization of a neighborhood in southern New Delhi—said in a now-viral five-minute audio message that the RWA had "declared war" on China, and he urged all India citizens to boycott Chinese-made goods.
"Unarmed officers and soldiers of the Indian Army were brutally murdered by the Chinese. This was total betrayal... nothing but murder," he said. "Unfortunately, we cannot take up guns and bullets but we can break China's backbone economically."
In response to reports of anti-Chinese demonstrations, the Global Times, a publication run by the Chinese government, said in a Wednesday editorial that it would be "extremely dangerous for India to allow anti-China groups to stir public opinion, thus escalating tensions."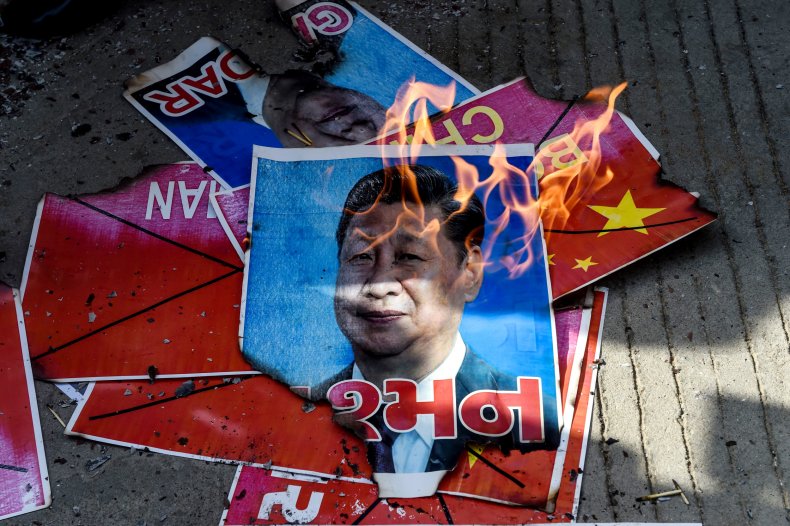 For about 80 years, India and China have both fought over the mountainous 2,200-mile region at India's northeastern border, but the mid-June killings represent the deadliest clash between the two countries since 1967. The Asian News International agency reported 43 Chinese military casualties in the skirmish.
It's unclear what started the mid-June skirmish, though both the Chinese and Indian governments have blamed one another. The fighting has ignited fears of a longer ongoing conflict that could explode between the world's two largest populations, both of which are armed with nuclear weapons.
The dispute over the region started in the late 1800s when Britain, which had colonized India, drew two different borders demarcating different national boundaries in the now-contested region. After India declared independence from Britain in 1947, the region has remained contested, with conflict over it escalating ever since.
China and India briefly battled in a bloody war over the border in 1962, ending with a ceasefire and an established "Line of Actual Control" meant as a boundary between the two countries. demarcating the boundary between lands controlled by the two countries. Another deadly fight occurred in the region five years later and tensions have remained ever since.
Thousands of troops are now reportedly camped on both sides of the border with China and India both amassing arms as their political leaders rattle their sabers. In late May, both countries refused a U.S. offer to help mediate the conflict.