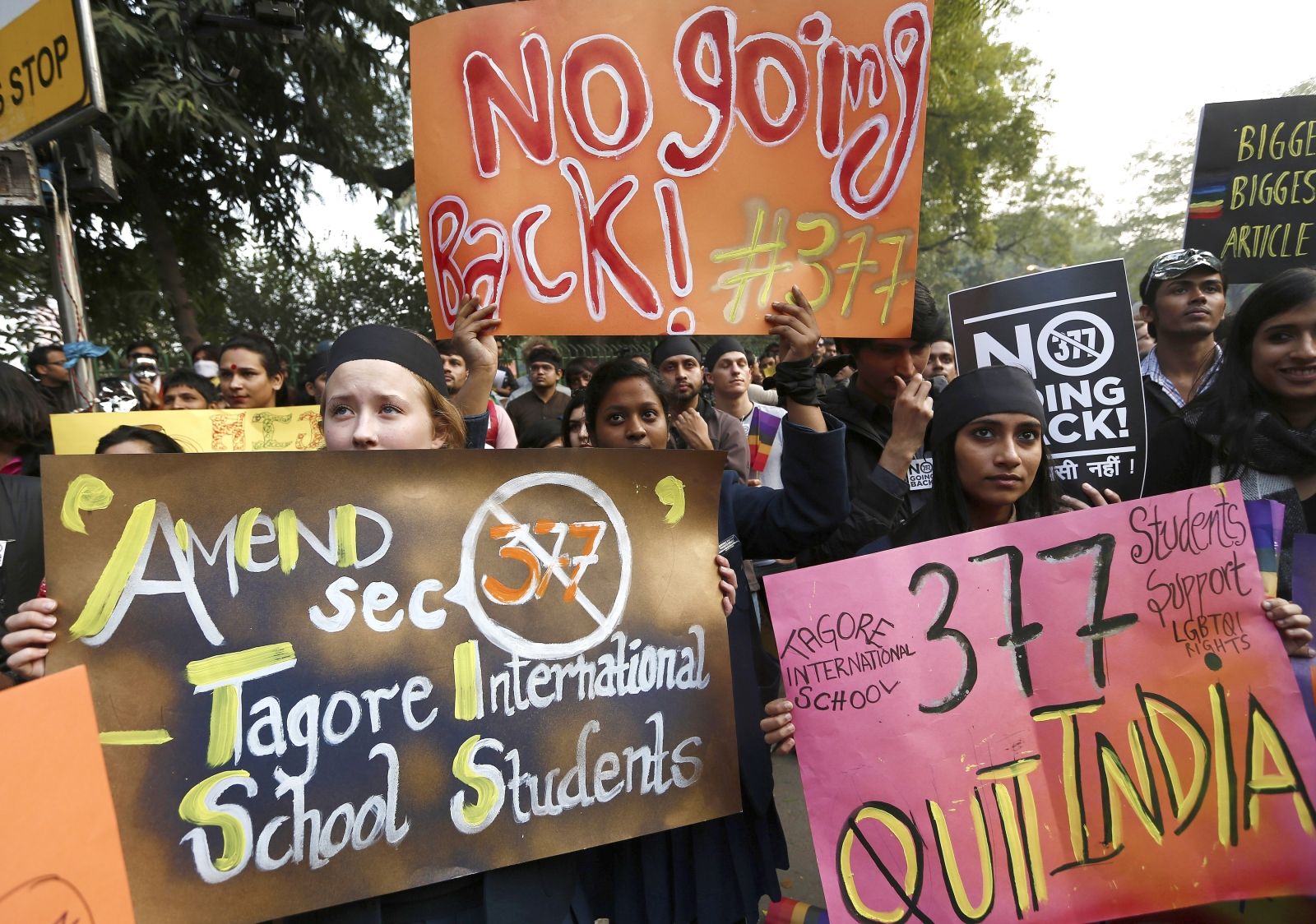 The advertisement in the matrimonials section of the Indian tabloid Mid-Day, in late May 2015, was almost mundane: "SEEKING 25-40, well-placed, animal-loving, vegetarian GROOM ... (36, 5 11") who works with an NGO, Caste No Bar (Though IYER Preferred)," a mother had written. In South Asia, marital ads are commonplace and sometimes dominate whole sections of newspapers.
The surprise was the missing three words: "for my son." Homosexual sex is a criminal offence in India—deemed so by a colonial-era law that ranks gay sex as akin to bestiality—and coming out to families remains a source of fear and shame for a majority of India's gay population.
As a result, Padma Iyer's marriage ad for her son, Harish, a gay rights activist in Mumbai, drew both criticism and praise. What's been dubbed as India's first gay matrimonial ad was understood as a challenge to society's morals; but its intentionally provocative stance on gay marriage has since been overshadowed by another argument—about caste.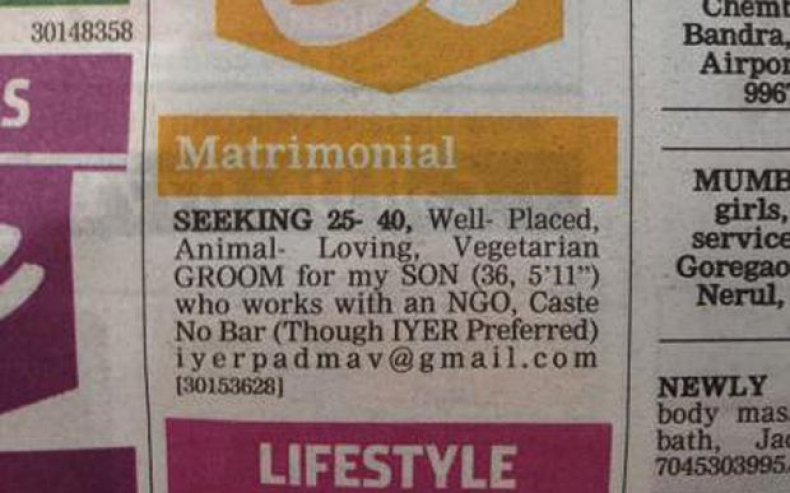 Until recently, India had made strides toward equality for LGBTQ citizens. Homosexuality was decriminalised in 2009, when Section 377 of the Indian penal code, which bans sexual acts "against the order of nature," was declared unconstitutional by the High Court of Delhi. However, in late 2013, the Supreme Court of India overturned that decision, recriminalising homosexual sex and, by association, the nation's millions of homosexuals.
Supporters of LGBTQ rights saw a huge step backward for India and the region; Nepal is now the only country in South Asia where homosexuality is legal—although Pakistan, Nepal, Bangladesh and India have voting laws that recognise a third gender. But since the conservative Bharatiya Janata Party (BJP) came to power in India in 2014, the issue has been given less attention, according to Gautam Bhan, a lawyer and prominent gay rights activist based in Delhi.
"I think the general sense within the BJP is that they've also tried to take the backseat with this a little bit," he says. "Even some of the more vocal Hindu rights organisations have been quiet on this while they take on other agendas."
While many saw the ad as an example of how confident and mobilized India's gay community has become in recent years—thanks in part to the new freedom and solidarity that blossomed after 2009—others were offended by another phrase used in the advertisement, "Caste No Bar (Though IYER preferred)."
"Iyer" refers to a community of Tamil Brahmins—Brahmins being the highest group in India's caste hierarchy, and Tamil referring to the culture and people originating from the southern state of Tamil Nadu. Distinguishing between different castes can serve multiple purposes, from reserving spaces in schools or government offices for members of historically disadvantaged or marginalised communities, to using caste as a marker of "culture" that allows people from a common background to share a sense of identity.
Padma Iyer says that the caste line was added in jest to make the ad appear more typical of the caste-obsessed matrimonial ads that pepper Indian newspapers. "If tomorrow Harish tells me he's fallen in love with a Muslim or Christian, I will open my arms to him," she says.
But given the caste system's hierarchical structure, with caste groups falling above or below one another, it's long been associated with discrimination and segregation as well. Critics claim the very mention of caste is an affront to the inclusive gay rights movement.
"I think a lot of people are quite angry about it," says Mario da Penha, a Mumbai-based PhD candidate at Rutgers University who researches sexual history in India. "The kind of anger that you have directed against that ad comes from this moment where the nation just hasn't tackled caste the way it tries to tackle other things."
Padma Iyer says she simply wants her son to find a long-term companion. Harish, on the other hand, argues the word "preference" should be interpreted loosely. Biases, whether they are spoken or unspoken, always exist, he says.
"Would I get married to someone who is a chaiwallah, maybe?" he asked, using the Hindi word for a tea stall worker. "Don't we have economic and linguistic biases? Don't we all have biases when it comes to a certain prototype of a person that we like and don't like?"
While the advertisement's talk of caste has attracted its own controversy, Padma Iyer's public support for her son's sexuality has elicited praise. The decision to reinstate the ban on homosexual sex has not been accepted by activists or by many members of the public.
After Section 377 was reinstated, Justice Leila Seth, mother of the author Vikram Seth, wrote an excoriating op-ed in the Times of India. "Our eldest, Vikram, is now a criminal, an unapprehended felon," she wrote. "Now, once again, if Vikram falls in love with another man, he will be committing a crime punishable by imprisonment for life if he expresses his love physically. The Supreme Court judgment means that he would have to be celibate for the rest of his life or else leave the country where he was born, to which he belongs, and which he loves more than any other."
Activists argue an ad like Padma Iyer's—which was rejected by other mainstream Indian papers before Mid-Day picked it up—is necessary for gays, lesbians and their families to be exposed to an alternative to heterosexual marriages, which many are forced into to satisfy social or family pressures.
"I do know gay men out there who think they can keep marriage separate from their sexuality, that they can marry and even be a good husband, but still screw around on the side," says Sandip Roy, a senior editor at the Indian news website Firstpost and author of the book Don't Let Him Know. "In that sense, I think what's great about Mrs Iyer's ad is that it plants a seed that marrying someone of the opposite sex is not the only way someone can be settled."
Padma Iyer admits that she encouraged her son to marry a woman in the past, but gave up on the idea after Harish dismissed it as an injustice to the woman he might marry. She said understanding her son's sexuality and learning to be open-minded about it has been a coming-out process for her as well. "He first took me to a gay parents meet, in Bombay," she says. "I saw so many other children who are gay and lesbian. And suddenly I started realising my son was not the only one."
She also realised she wasn't the only parent. Among the more than 100 emails she's received in response to the ad – some criticising it, others praising it, and yes, a few answering it—have been emails from other parents expressing their respect and admiration for what she has done.
One was from a father of another gay man in Delhi. "His letter was very heartfelt," Padma says. "He wrote how his son was gay and how he had told him really late in life. He said, 'I don't think I can put an ad out because I am so old. I will be very grateful if you could find a groom for my son as well.'"