India's Foreign Investment Grew 3 Times Faster Than China's on Tech Bets
Foreign Direct Investment (FDI) fell 42% worldwide in 2020, but rose 13% in India, eclipsing China's 4% gain, the United Nations Conference on Trade and Development reported on Sunday.
FDI in India rose to $57 billion, with most money flowing to companies active in the digital economy, the UN said. India now receives the third most FDI worldwide, trailing China ($164 billion) and the U.S. ($134 billion).
But FDI fell in other economies in the South Asia region, especially those dependent on exporting apparel, as demand fell during the COVID-19 pandemic.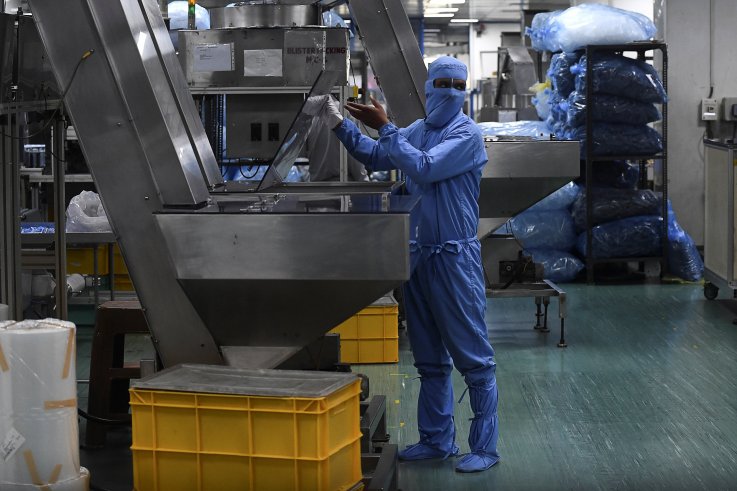 A worker checks a machine at the Hindustan Syringes factory in Faridabad on September 2, 2020. India's biggest syringe manufacturer was ramping up its production to churn out a billion units, anticipating the surge in demand as the global race to find a COVID-19 coronavirus vaccine heats up.
SAJJAD HUSSAIN/AFP/Getty
India offers foreign companies lower wages, tax incentives and, in some cases, tax exemptions. The government said it seeks to promote "pro-business" policies that increase competitive markets to generate wealth rather than "pro-crony" policies that favor entrenched interests.
Developing economies now account for about 70% of FDI, the U.N. report said.
"Though FDI inflows showed a substantial jump in the 1990s over 1980s, it was still modest compared to many rapidly growing Asian economies and a miniscule compared to China," Dr. Bipul Kumar Das said in a research paper published in the January 2020 issue of the International Journal of Scientific& Technology Research.
"Promotion of foreign investment was an integral part of industrial policy in India since 1991," Das said. "The rationale behind the change in policy towards foreign investment as a part of outward oriented trade regime was that such investment would bring advantages of technology transfer, marketing expertise, modern managerial techniques and new possibilities for promotion of exports."
In addition to the U.S., FDI flowed into India from Singapore, Cayman Islands, Holland, the United Kingdom and Mauritius, an island nation in the Indian Ocean off the eastern coast of Africa.
Growing foreign investment reflects the size of India's potential market and prospects for growth in a democratic nation where the educated elite speak English—a huge advantage in international trade.
The current population of India is estimated to be 1.4 billion, compared with 328.2 million in the U.S.
India's rising affluence offers companies the potential of a huge and increasingly lucrative market. Growing education suggests the emergence of a middle class with a desire for upscale goods and services—and the money to afford them.
Foreign Direct Investment is expected to increase to $120 billion - $160 billion a year by 2025, according to India's Department for Promotion of Industry and Internal Trade.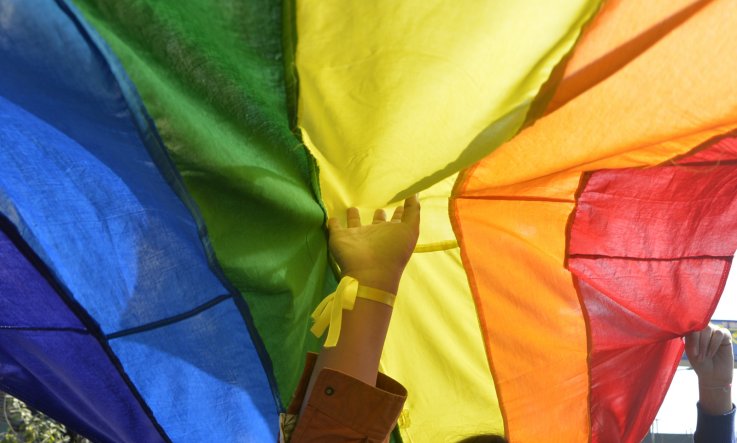 Indian activists and members of the lesbian, gay, bisexual, and transgender (LGBT) community take part in a pride parade in Siliguri, India on Dec. 30, 2018. Google has marked Gay Pride with its latest Doodle.
Getty Images/DIPTENDU DUTTA/AFP
The India Brand Equity Foundation, a trust established by India's Department of Commerce, said the government in New Delhi, the nation's capital, has sought to promote the flow of FDI into a range of sectors, including, defense, oil, telecom, electric power and stock exchanges.
FDI doesn't involve the purchase of an equity stake in a company. Instead, FDI is typically an investment made by a company or individual in businesses located in another country, often by acquiring assets or launching a new business. Most investors last year focused on India's emerging digital economy.
Jaadhu, owned by Facebook, invested $5.7 billion to acquire a 10% interest in Jio Platforms, owner of India's largest mobile telecom network with about 370 million subscribers. Facebook is banned in mainland China, but the company sees great potential in India's burgeoning market.
FDI in Russia fell from $32 billion in 2019 to about $1 billion last year, perhaps underscoring the importance investors place on corporate transparency and rule of law.
Jio Platforms also has expanded into digital currencies and education. This year, it plans to open Jio University to expand knowledge of artificial intelligence.
Online retailer Amazon and Flipkart, owned by Walmart, now control about 60% of India's e-commerce market, S&P Global reported. But some analysts believe recent regulatory rulings appear to favor domestic players like JioMart, possibly to the detriment of foreign competitors.
With about 400 million users, India is the largest market for Facebook-owned WhatsApp. The U.S. company plans to use the app to link small companies with online retail to better compete with Amazon and Flipkart.
In July Google announced plans to invest $10 billion by 2025 or 2027 to speed the adoption of digital technologies in India.
"This is a reflection of our confidence in the future of India and its digital economy," said Sundar Pinchi, a native of India and now CEO of Alphabet, Google's parent company.
Google said it plans to provide affordable Internet access throughout India in Hindi, Tamil and Punjabi. Plans also call for using artificial intelligence in a range of fields including health, education and agriculture.
The U.N. expects global FDI flows to remain "weak" in 2021 and may decline as much as 10% due to the "hesitant and uneven" worldwide recovery from the COVID-19 pandemic.
"Any increase in global FDI flows is more likely to come from cross-border merger and acquisitions rather than from new investment in productive assets," the United Nations Conference on Trade and Development said.
Most new M&A deals are expected to be in the technology and healthcare sectors because these sectors haven't been hit as hard by the coronavirus pandemic as other sectors of the world economy such as travel, leisure, entertainment or restaurants.
Unsurprisingly, most acquisitions will be led by companies in developed nations, the U.N. said.