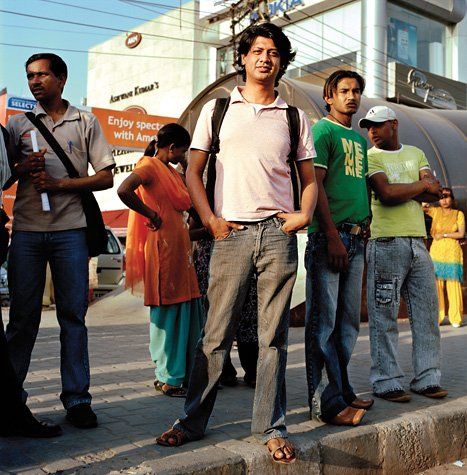 On a sunny Sunday afternoon, Mumbai's western suburb of Bandra—home to observant middle-class Roman Catholic and Sunni Muslim families—is packed with people strolling the seaside promenades. The main streets are abuzz with vendors selling cheap shoes and colorful scarves. On the quieter, tree-lined lanes, customers visit specialty boutiques.
Down the 16th Road, a rainbow flag hangs outside one such store: D'kloset. On its exterior, there is a mural of a man pulling another out of a closet. "No, no," the latter says. "I'm not coming out."
D'kloset owner Inder Vhatwar will tell you that is time for gay people in India to step out of the closet that has imprisoned them for more than a century. It's been almost two years since the 31-year-old designer—polite, flirty, and warm—opened D'kloset, which is part clothing store, part gay hangout. The store's walls are painted in rainbow patterns, and it stocks colorful T-shirts and shiny plastic jewelry. "Many gays like going to parties, and you don't want to wear the same outfit," Vhatwar says. "I make fashion I would like to wear at affordable prices."
Businesses targeted at gays, such as D'kloset, are still rare in India, but it is significant that such enterprises are opening at all in this largely conservative country, where until 2009 same-sex relations were considered a crime. "When I opened the store I thought that religious groups would come and break the glass," said Vhatwar, who trained as a fashion designer in London. "But nothing happened."
In the 149 years since homosexuality was outlawed by India's colonial British administration, no government had the courage to repeal the law. That was left to the Delhi High Court: on July 2, 2009, the court decriminalized same-sex intercourse in a landmark case commonly referred to as 377, a reference to a section of the 1860 Penal Code that bans sexual activity "against the order of nature." The decision was appealed earlier this year in the Supreme Court, which heard objections from 10 social and religious organizations. Opposition to the case has united conservative organizations across India's religious spectrum—many of whom might otherwise be hostile to each other—and even includes a children's-rights NGO that is trying to argue that legalizing homosexuality will increase child sexual abuse.
Even if the decision is upheld—as gay-rights groups and legal experts think it will be—India's gays and lesbians will still not have the same rights as heterosexuals. They will have no protection against discrimination at work or school, or when buying or renting a house. Same-sex marriage will still not be legal, nor will adoption. Such advances will require new laws from India's parliament—and no one expects that to happen any time soon.
Still, after more than a century of being spurned by their families, reviled in public and harassed by police, India's gays and their supporters say the 377 ruling is encouraging a gradual emergence from the shadows. "They're not so open with their families yet, but they feel relatively more free now," said Anand Grover, lawyer and director of the Lawyers Collective HIV/AIDS Unit. While the situation remains difficult for many homosexuals, particularly in rural areas, Grover points to the new gay tourism market, the spread of queer parties at nightclubs, and the rising divorce rate among gay men who had previously been pressured to marry women.
There are indeed signs of a transition underway in India. Gay-themed businesses are opening in areas where they once would not have dared to flaunt their sexuality. In 2011, the soap opera Maryada: Lekin Kab Tak? (Honor: But at What Cost?) became the first TV serial to feature an openly gay character. Gay protesters have jettisoned the masks they used to protect their identities during equal-rights marches. Talk shows feature questions about homosexuality and venues host events explicitly marketed for gays and lesbians.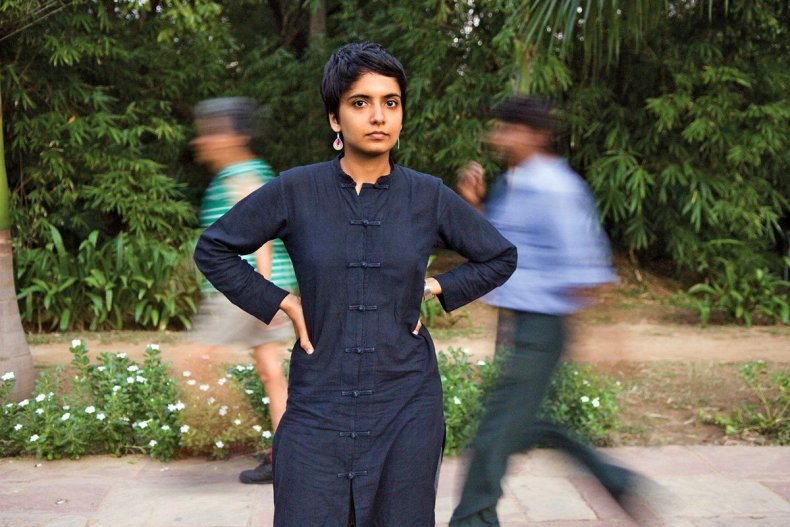 There are no official estimates of how many of India's 1.2 billion people are gay or lesbian. The census does not count them, though a category for transgendered "others" was created in 2011. The Humsafar Trust, an NGO promoting lesbian, gay, bisexual, and transgendered (LGBT) rights, puts the number at more than 70 million. Even before the 377 ruling, the most cosmopolitan among them had already started to go public. In 2008, fashion designer Sanjay Malhotra launched Indjapink, an online gay travel agency. The company only works with services that are gay-owned or gay-friendly to provide guests with "the opportunity to be open and enjoy a relaxed vacation in India without the fear of discrimination," in the words of Indjapink's personal tour adviser.
Launching Indjapink, Malhotra says he was "apprehensive" but "had a belief and conviction that whatever I was doing was right, and nothing in the world or any law could stop me from welcoming gay tourists to India." Now, he says, "skeptics still remain, but they are becoming a minority."
The Internet has been big in helping gay people find each other, gradually replacing cruising for partners in parks and public toilets. Websites like Facebook and guys4men.com have become the best way to find a gay sex partner, join gay social events, and participate in a LGBT community that is clearly tired of hiding.
Shobhna Kumar met her current partner through a lesbian group on Yahoo! and eventually moved from Australia to live with her in Mumbai. A muscular woman with short gray hair, Kumar decided to open an online bookstore called Queer Ink just after the 377 verdict. This year, she published Out! Stories From the New Queer India, an anthology edited by Minal Hajratwala. Queer Ink may have seemed like a risky move in a country where the overwhelming majority—at least according to certain newspaper polls—seems to believe that same-sex intercourse is unnatural and should be banned. But Kumar saw it as a simple business decision. "There was a gap in the market," she says. While the store is virtual, the majority of the sales take place in her office, which functions as a safe meeting place for lesbians. "A lot of people don't have access to credit cards or even the Internet," Kumar says.
The greatest push for LGBT openness is happening among India's cultural elite, in the realms of academic and literature. This year, the government-run Indira Gandhi National Open University—the largest higher-learning institute in India—launched a post-graduate diploma program in Women's and Gender studies, which includes courses on queer cinema, masculinity, and gender on television. Himadri Roy, an associate professor at the School of Gender and Development Studies, just published a book, Travails of Entrapment, featuring a gay love story. At the book's launch party at the Crossword Bookstore, in a glittery suburban mall, Roy says that as both an academic and a gay man, he has witnessed the evolution of homosexual life in India. He believes the most obvious sign of change is the fact that gays have become "much more explicit" about their desires. "People are not afraid anymore to approach you in public spaces," he says.
Of course, the old fears are slow to fade, and almost any Indian homosexual has stories of the police harassing them or their friends—both before and after the 377 ruling. On March 23 of this year, after a visit from the cops, Delhi's Alliance Française—a cultural institution run by the French government—decided to close an exhibition on gay topics by photographer Sunil Gupta. A calm, quiet man given to reflective pauses, the 59-year-old Gupta says he's not sure of all the details, but that police had arrived in response to a complaint and asked for the removal of some photographs showing naked men in a public bath.
Gupta says a friend told him that Alliance Française director Jean-Philippe Bottin decided to shutter the show. Bottin did not respond to requests for comment, but the Alliance's cultural coordinator Mitushi Khurana said that Gupta had agreed to the decision—something the photographer denies. "For several days, I was uncertain about my situation… thinking, Am I going to be charged?" says Gupta, who adds that the photos were "not very explicit" with no "full-frame nudity or anything like that."
Days after the controversy, the governing body of the Alliance, in a statement on its website, said while it supported freedom of speech and expression and tried to reopen the exhibition in April, the police would not permit it "as they were bound to receive complaints and agitations regarding the nature of the exhibition."
"It is pertinent to point out that even though the police had publicly stated that the content of the exhibition was not objectionable or unlawful, their verbal direction to the Alliance was to the contrary and was the governing factor in the decision to cancel the show," the statement said.
Disappointment over the Alliance decision was evident soon afterward at an annual event hosted by a group called Nigah. Around 50 people mingled at the Seventh Queer Café in Delhi for poetry readings and music. The same week, filmmaker Sridhar Rangayan said that Indian society may be ready to see representations of "gays" in the movies—as funny or campy characters—but not as homosexuals with ordinary loves and lives. Still, Rangayan noted that the Kashish-Mumbai Queer Film Festival, which he directs, has blossomed in just a couple of years, now exhibiting more than 100 films at mainstream venues. "We could never have done it before [the 377 verdict]," he said. Even so, "some people or companies may support one film but don't want to be associated with the whole festival, because it could have sexual content… those are challenges we understand."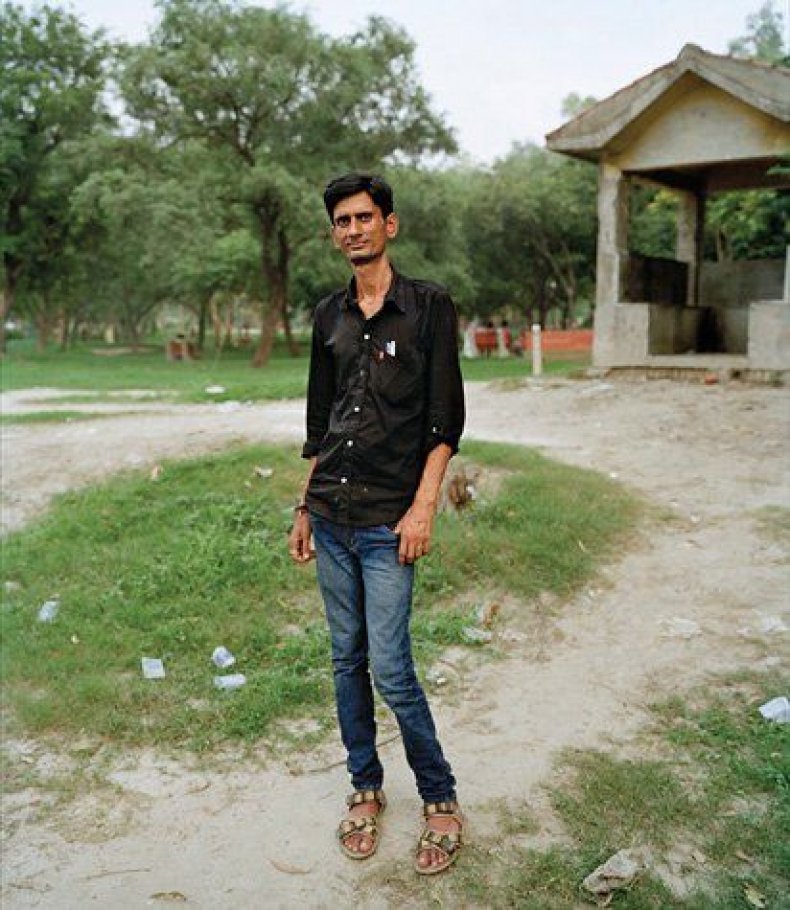 For many gays in India, the most important challenges begin closer to home—at home, actually. At the Humsafar Trust headquarters in Mumbai, many people arrive asking for advice and support in coming out. "A lot of people who meet up here are not 'out' to their families," says Ankur Srivastava, from the youth group Yaariyan. He adds that it's even harder for women, who have their own group called Umang. "It's not that men have it easy, but many women don't even have a chance," Srivastava says. "They're told that their first duty is to watch their husbands."
Gay rights activist and blogger Nitin Karani had his own troubles with coming out to his family as a homosexual in 1995. "My mother didn't know what it meant," he says. "I thought she would understand—she watched Dynasty, and there was a gay character there!" Seventeen years later, he and his boyfriend of three years are still trying to get his partner's relatives to accept him. "Baby steps," says Karani with a sigh. At least his boyfriend's parents don't ask him to marry a woman anymore.
When D'kloset owner Vhatwar, a Hindu, married his partner, a Muslim, eight years ago, they threw a four-day ceremony—not recognized by the state—officiated by a Hindu priest chanting mantras. Vhatwar's family did not attend. The couple is not together anymore.
In Delhi, Jerry Johnson and Deepak Kashyap got engaged in March after three years together. Johnson's conservative Christian family refuses to accept the relationship. "My mother keeps insisting that I should leave him and get married, that she's looking for a girl," he says. "But I don't need her acceptance anymore."
Marriage isn't the only fraught issue for India's homosexuals who wish to start a family of their own. Gay and lesbian couples are still forbidden to adopt by the country's Central Adoption Resource Authority. And while some singles might be able to adopt a child, the laws—designed to protect children from possible abuse—are restrictive. A parent cannot be younger than 30 or older than 45 when adopting an infant or toddler. Men are not permitted to adopt girls, though they can adopt boys. And many single gay men assume that they would never pass the official scrutiny to be declared eligible to adopt.
Despite the difficulties, India's gays and lesbians are trying to stay positive. There is evidence that the mainstream media and government would support the gay cause in the unlikely event that the Supreme Court refuses to uphold the 377 ruling. In February, a lawyer for the Home Ministry told the Supreme Court that homosexuality was immoral. Within a few hours, the ministry released a statement calling his word choice a "miscommunication" and declared he had been reading an outmoded statement. Several days later, the attorney general said that the federal government was not opposed to gay rights, and called the 1860 ban a law imposed by British colonialism and unreflective of Indian values. Lawyer Anand Grover agrees: "India never had a problem with homosexuality" before the arrival of Victorian-era Christianity in the 19th century, he says, noting that same-sex practices were tolerated in the culture when the British arrived.
Not quite, cautions Vhatwar. "People here still pay in cash because they stay with the family and they may check their credit cards," he said. That means they might discover their sons or daughters shopped at a gay store. "Step by step," said Vhatwar. "Step by step."