India's Greatest Painter Dies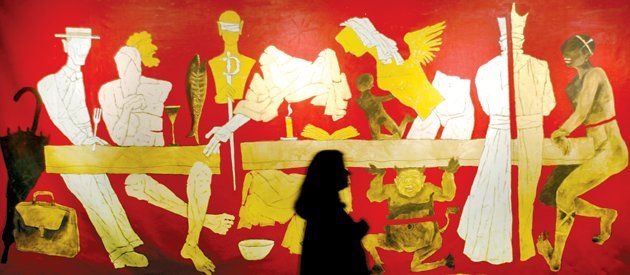 Maqbool Fida Husain, who died on June 8, was India's most prominent painter—but in the last year of his life, he had become a national of Qatar, and he died in London, far from the city he loved, Mumbai. That rootlessness, in essence, captures the poignancy of the artist's life—he became controversial, but didn't choose to be so.
He was born in pre-independence India around 1915 and lived there until the 1990s, when Hindu nationalists launched a vicious campaign against him. They were upset after a magazine found some of his old paintings and sketches, some dating back to the 1970s, which showed Hindu deities in the nude. That wasn't really controversial; in sculptures in many ancient temples, including Khajuraho and Konarak, and in some paintings and manuscripts, Hindu deities have appeared without clothes, or wearing little.
But Husain was born a Muslim, and Hindu activists saw an opportunity to lead a sustained campaign against him. This included vigilantes damaging artworks and art galleries that showed his work in India and abroad; filing lawsuits against him throughout India for offending religious sensibilities; and attacking a television station that ran a poll among viewers asking them if Husain should be given India's highest civilian honor, besides threatening him with violence. Instead of protecting Husain's right of free expression, authorities filed charges under colonial-era Indian laws, which restrict freedom of expression, and judges admitted cases against him. Even after higher courts ruled in his favor, the hounding continued. Husain, who only wanted to paint, lived outside India for most of the past two decades.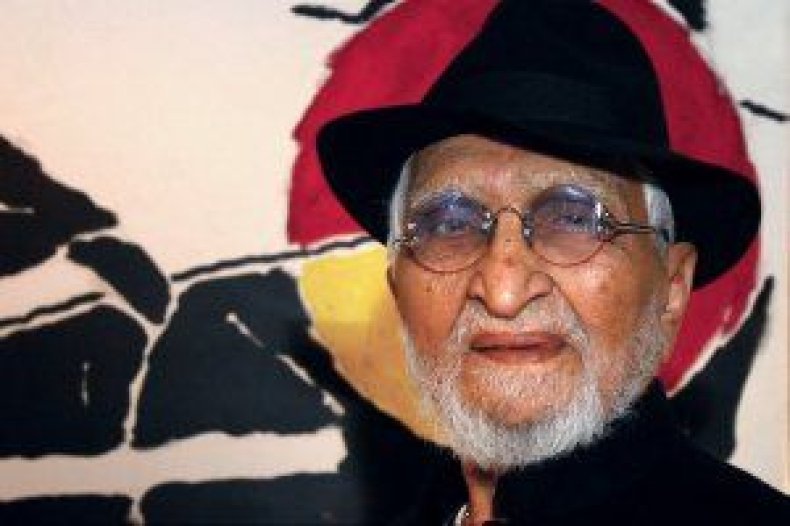 Husain's decision to leave a secular, democratic India for Qatar, an authoritarian theocracy in the Middle East, was a blot on India. But these controversies distract from assessing Husain's artistic merit. Husain started out painting billboards for Bollywood films. Creating those garish, larger-than-life, melodramatic images shaped his sense of drama, design, and craft. As an artist, he saw India as a syncretic, inclusive entity, where no single interpretation could explain the complex, hybrid nation. His canvases brim with energy—the strokes always bold, the colors vibrant, the figures sharp, and the narrative simple.
At India's independence in 1947, he was an early member of what came to be known as the Progressive Artists' Group, which included Syed Haider Raza and Francis Newton Souza. Together, they lifted Indian art out of the twin legacies of Raja Ravi Varma's bold but realistic iconography, and the window-frame miniaturization of the earlier Rajasthani and Mughal schools. The Progressives experimented with form, deriving inspiration from abstract art and cubism—and, in Husain's case, expressionism. Husain combined that exuberance with Salvador Dali's zaniness and exhibitionism and Pablo Picasso's keen sense of the visual, as well as his understanding of commerce. (Husain realized the value of his signature early, and in the process, made Indian art a worthwhile investment. He was the first Indian artist to fetch competitive prices internationally, crossing $1 million, although some paintings by Amrita Sher-Gil and Tyeb Mehta have since sold for more.)
Husain saw India as a polyglot, chaotic nation, and celebrated its energy and diversity. Sometimes he was didactic, but he understood the zeitgeist. He could be brilliant and banal, sensuous and voyeuristic. At his best, he was India's poet laureate—when a fierce cyclone lashed Andhra Pradesh, the grief in his paintings was palpable. At his worst, he could be a court flatterer, as his paintings of the late prime minister Indira Gandhi were interpreted. He showed her as Durga, the warrior-goddess, astride a tiger.
But much else redeemed him, like his sublime Sufi series, in which the characters rose like fingers pointing skyward; the charged eroticism of erect coconut trees and dusky women combing their long tresses; the calmness of Varanasi ghats where Hindus wash away their sins and cremate the dead; the lyrical Raga-Mala (garland of ragas) series, giving form to music; the celestial myths of the Mahabharata, the ancient Sanskrit epic; and the thought-provoking modern play Ghashiram Kotwal, which indicted the moral debasement of the late Peshwa rule in western India in the 19th century. India's other great religion, the game of cricket, didn't escape his notice, nor did the work of Mother Teresa.
Husain also had a curious passion for an inanimate object—the umbrella. He loved its ability to provide temporary shelter to the rich and the poor, and as a resident of Mumbai, with its ferocious monsoons, he appreciated its utility and curves. His other great passion was horses. He painted them all his life, always in action, neighing, ready to gallop away. Husain, too, was always restless—he rarely stayed still at one place, walking barefoot wherever he went, even being asked to leave a posh Mumbai club because he didn't wear shoes.
The umbrella is now folded; the horses have run far, moving swiftly, like his imagination.
Tripathi, a writer in London, is the author of Offense: The Hindu Case, about Hindu nationalist attacks on writers, historians, and artists, including Husain.