India's Immigration Protests Are Morphing Into Resistance to Modi's Hindu Nationalist Rule
This story is being co-published with Religion Unplugged.
NEW DELHI — Thousands of Indian Muslim men packed into Delhi's largest mosque, Jama Masjid, for Friday afternoon prayers. After prayers, Indian flags appeared. And so began their protest for a pluralistic nation that opposes their prime minister's Hindu nationalist agenda.
With the mosque's red sandstone minarets behind them, the demonstrators waved the tri-color orange, green and white national flags along with copies of the Indian constitution, shouting "Azaadi," Urdu for freedom. They demanded the government withdraw a citizenship law passed Dec. 12 that welcomes migrants from India's Muslim-majority neighbors but only if they belong to six religions other than Islam. Pushing the long-debated citizenship law through parliament is the latest and boldest move on the Hindu nationalist agenda since Prime Minister Narendra Modi and his Bharatiya Janata Party's (BJP) sweeping reelection in May.
This week similar protests across Delhi and in nearly every large city in India have become the largest, most unified and secular resistance against Modi and the BJP's Hindu nationalism, the belief that India is fundamentally a Hindu nation and should protect Hindu interests over other groups. It's a historic outpouring of resistance against an increasingly authoritarian style of rule. The citizenship law was just the tipping point.
"We want this unconstitutional law to be scrapped immediately," said Mohammad Salman, one of the protesters from Chandni Chowk in Delhi. "A law needs to treat all religions equally, but it discriminates against the Muslims."
A Hindu priest wrapped in a white loincloth who goes by Saint Yuvraj was urging protesters to remain peaceful. At least 23 people have died so far as protests enter their second week. Police around the country have used tear gas, water cannons, batons, sticks and live ammunition on protesters.
"I've come here to request my Muslims brothers to protest peacefully," he said. "The new law is deplorable, and the government should take it back. But if the protests turn violent, it will give government an excuse to use force to quell the protests."
The protest was organized by a leader in the Hindu Dalit or "untouchable" community, a man named Chandrashekar Azad who goes by Ravan. He managed to wriggle out of a police grip and escape through the narrow winding lanes bordering the mosque.
By nightfall, violence had broken out. Broken glass, a car lit on fire and pools of blood could be seen on the streets. The protesters planned to march toward Jantar Mantar, a famous protest site in central Delhi, but the police had blockaded exits. It's not clear how the violence started.
Meanwhile, videos circulated on social media from protests at Jantar Mantar showing Delhi police officers serving chai to protesters. Police have also not used violence on diverse crowds at India Gate. Those areas are close to parliament and wealthier residences compared to the lower- and middle-class Muslim neighborhoods near Jama Masjid.
On Sunday, Delhi police stormed Jamilia Millia Islamia, a public university with a large Muslim student population, and injured 200 students—according to students, not all were protesting. One lost his eye. Another broke both his hands shielding his head from police batons slamming him. Some students claim they were studying in the library when the police tear gassed the room.
Despite targeted Internet shutdowns, police brutality, arrests of protesters and temporary bans on gatherings in many areas, the protests show no sign of abating. Many are calling these times the most significant political moment in the world's largest democracy since its independence in 1947, which later established India with a secular constitution unlike its partitioned neighbor Pakistan, an Islamic republic.
Most protests in India are limited to a specific community or region, like farmers protesting for loan forgiveness amid a suicide epidemic or one caste protesting for inclusion into an affirmative action category, called reservations in India.
"There have been very few times when social and political movements are led by youth and political parties, in which men and women both participate almost in every state of the country," said John Dayal, a well-known 72-year-old Christian author, researcher and human rights activist in Delhi who was arrested during a protest Dec. 19. "The agitation we see now is one of these national movements."
Why Indian Muslims fear losing citizenship
Religious identity is a hot button issue in India, where 80 percent of the 1.3 billion people are Hindu. Fourteen percent or 200 million are Muslim, comprising one of the largest Muslim populations of any country. Hindu nationalists resent much of India's history of rule by the Mughal Muslim empire in the 16th and 17th centuries.
According to Modi, the Citizenship Amendment Act (CAA) is meant to address the persecution of non-Muslims in India's three Muslim-majority neighbors. The law opens an expedited citizenship application to six religious groups -- Hindus, Sikhs, Buddhists, Christians, Jains and Parsis -- who came from the designated countries before 2015. Persecuted Muslim groups like Rohingya from Myanmar and Ahmadi from Pakistan are excluded.
Indian Muslims fear the new citizenship law will be linked with a National Register of Citizens (NRC), a list compiled over four years in India's Assam state, bordering Bangladesh, that when released in August left out 1.9 million people: about 700,000 are Muslim and 500,000 are Hindu. To appear on the register, the government asked 33 million people to submitdocuments that showed their family had roots in Assam on or before 1971, when East Pakistan became an independent Bangladesh and the ensuing violence forced millions of people into the Indian states West Bengal and Assam. Those without documents – many Indians live without various documentation – required community witnesses, which introduced confusion and subjectivity. And those with mistakes on documents like discrepancies of birth dates they estimated, previously dismissed as common errors, could face greater scrutiny. The NRC originates from a 1951 census, and the BJP resurrected it with the promise to deport Bengalis who have entered India illegally.
India's Home Minister Amit Shah has repeatedly promised that the citizen register, made possible with a 1955 law, will be expanded to the entire country. It is not clear how such an exercise would be carried out, but if all residents were asked to reapply for citizenship, non-Muslims could benefit from the newly passed Citizenship Amendment Act to receive citizenship while Indian Muslims may face discrimination despite their established roots in the country.
On May 1, 2019, Shah tweeted, "First we will pass the Citizenship Amendment bill and ensure that all the refugees from the neighbouring nations get the Indian citizenship. After that NRC will be made and we will detect and deport every infiltrator from our motherland." Shah has also called illegal immigrants from Muslim-majority Bangladesh "termites."
On April 11 ahead of elections, Shah said, "We will ensure implementation of NRC in the entire country. We will remove every single infiltrator from the country, except Buddha [sic], Hindus and Sikhs." The BJP's Twitter account has since removed the tweet attributed to Shah, but several media reported it that day.
As recently as Dec. 9, Shah said in parliament that NRC would be implemented across India. Despite these statements, the Modi government has insisted this week that the CAA would not be linked with the NRC. Work has reportedly already begun on a National Population Register, under 2003 Citizenship Rules, to collect data on residents in India.
Migrants from Bangladesh, Afghanistan and Pakistan have lived in India for decades with varying degrees of refugee-like status. India refused to sign the 1951 United Nations convention on refugees, meaning it has no international obligation to host refugees. It also lacks domestic refugee law, so refugees in India rely on UN-issued refugee cards as identification to apply for a long-term visa, which the government can deny without citing reasons. Refugees face discrimination looking for jobs and housing, enrolling their kids in school and receiving basic services like healthcare.
Sweeping changes since Modi's reelection
While the CAA sparked the mass protests, it's only the latest and greatest Hindu nationalist accomplishment. The BJP has not hidden its agenda and is known to follow the ideology of the Rashtriya Swayamsevak Sangh (RSS), the Hindu nationalist organization whose support lifted Modi from within its ranks to power and has espoused leaders who openly admire the fascist figures Adolf Hitler and Benito Mussolini.
With support from grassroots RSS groups, the BJP campaigned on several promises that it seems to be fulfilling at record pace.
In July, the parliament approved a BJP-supported bill that criminalizes triple talaq, an Islamic form of instant divorce, which critics say demonizes Muslim men despite a low percentage of marriages ending this way and does nothing to help the proportionately more Hindu women abandoned by their husbands.
In August, the BJP-led government stripped India's only Muslim-majority state, Jammu and Kashmir, of its autonomy granted in the constitution as part of its agreement to join India after independence. Troops poured into the region to enforce a curfew. There have been reports of violent retaliation by armed forces against protesters, arrests of thousands of teen boys and young men and an Internet ban for more than 137 days straight, longer than any other democracy in the world.
Then in November, a Supreme Court ruling allowed Hindus to build a temple to Lord Ram atop the Babri Masjid ruins, a 16th century mosque demolished illegally by Hindu nationalists. Thousands died in mob violence at the demolition in 1992, led by the Hindu nationalist organization Vishva Hindu Parishad (VHP). The VHP began campaigning to build a temple with the BJP in the 1980s, claiming Lord Ram was born on the site of the mosque and the land rightfully belongs to Hindus.
The court ruling was a major victory for the BJP. It also lends weight to Hindu nationalist claims on other Mughal-era sites. The RSS, VHP and other Hindu nationalist organizations often claim that all Indians are Hindu -- Muslims and Christians were Hindus who converted and should convert back to their mother faith.
On the economic promises that boosted Modi's image internationally ahead of his first election in 2014, the government has performed significantly weaker. India's economic growth slowed to 4.5 percent in the first three months that ended in September, the slowest rate since 2013. Five interest rate cuts have failed to grow investment. With a high youth population, India needs to grow at 8 percent per year to create enough jobs for new labor force participants, but economists predict the slowdown to continue for one or two years.
More on protests and their future
In various BJP-controlled states, police are denying required permissions for protests and imposing a law called Section 144 that bans assembly of more than four people and gives police the means to legally arrest anyone defying those restrictions.
At least five states outside the BJP's control have said they will refuse to implement the CAA, calling the law unconstitutional. The central government's Home Ministry has responded strongly, saying the states have no powers to deny the law.
The central government is also blocking the Internet and mobile phone services in several areas of Uttar Pradesh, Karnataka and Delhi, wherever they suspect a mass gathering. In several parts of Delhi on Friday, including near Jama Masjid and India Gate protests, the government blocked the Internet during the day and restored it later in the evening. The Internet was blocked in Assam, the northeastern state, for 10 days as military forces arrived to control violent clashes between protesters and security forces.
In the state of Gujarat, where Modi used to govern, the state police detained more than 250 protesters. Dev Desai, 32, an activist for Dalits, tribal Indians, Muslims and other marginalized groups since 2006, said the crowds coming to protest were not scared of the police.
"I've been part of many protests, but in Ahmedabad, this is the first time when people from different caste, profession and religious groups have come together to oppose the law that is unconstitutional and anti-Muslim," he said. "It is very important for more and more Hindus to come on streets to send a message of unity in the society. If we have to fight the divisive politics of the Hindu nationalist BJP, we will have to come together as a society. We will have to stand by Muslims, because they need all of us."
Police have arrested Desai and his friends twice so far since the protests starting on Dec. 12, on charges of protesting without permission.
"They ask us to write our name, address, phone number, among other details, before they release us. It's a way of collecting data of those who stand against the government policies. And then, we are monitored."
They were released four to five hours after the arrest.
In Uttar Pradesh, a state in Northern India with a strong BJP majority, police issued notices to more than 3,000 people, warning them not to protest. After on Dec. 19 police arrested Sadaf Jafar, a spokesperson for the Congress Party (the BJP's opposition) and mother of two young children who protested, she remained missing for two days. She had recorded three Facebook live videos from a protest in Lucknow, requesting police to come protect the women and children protesting from hired rioters who were lighting fires and beating demonstrators. Jafar's niece spoke to the Indian media site The Quint on Saturday, saying police kicked and beat her aunt in custody.
In Delhi alone, more than 1,200 people were detained Friday while they tried to protest peacefully at the Red Fort, a famous historical monument in India. Those detained included popular authors, civil rights activists, and students, among others.
"The police grabbed me... I told them I was a hyper diabetic, and they would have my blood on their head if they manhandled me," Dayal, the 72-year-old Christian activist, said. "The journey to the detention center took more than two hours. I was starving and my blood sugar was low."
While detained, Dayal did not receive medical attention but was given a plate of rice.
"This is seminal moment in the history of our country," Dayal said. "The government will have to retract, to correct the mistake or error it introduced into the Constitution. The government is firm in its resolve to crush our spirit and our bodies. But surely it cannot succeed in that. The human urge for freedom, for belonging is great."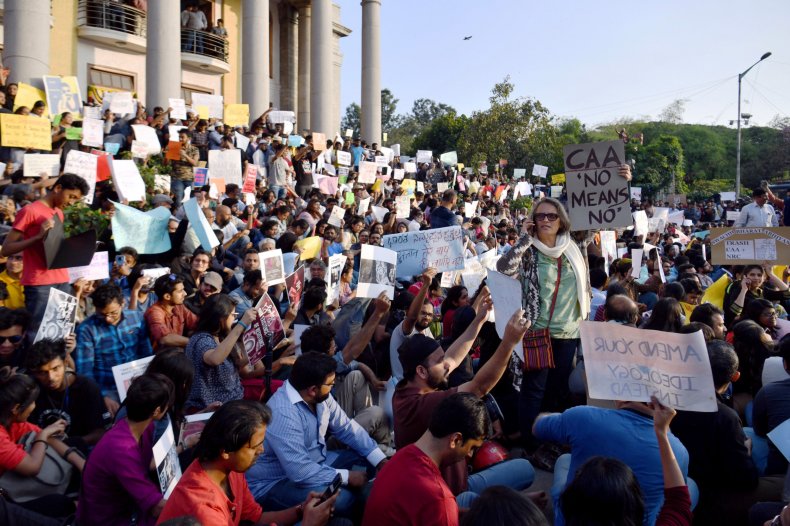 Avinash Giri is a Delhi-based Poynter-Koch fellow for Religion Unplugged. Meagan Clark is the New York-based managing editor who spent several years living in India.